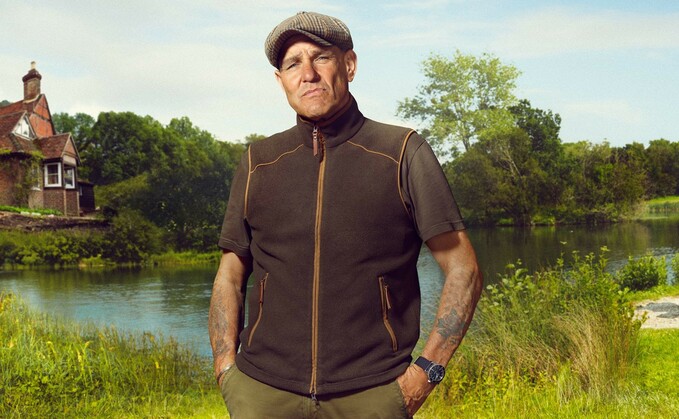 Swapping the bright lights and fame of Hollywood for farming in the glorious countryside was the ultimate homecoming for Vinnie Jones, according to the man himself.
He is the epitome of toughness with a thunderous glare so menacing - he could probably frighten the toughest Hollywood hardmen of them all in Chuck Norris, Sylvester Stallone and Arnold Schwarzenegger.
He has been typecast in life and in Hollywood as a rugged, no-nonsense and ruthless 'geezer' for many years.
Mr Jones portrayed mob enforcer 'Big Chris' in Guy Ritchie's (1998) Lock, Stock and Two Smoking Barrels and has never really looked back since.
As a footballer, especially in Wimbledon's FA Cup winning 'Crazy Gang', his aggression on the pitch was very rarely equalled by any opponent with a two-footed challenge so monstrous in style, it could be penalised tenfold by charges from the English Football Association in today's game.
However, as the old saying goes, never judge a book by its cover.
Mr Jones has embarked on a new farming series for Discovery+ which has now been released: Vinnie Jones in the Country.
View this post on Instagram
The documentary series will centre on Mr Jones' tribulations in the countryside as he renovates his 'knackered' 400 year-old West Sussex farm in Petworth with a helping hand from friends along the way.
It will explore Mr Jones' fascination and connection to nature and his happiness in the tranquillity of being surrounded by wildlife - especially when he is never asked for a selfie.
Getting to unravel the layers of a man who has been the epitome of toughness for all his life could be the very making of him.
"It is a show where people have not really seen the side of me before," Mr Jones said recently.
It is probably a side to him most would never have thought possible either.
Mr Jones was rather keen to point out the show's separation from the world of Jeremy Clarkson and his rather popular series on Prime Video.
"The show is very different from Clarkson's Farm," he said.
"We do not grow anything and we do not have any animals.
"The only animals are the people who work for me.
"You will see some great characters in it and we all have a great laugh together.
"But we are not Clarkson's Farm which is a better show than ours."
View this post on Instagram
How much inspiration the show has taken from Jeremy Clarkson's Prime Video series Clarkson's Farm is questionable, but there is certainly no denying Mr Jones' connection to the countryside and the farming lifestyle.
He was born in Hertfordshire, is the son of a gamekeeper, has been an advocate for country pursuits and raising the profile of mental health.
"The show brings a lot of lads together on mental health," he added.
"Going through mental health difficulties myself four years ago and talking with the lads, who have had their own struggles, has brought us all together on the farm."
The first episode of the new farm series highlights the challenges posed by grief - especially in Mr Jones' case when his wife of 25 years Tanya Terry died from cancer in 2019 - on people's mental health and the challenges of getting through everyday life.
On the discussion of mental health, Mr Jones invites English footballing legend Paul Gasgoine - who has opened up about his own struggles with alcohol - for a spot of fishing and bonding on the farm.
"We are spiritual brothers," Mr Jones added.
"Sometimes when Paul is not feeling well I feel it too.
"I know people recognise us most from the famous picture back in 1987, but we have grown a bond since.
"I will support him on after-dinner events to give him confidence and I love him like a brother.
"He has a disease.
"I fought mine off - for now.
"It will be 10 years since I last had a drink.
View this post on Instagram
"Paul is inspired by the goals I set.
"I tell the lads on the farm we need to keep swinging and keep running.
"When you take any kind of grief you feel a weight and you are buried.
"But I wanted to see the sunshine and come out of the tunnel again."
It will be very interesting to learn of the building projects on Mr Jones' farm - ultimately if they were successful or a complete non-starer - and how he lives life in the peace and tranquillity the West Sussex countryside can offer.
How will the Hollywood tough man overcome the challenges of farming from the challenges of being an actor and professional athlete?
What has he learned and taken on board as a farmer?
But the show has already established its purpose - which is the power of nature, of bringing people together and discussing the importance of mental health.
Underneath the perceived menacing exterior of Mr Jones is a man, like any of us, who is willing to open up his world to others and share positive, moving and engaging stories about farming, the countryside and grief while bickering and bonding along the way with his friends.
You can watch Vinnie Jones In The Country now on Discovery+.