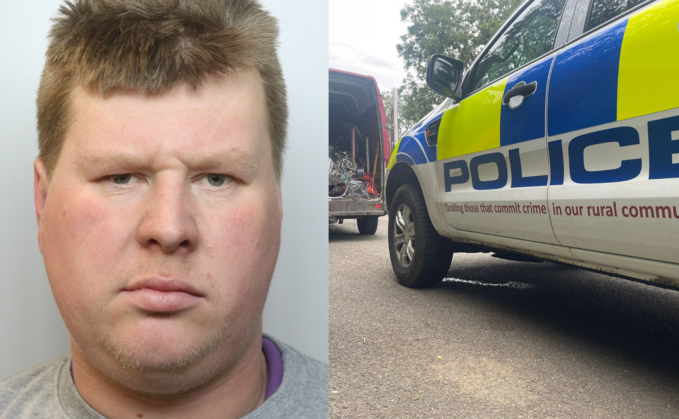 A tractor driver has pleaded guilty to causing death by dangerous driving and causing serious injury following a collision in Cheshire.
Jonathan Sumner, of Arclid, was jailed for eight years and six months at Chester Crown Court on November 10 after his tractor struck a cyclist and her son - which was also towing a trailer - along the A54 Holmes Chapel Road on April 27 2020.
Cheshire Constabulary confirmed Helen Wickham, 53, died at the scene while her son - who was 19 at the time - sustained severe leg injuries which required surgery.
Despite claiming he had not seen the cyclists ahead of him due to being 'blinded by the sun', officers conducted a full examination of Sumner's vehicle and mobile phone which found he had driven 'in excess of the permitted speed limit of 20mph' and had been using his phone while driving.
Police officers concluded Sumner had been viewing images and videos on Snapchat one minute prior to the collision.
Sumner had been arrested on the day of the incident but was released under investigation while enquiries were carried out before being charged by Cheshire Constabulary in August 2022.
He will also be subject to a five-year driving ban upon his release, officers confirmed.
Following Sumner's sentencing, Ms Wickham's family paid tribute to a 'wonderful and devoted' mother.
They said: "What happened was totally avoidable, not only did he (Sumner) take away a wonderful, caring, devoted and selfless person, he also caused our son to sustain serious life-changing physical and mental injuries.
"We enjoyed a very close family relationship, with a lot of love, and losing Helen has left a massive void in our lives.
"Helen was so full of life, she had an amazing smile, bright, sparkling, loving eyes, and her presence would light up any room.
"She was well loved by all who were fortunate to have been a part of her life.
"When she died, everyone who knew her lost someone so very special - which was the most devastating feeling to have.
"One of hardest things to come to terms with is, life is fragile, it brings it home to you how it can change in a moment."
Sergeant Simon Degg of Cheshire Constabulary added: "Sumner's actions back in April 2020 have devastated a family and should serve as a reminder of the vital importance of paying full attention while driving.
"Sumner was essentially driving a lethal weapon.
"He was in control of a combined 11-tonnes, yet he thought it was appropriate to be on his mobile phone.
"This collision was completely avoidable, and I hope the sentence handed to Sumner will provide some form of closure for Helen's family."