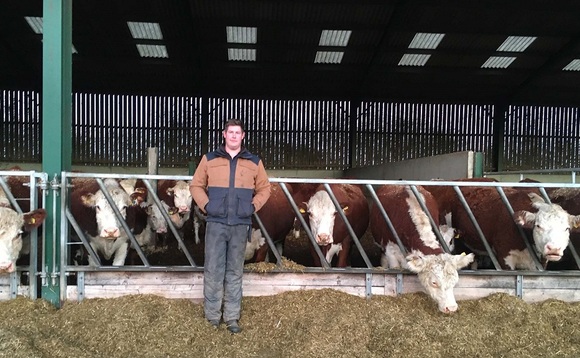 AHDBs Farm Business Review is helping one Gloucestershire farmer add value to his farming operation by setting up a solid cost infrastructure for his new business venture in a bid to maximise profit. Mollie Leach reports.
With the Basic Payment Scheme (BPS) accounting for more than half of average Farm Business Incomes on cereal, general cropping, grazing livestock and mixed farms, sourcing additional income streams has become integral to the survival of many farm business enterprises.

That was the mindset of mixed farmer Dan Goodman, of Marsh Court Farm, North Gloucestershire, when he signed up for AHDBs free Farm Business Review.

Having managed the farm for 10 years, Mr Goodman is about to sign a 25-year tenancy agreement, meaning the business will now have to contend with subsiding BPS payments.

Mr Goodman said: Our BPS claim previously came in at about 35,000, which would have paid for more than one third of our rent.

Making use of the services BPS Impact Calculator has therefore helped us review and solidify our options as we move to recoup some of these losses in the future.

Set across 180 hectares (444 acres), the farm currently has 250 pedigree Herefords, with 120 offspring sold as stores or breeding stock.
Key position

With the additional help of Sarah Hurford, AHDBs knowledge exchange manager, the pair quickly identified the business was in a key position to set up a cost infrastructure for the farms new business venture, which, as of autumn, will see the operation milk 700-800 goats.

Mr Goodman said: In order to plug the gap in BPS payments and create an additional source of income, we have decided to scale back our suckler herd by about 30-40 cows and set up a goat enterprise.

We were originally going to milk cows on a low-input grass-based system, but this would require substantial capital investment, which would be needed for slurry and cubicles, for example.

We have therefore taken the decision to scale back our beef enterprise and have sourced a second-hand parlour, which will require far less capital investment.

And with the goat milk contract set at a good payment rate, Ms Hurford said: The more the business is able to minimise costs by building setup and feeding style, the more it can maximise margin in future years.

Mr Goodman rented out a small yard at the back of the farm as storage for landscaping three years ago, the monies from which are also being used to reinvest back into the farm.

A deep dive into the business with the use of the services Business Resilience Assessment also helped to streamline efficiencies which could be made to the operation going forward.

With overhead costs making up a small proportion of overall business spend, given the minimal labour on-farm, a focus on detail was highlighted as an area of importance.

Ms Hurford said: With the new goat enterprises, there are two directions of choice a total mixed ration system or ad-lib cake.

The business has seen a lot of systems and I think the decision relies on a focus on cost and labour requirement.

If Mr Goodman is to look to employ someone to help him further down the line, the business would need to make a decision on which system would lend itself better to lowering costs by looking at feed and the management of the animals.

Writing out tasks to be completed to ensure where possible the business is undertaking the high-value jobs would be an area of priority, added Ms Hurford.

Pointing to the accessibility of the service, Mr Goodman said the process had crucially given him food for thought as the business readapts to the shift to environmental payments.
Survival

He said: In the short term, the business is doing everything it can to survive the cuts to BPS. By reviewing the costs of our existing beef enterprise and taking the decision to scale it back to accommodate our new goat venture, we are setting the farm up to cope with the pressures presented by the substantial losses to income.

We have qualified for access to further support and will be reviewing our accounts further through AHDBs business appraisal.

This service highlights the important work AHDB is doing for its levy payers as farmers try and navigate one of the biggest transitions, and I would recommend my peers taking full advantage of this opportunity.
MARSH COURT FARM KEY BUSINESS FACTS:
Dan Goodman has been managing the farm for 10 years; the farm has been in a Mid-Tier Countryside Stewardship scheme for seven years.
The farm is set to take on a 25-year tenancy agreement in April.
The farm is set across 180 hectares (444 acres).
250 pedigree Herefords, with 120 offspring sold as stores or breeding stock, not finished on-farm.
81ha (200 acres) of arable, growing wheat, barley, rape and beans, with a muck straw deal between beef and arable enterprises.
6ha (15-acre) apple orchard.
Soils consist of blue clay and red marl/clay.
AHDB Hub
For more projects from AHDB, visit the homepage.