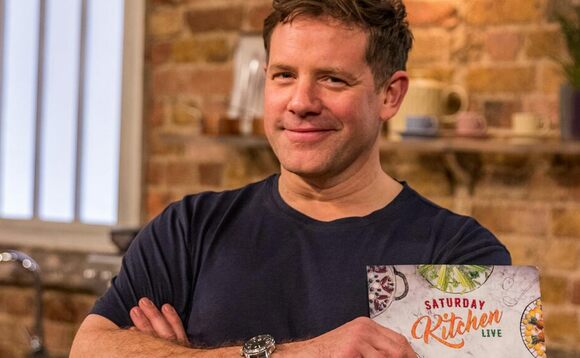 The Saturday Kitchen host has encouraged people to consider Welsh lamb for their Christmas dinner
Matt Tebbutt has revealed his best recipe for lamb following a study from Bangor University showing Welsh lamb to be some of the most sustainable in the world.
Serves 6 for a no-fuss Christmas lunch.
Ingredients:
3 garlic cloves, crushed
2 rosemary sprigs, leaved picked and chopped
1 tsp black peppercorns, crushed
3 juniper berries, crushed
About 1 tbsp olive oil
1 whole leg of lamb about 3 kg
250ml white wine
Method:
Heat the oven to 190C/170C fan/gas 5. Mix the garlic, rosemary, peppercorns and juniper together with enough olive oil to make a paste. Remove the lamb from the fridge and vigorously rub with the paste, then set aside for about 1 hr while the lamb comes up to room temp.
Place the leg into a roasting tin and roast for about 1 hr 45 mins. Remove the lamb and allow to rest on a board wrapped in foil for at least 30 mins. This will give you lamb that is still slightly pink in the middle. If you prefer your meat well done, cook for 2 hrs, then leave to rest as stated.
Pour off as much fat from the pan as you can, then place the pan on a direct heat, scraping up any bits. Pour in the wine, bring to the boil and reduce a little scraping the pan with a wooden spoon. Strain the juices into a saucepan and season to taste. When the lamb has rested, slice it. Tip any juices into the sauce, then reheat and serve with seasonal vegetables.