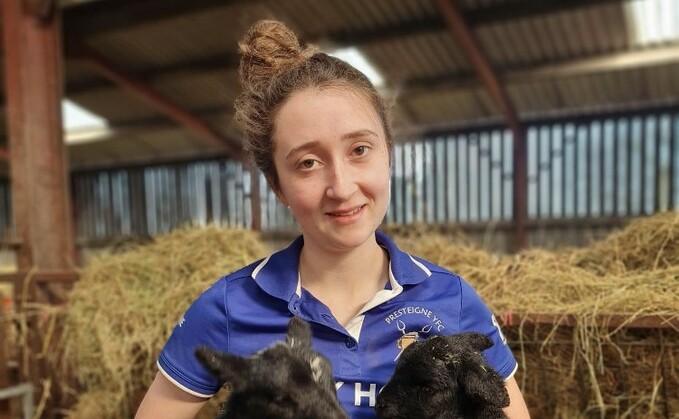 I count myself fortunate to have grown up on the family farm in Radnorshire with my earliest memories being sat in the lamb pen during lambing.
We run a flock of mule and texel-cross ewes alongside an Autumn and Spring calving suckler herd of pure salers cattle which are finished on grass and home-grown cereals.
Seeing how hard my parents have worked has made me more passionate and determined to pursue a career in the industry.
I am currently studying Agriculture at Aberystwyth University where I am president of the Agriculture Society.
Whenever I come home from university, I try to be involved as much as possible on the farm while doing some part-time work milking dairy goats at another business.
Attending university has been a real eye-opening experience for me.
It has provided opportunities to learn vast amounts of information about how broad farming is and how interlinked it is with many other industries.
Farmers never receive enough respect for the amount of tasks they have to perform on a day-to-day basis: from managing animal health and welfare, producing sustainable forage and arable crops despite the unpredictability of the weather, dealing with a large pile of business paperwork and trying to keep up with the latest Government requirements.
This is just a very small list of the pressures they face.
As the president of the Agriculture Society, I get the opportunity to organise trips to farms for members where we try to learn more about the industry while having the chance to socialise and make friends.
I am also a member of Presteigne Young Farmers' Club which is a fantastic organistaion.
Being part of the organisation has taught me so many life skills from public speaking to just getting up and having a go and building confidence.
Over the last couple of years, being part of the club has shown me how much work and dedication people put into the Young Farmers' Club (YFC) movement.
In my opinion, YFCs are such an underrated movement in the farming and rural communities would be lost without them.
After university, I am hoping to become a trainee agronomist but I would like to try and save enough money to build up my own flock of sheep separate from the family farm.
One of the biggest challenges facing farmers in the agriculture industry currently is the varying price of input costs - making it difficult for them to budget for future years.
This issue, along with the phasing out of the Basic Payments Scheme, has increased the vulnerability of many farm businesses who are doing all they can to survive.
In order to make farms more sustainable, farmers have faced heightened pressure to diversify or change their practices to attain another income stream.
Life is getting harder every single day for farmers and they need help.