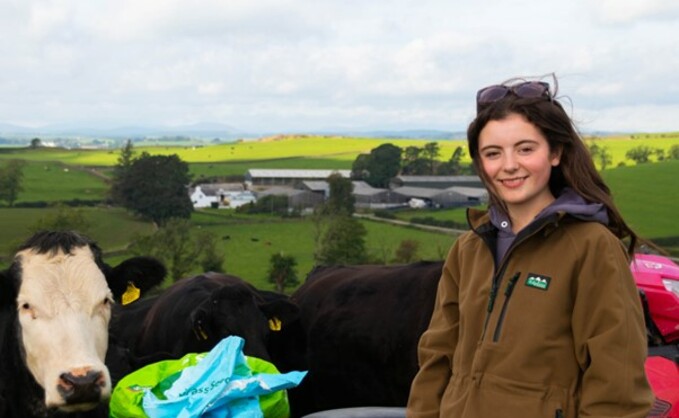 Farming has been in my blood from a young age and it has been the only career I wanted to choose.
My family farmed in Northern Ireland before moving to Scotland in February 2009.
The reason for the migration was to expand our business across the water.
I was only five-years-old at the time.
Growing up on the farm was brilliant.
See also: Young Farmer Focus - Hannah Cuthbert: 'Farming is changing and young people like us are a part of this'
It was a place where I worked with my family and the farm animals.
One of my earliest memories is watching a caesarean on a charolais heifer at the age of seven-years-old.
She had two charolais twin bull calves and I credit this moment for when my passion for farming kicked in.
It was a magical moment to see life created first-hand.
See also: Young Farmer Focus - Emily Black: "There was no other option than to head out and help my brother with the day-to-day running of the farm"
I have been surrounded by cows and sheep ever since.
Farming has almost become an addiction.
While working full-time, I recently enrolled to study a degree in agriculture at Scotland's Rural College in Barony, Dumfries.
The course has been fantastic so far.
It is challenging but I think it will help widen my experiences in the sector even more as I progress.
See also: Young Farmer Focus - Georgia Brown: "Working in agriculture has provided me with an opportunity to see the implications of grain prices, world events and animal disease epidemics on farmers"
On the farm, we run a 430 suckler herd calving all-year round.
We sire charolais, limousin and Abeerdeen angus for breeding replacement heifers.
British blue cross limousin is the dominant breed of cow we farm.
For the past five years, we have been selling most of our calves privately.
However, over the past year, I have started to show a selection of our top home-bred calves and really caught the 'show bug'.
We also run a flock of 550 sheep consisting of Suffolk-cross cheviots and cheviot mule ewes which produce early spring texel and charolais lambs.
See also: Young Farmer Focus - Jessica Ellwood: "I would love to play a part in encouraging more young women to think about a career in farming"
We tend to lamb indoors from mid-February onwards - lambing early works for our system as we can achieve a premium price when going to the market before the majority of the UK's surplus of lambs are ready to be sold.
At 16, my grandfather bought a sheepdog which I called 'Lad' as a pup in Northern Ireland at an National Sheep Association event.
He is probably my best asset.
I could not shepherd without him.
See also: Young Farmer Focus: Todd Baker - "Welcoming new people, ideas and ways of working into farming is important to farming"
In my spare time, I am a member of the Lower Nithsdale Young Farmers Club which has something for everyone and has fantastic opportunities to socialise and meet new people.
It really is important to have friends in the sector for help and advice.
There are plenty of good and bad days in farming.
I like to remain optimistic and think there will always be more good days which overshadow the bad.
See also: Young Farmer Focus - Tom McVeigh: I hope I can help bring more young people into a really exciting and challenging profession
I am in the industry for the long-run, and I cannot see myself as anything other than a farmer.
If I am farming until my very last day, I know I will have lived a great life.