Calf diarrhoea can also result in the scarring of the intestinal tract which impacts the future growth rates and future production of the animal.
Dr Ginny Sherwin, of the University of Nottingham, says: "The fluid loss in diarrhoea occurs due to the pathogens destroying the cells lining the small intestines [rotavirus and coronavirus], which absorb water as well as potential release of toxins [e.coli], which draw water into the intestines from the bloodstream and destruction of the intestinal wall [Cryptosporidium].
"Replacing these fluids is crucial for keeping calves alive; the use of electrolyte solutions should be an add on to feeding milk, as milk is required to provide energy to the calf."
A calf requires six litres of fluid as part of its maintenance requirements (what they need to just be alive). A standard fluid protocol would be milk morning feed, two litres of electrolyte at lunchtime feed, afternoon milk feed and two litres of evening electrolyte feed.
Calves with diarrhoea often develop acidosis, therefore the inclusion of bicarbonate within the electrolyte is important.
Inclusion of anti-inflammatory/ pain relief (for example, Metacam®) is important, as it has been shown to control the high temperature, increase the milk consumption and limit the amount of damage to the intestines.
An anti-inflammatory provides pain relief, which can help alleviate abdominal pain and intestinal cramping.
Dr Sherwin says: "Early detection and treatment of scours are important to promote a high cure rate, and getting to know your calves and regularly observing them is a key element of this as it reduces the chances of severe fluid losses through damage to intestinal tract."
Reference: 1. Compton et al., (2017) A systematic literature review and meta-analysis if mortality and culling in dairy cattle. J Dairy Sci. 100:1-6.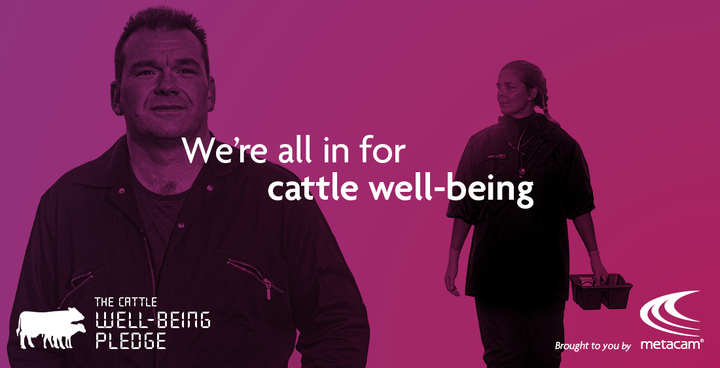 Get Involved
Get involved and highlight the great steps the UK cattle industry has taken towards reducing pain and discomfort in cows and calves on UK farms. *Terms and conditions apply.
For more information, visit calfmatters.co.uk/takethepledge.