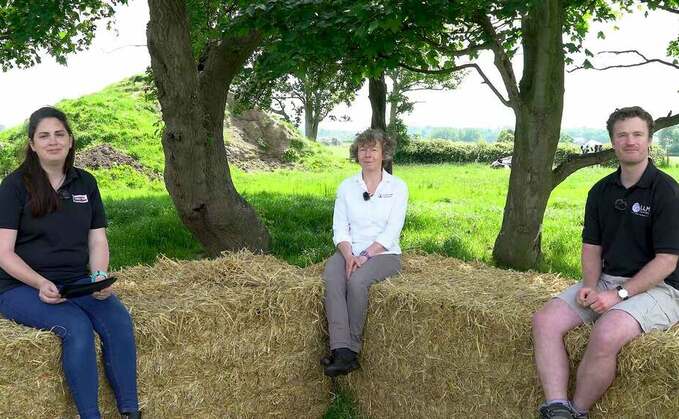 Pasture management is an important, although often under-utilised, element of sustainable parasite control.
All grazed cattle are exposed to parasites on the pasture and wormer resistance, which is common in sheep, is now increasing in cattle.

This threat of resistance means farmers need to review their parasite control practices to ensure their long-term sustainability.
Strategies
Making changes to worming strategies and reducing reliance on wormers alone for parasite control can help to lessen the threat of resistance and still support cattle health and productivity.

One of the changes farmers can make is managing pasture with parasites in mind.

Kath Aplin, veterinary adviser at Boehringer Ingelheim Animal Health, gives her top tips for including pasture management into your parasite control strategy.
"You can avoid some early worm infection by delaying turnout until early summer"
Kath Aplin
1. Identify clean grazing
Identifying 'clean' grazing, which has no or very low levels of worm eggs and larvae, can help you plan a rotational grazing system to reduce the worm burden in cattle, particularly youngstock.

Pastures such as new leys, those which have not been grazed by cattle during the previous season and, later in the grazing period, silage and hay aftermath, will pose a low risk for calves and first and second season cattle, which are most susceptible to worm infection.

Mapping out your grazing, with details of when it was last grazed and by which group of cattle, can help you identify lower and higher risk pastures, so you can move stock around as required to lessen the risk of worm challenge.

Finding sufficient clean grazing can be difficult for some farms, so consider prioritising any clean or lower risk fields for youngstock first.

This will allow them to slowly build some immunity to worms before exposing them to a higher worm challenge on contaminated pasture.

Adult cattle are more likely to have developed sufficient immunity to gutworm species to cope with low level worm burdens and can follow youngstock.

Building in a rotation to your pasture use can help increase the amount of clean grazing available for young cattle.
2. Delay Turnout
You can avoid some early worm infection by delaying turnout until early summer.

By avoiding early spring, cattle will be prevented from ingesting overwintered infective gutworm larvae and this will reduce the worm challenge by late summer, when the traditional 'mid-summer rise' in worm larvae occurs on pasture.

Delaying turnout also provides an opportunity to take other preventative measures, such as vaccinating for lungworm, which requires two doses before turnout.
3. Move cattle on
Moving cattle on to fresh pasture regularly will help to reduce the worm burden within cattle.

Preventing cattle eating down the grass to the extreme will also reduce the quantity of worm larvae ingested.

Mob grazing, strip grazing and co-grazing with other species can also be useful techniques to manage grass length and quantity of parasites within the sward.

Co-grazing with sheep and horses can be beneficial in removing some of the parasite species which are harmful to cattle, and vice-versa, but care must be taken where there is a shared parasite or infectious disease challenge, such as liver fluke.
4. Preserve Refugia
A poor response to wormer treatments and reduced productivity can be associated with wormer resistance.

This occurs when repeated wormer treatments remove susceptible worms over time, leaving a parasite population which is dominated by worms that are resistant to one or more anthelmintic groups.

Preserving a sub-population of susceptible worms on the pasture which are not exposed to an anthelmintic when treatment takes place, known as refugia, plays an important role in resistance management.

Implementing strategies which ensure cattle become lightly re-infected with worms after treatment, such as 'move and dose', will also help to maintain the genetic diversity of the worm population and slow the development of resistance.
5. Weigh before worming
Monitoring the weight of youngstock has several benefits, not least in ensuring growing cattle are receiving sufficient nutrition to meet daily live weight gain targets, but weight can also be an indicator of worm burden.

Only about 20 per cent of cattle within a group contribute 80 per cent of the worm eggs to the pasture; cattle which are not meeting growth targets despite adequate nutrition and no other health concerns are likely to have the greatest worm burdens.

Treat animals which are not meeting growth expectations, but consider leaving a proportion of the best performing animals untreated.
Population
When this approach is taken, a population of susceptible worms will remain within untreated animals and act as a source of refugia.
6. Test your dung
Faecal egg counts on pooled dung samples can provide an indicator of worm challenge within a group.

Taking regular dung samples can help you understand the worm dynamics on pasture and aid in decision-making for pasture rotation and worm treatments.
Checks
Post-drench checks or more structured feacal egg count reduction tests can also be useful to identify whether worm treatments have been effective.

Sampling animals at a defined interval after treatment and, in the case of feacal egg count reduction tests, comparing this to a pre-treatment result can provide insights into the efficacy of the treatment.

Your vet or animal health adviser can give you advice on collecting dung samples and perform these tests for you.
Watch the webinar
Find out more about how pasture management can support sustainable parasite control in our recent webinar with vets Rob Howe, of LLM Farm Vets, and Kath Aplin, of Boehringer Ingelheim Animal Health.
Watch on demand to discover pasture management techniques to reduce the parasite challenge in cattle and on the pasture, and how to use diagnostic tests like faecal egg counts to help you decide whether your animals need worming.