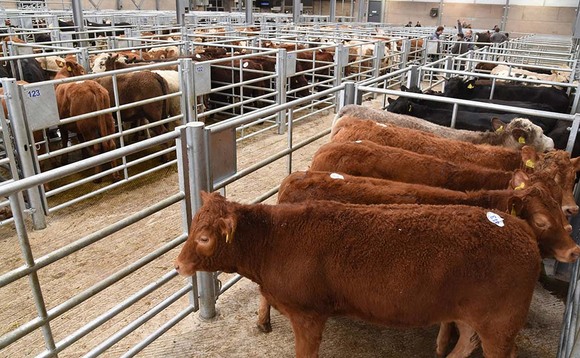 While recent years has seen many auction marts to move out of town centres, the opposite is true of Melton Mowbray which is bucking the trend.
Melton Mowbray market is the largest town centre livestock market in the country and has been in existence for more than 1,000 years, predating the Doomsday Book. A market has been held there on Tuesdays since 1324 when it was granted a charter by King Edward II.
This has only been made possible by the continued support of the local council who recognise the value of having the market in the town. It is reported that 70p in the pound spent in the town on Tuesdays comes from visitors to the market.
The recent upgrading of facilities is a result of investment by Melton Borough Council, the Leicester and Leicestershire Enterprise Partnership and Gillstream Markets who took over the operation of the market in 2016.
The £5.5m redevelopment involved the construction of a new cattle ring and penning alongside the existing sheep building, which was officially opened by Princess Anne in 2018.
While Tuesday has always been the main market day, since the Covid-19 pandemic, weekly sales have been run on Wednesdays as well.
Scott Ruck, who joined the business two years ago on a part-time basis and whose role has evolved to a full-time position as head of sales, explains more.
He says; "To reduce the number of both people and stock on the site at any one time we took the decision to continue to sell sheep on Tuesday but move prime and store cattle and calves to Wednesday, which is working well.
"There can be 5,000 sheep in the shed on prime day alone, from more than 170 vendors.
We are selling about 500 cattle on Wednesdays, made up of around 220 fat, 200 stores and 110 calves from up to 250 vendors. So even when we were operating the 'drop and go' system, there were still a lot of people coming to the market so it made sense to split it.
"It has been a challenging time and we have, unfortunately, lost quite a few staff due to them being in the vulnerable category or having vulnerable relatives.
"But this has left us with a core team which has really pulled together to make everything work and I think it has actually made us become more efficient."
There is a young team of auctioneers in place with Scott selling sheep and store cattle, James Sealy selling prime cattle with Oliver Chapman having taken over calves from Barrie Williamson, along with pigs.
Situated in the heart of the country close to a good road network, the market draws buyers and sellers from a wide area.
Hugh Brown, CEO of Gillstream Markets says; "I have always firmly believed in markets which is why I took it on. It is the best way of doing business if done if a straight, fair and honest way, which is what we are doing.
Strength
"We are now starting to see Melton grow in strength and this is down to the dedication of our staff and the loyalty of our customers."
Scott says: "Along with increasing livestock numbers we are also attracting additional vendors and buyers each week.
"Particularly on the fat cattle side many of our buyers are end users which contributes to a strong trade."
As well as the regular weekly sales the market hosts special seasonal sales of store cattle, breeding sheep, rare breed and pedigree stock and is keen to expand on this.
Scott says: "We have a very enthusiastic team here which is very keen to grow the market. We are in the process of setting up on-line bidding which will be a welcome addition and we are looking to expand the number of special sales we can offer."
But it is much more than just a livestock market. It is well known for its fur and feather sales which draw in huge numbers of people, although sadly they are on hold at the moment due to Covid-19.
A farmers market is held on Tuesdays and Fridays and many of the butcher's with stalls there are buying livestock out of the market. In addition, there are sundry and antiques sales on weekly basis.
Scott says: "Market days are very busy and in normal times we do get spectators from the town coming to watch the auction and it is a good way of educating them about farming.
"For farmers there is also the opportunity to go into town if they need to, as well as catching up with other farmers from a wide area."
The market is also home to the Market Tavern, run by Di Booth and her team, who provide a wide ranging menu made from locally sourced produce and have been finalists in the Marts The Heart café of the year three times, winning once.
Di also manages the on-site banqueting suite which has the capacity to cater for large scale functions such as wedding receptions and conferences.
Melton Mowbray is already known as the rural capital of food and the next stage of development is the upgrading of the stall and unit facilities to create a food a drink hub for the market, the town and the region.
This has already started with the arrival of Round Corner Brewing, which has adapted to the current situation by developing a collection and on-line shopping facility in order to continue to serve its customers.
History
The market moved to its current site in 1869 and has been leased by Melton Council from Melton Town Estate since then. Initially, it was run by a council committee, with licences granted to individual firms on auctioneers.
In 1963 the council modernised the market with new covered pens and the firms which had the rights to sell livestock formed Melton Livestock Auctions.
In the 1970's the licence to operate the market was granted to Melton Mowbray Market Partners.
In 2014 Melton Borough Council began discussions to redevelop the cattle building in readiness for the next 20-year lease and began negotiations with Gillstream Markets about bringing in external finance to take the business forward.
This led to an upgrade of the market's corporate structure from an unlimited liability partnership to an independently financed limited company, Gillstream Markets.