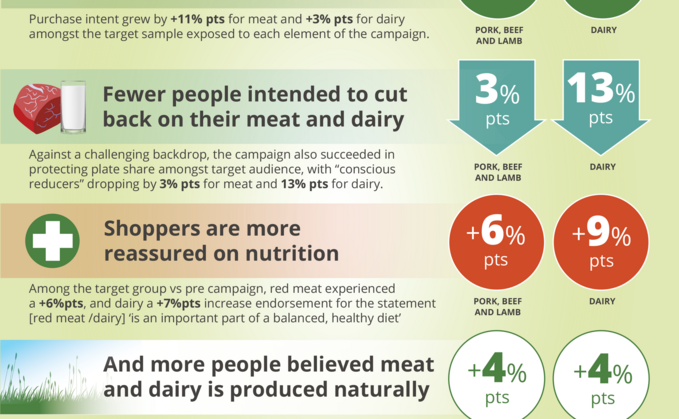 AHDB's We Eat Balanced campaign aims to protect long-term attitudes to British meat and dairy, by reassuring consumers they can be part of a healthy and sustainable diet. After the first three months, Olivia Midgley assesses the changes in consumers' hearts and minds.
With a mountain of mixed messaging and misinformation around food, it is no wonder consumers often describe making dietary choices as a minefield.

But AHDB's We Eat Balanced campaign, launched in January specifically to target meat and dairy 'waverers', has shown that after seeing simple messaging extolling the benefits of the category and the truth behind its production, consumers are more likely to place it in their shopping baskets.

Advertising awareness of dairy or beef, pork and lamb increased from 37 per cent to 44 per cent, with 11 per cent more likely to purchase meat after seeing the advertising and 3 per cent more likely to purchase dairy, according to an independent study using pre- and post-activity evaluation.

Six per cent said they felt more reassured on health grounds when buying meat and 9 per cent more reassured on dairy.

Christine Watts, AHDB chief communications and market development officer, described the results as 'hugely positive'.

"Consumers really warmed to what we did, emotionally and in terms of attitudes moving positively, so we have got ourselves off to a promising start on something which was essentially about testing a concept," she said, adding it was 'probably the hardest time of year to promote meat and dairy' and complaints from vegan groups had been anticipated.

"January is usually a month which is heavily dominated by the 'reduce meat' lifestyle messages. In order to achieve balance, we deliberately went live at this time of year."

In fact, despite the headwind of pressures around dietary changes during January, analysis showed the number of 'conscious reducers' in meat and dairy fell, by 3 per cent and 13 per cent, respectively.

Data also showed an uplift in consumers seeing meat and dairy as an important part of a healthy balanced diet, of 6 per cent in meat and 9 per cent in dairy. There was also an uptick in how dairy is perceived in terms of 'naturalness' (+ 8 per cent)
Attitudes
Perceptions of meat as providing a range of vitamins and minerals, including B12, rose by 4 per cent, with dairy perceived as being rich in protein up 9 per cent.

Susie Stannard, AHDB senior consumer insight analyst, said: "This is the first time we have used these messages and we know with new campaigns that are looking to shift attitudes it takes a while to settle in and drive movements so to see the gains we have with this campaign is really encouraging.

"We did some modelling work on what would have happened had we done nothing in that time period, looking at people who saw all parts of the campaign and what happened to purchasing intent.

"For those who saw it, purchasing intent went up sharply from 69 per cent to 80 per cent, but for those who did not it either stayed the same or eroded slightly, so it shows we were right to do that piece of work."

Ms Watts added: "To move consumer sentiment at this time of year shows us how important it is to be positive about our industry and feel confident about how good it is. "It also shows we must address the misinformation that regularly gets served up to consumers and promote the role of red meat and dairy as having an important part to play in the diet, as well as an important role in the environmental sustainability of our livestock production and our countryside.

"Plus, consumers responded really well to getting that permission to enjoy and reassurance of why they can continue to enjoy a range of foods as part of a healthy and balanced diet."

Retail and press activity played a key role in driving consumer awareness, but farmer involvement has been critical.

She said: "Farmers, processors and retailers, everybody got behind it.

TV advertising drove really positive emotional sentiment and that got reinforced through the social media conversations and farmers sharing their stories and images of their farms.

"That was all then reinforced at the point of sale, with shelf edge banners and 3m stickers placed on packs by retailers."

Liam Byrne, head of marketing, said: "Social media is a pivotal tool and the role our supply chain and particularly farmers play in that piece is critical.
"Consumers really enjoyed engaging with farmers and hearing their stories of how they underpin values around sustainability and food and farming standards which are the cornerstone of this campaign.

"So in the next phase, we will be looking for more farmers to come forward because they are the lifeblood of the messages we are talking about.

"If we get that bit right, that is where we start to see trust between consumers and meat and dairy produced in Britain."

With a firm foundation in place, what next for the levy board's promotional activities?

Ms Watts added: "We are trying to get to an 'always on' promotions and marketing strategy.

"We are promoting potatoes as the perfect packed lunch, positioning pork as a healthy midweek meal and we will be back in autumn with our next wave of We Eat Balanced.
The future
"We will continue to develop themes around health through a balanced diet, but also looking at messaging we can develop around sustainability." She said sustainability messaging was key with the world's eyes about to descend on the UK as it prepares to host the COP-26 climate summit in November.