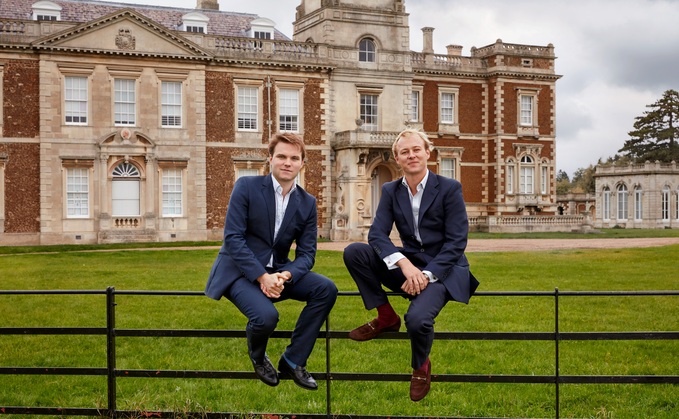 It is safe to say that countryside fashion brand, Fairfax & Favor, has taken over rural Britain, and their bags, boots and shoes in particular are must-haves if you are attending any sort of rural event.
But what has taken them to the top? And who are the people behind the brand?
Founders: Marcus Fairfax Fountaine and Felix Favor Parker.
What are your backgrounds?
We are childhood friends and were born and raised in the glorious Norfolk countryside. We decided at the age of 15 that we would go into business together and used our middle names to create the Fairfax & Favor brand.
Our first venture was to launch a bouncy castle company. Needless to say, this did not turn out to be as lucrative as we had hoped so, we decided to better our business acumen and went on to further our studies, Marcus at Manchester University and Felix at the Royal Agricultural University at Cirencester.
Upon graduation, we were reunited and together worked as Wholesale Sales Managers for Abarka in the footwear industry. We decided to go it alone and in 2013 felt the time was right to give the Fairfax & Favor brand another chance, this time leaving behind bouncy castles for a line of hand-crafted leather boots.
With our final wage packet, we booked two flights to Spain to visit a footwear factory where we begged the proprietor to make 400 pairs of beautifully hand-made boots. With the stock due to arrive in six weeks we booked our first show, the local Holkham Country Fair. The event was a success and saw us sell enough to pay for the next show which in turn paid for the next and so on.
See also: Being Amanda Owen: 'Just do your thing, I think there are lots of women doing that in farming'
Why was the brand created?
The brand was born from a passion for creating the highest quality and fit-for-performance footwear for rural life with a stylish design, setting itself apart from all other boots and shoes for those living in the countryside. In recent seasons, the brand's collections have expanded and grown to include a range of versatile footwear that can be worn far beyond the country, finding a home comfortably in the town too.
What is it about the beautiful British countryside that inspires you?
The brand celebrates its rural heritage in everything that we produce, designing with both town and country in mind for anyone with a passion for style and adventure. The brand does not follow trends, Fairfax & Favor make timeless classics, and each quality piece is destined to work hard, suit our loyal customers' lifestyles and live forever in their wardrobe. Every piece in our seasonal collections is designed and developed in the heart of the Norfolk countryside and is the epitome of rural vogue.
British culture and heritage, with equestrian influences are woven through our designs. Fairfax & Favor's signature style brings together practicality, comfort and style combined with design features including the renowned interchangeable tassel - a firm favourite with our customers.
Do you have an ethos?
Charity Work: Fairfax & Favor releases a selection of limited-edition Breast Cancer Now products every October for Breast Cancer Awareness Month, with 100 per cent of the value of the product going to the charity to continue the amazing work they do. To date, Fairfax & Favor has donated £509,000.
Sustainability: Sustainability is very important to Fairfax & Favor and at the forefront of all our practices. Most recently the brand has teamed up with Greenspark whose work allows Fairfax & Favor to offset their employee's carbon emissions. We believe our products should be used and loved, then repaired not replaced. The brand is striving to become B-Corp certified by 2024.
What, in your opinion, is the epitome of country style?
This is an extremely hard question, there are so many products that we could choose for this. We would have to say 'The Explorer' boots are the epitome of country style. They can be worn for long walks in the countryside as they are waterproof for up to eight hours, but they can equally be dressed up with a dress or pair of jeans and worn in the town. The Explorer's are available in both oak and mahogany leather.
Describe your brand in three words
Aspirational, British, rural-vogue
Fairfax & Favor can be seen on people at every kind of countryside/agricultural show there is. What is it that people love about your brand?
Fairfax & Favor's customer base is hugely about brand loyal. The Fairfax & Favor club page on Facebook has over 106,000 members and growing. The members on the club page get early access to new product launches, which sometimes get sold out before they go live to the general public. This page allows customers to share styling types and advise with each other. Fairfax & Favor listens to the needs and wants of their customers, the brand runs a competition annually where club members have the opportunity to submit a new design. The brand chooses the best design and adds it to its collection.
The broadening of Fairfax & Favor's collection to include, bags, accessories and outwear gives customers the ability to incorporate/wear more products at the same time. This was seen with the launch of the new Francis Trench coat last Autumn/Winter. The versatility of the products makes them the perfect choice of footwear for a country or agricultural show. The boots are both comfortable and stylish, which makes them the ideal go-to for a show. The famous Regina's can be paired with a dress or jeans and the addition of the interchangeable tassel allows them to match your outfit perfectly. The quality of Fairfax & Favor's products ensures they last a lifetime if looked after properly.
Fairfax & Favor likes to launch new products and countryside shows. The L'Alliance wellingtons were launched at The Game Fair and the new Beatrice blazer is launching at Burghley Horse Trails. This really generates a buzz on the stand.