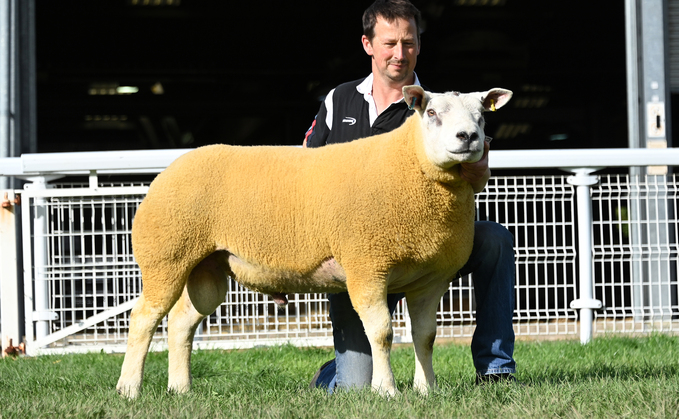 Farmers flocked to Builth Wells for the annual NSA Wales and Border ram sale which had a 90 per cent clearance rate, up 9 per cent on 2022.   
The sale turnover was up £71,916 on the previous year at £2,050,929.88 with an average of £756.52, up £61.89 from 2022.
Topping the sale at 24,000gns was the pre-sale male champion, Scolton Fieldmarshall from Messrs Reed, Haverfordwest. Home-bred on both sides, the February 2022-born ram is by Scoulton Dynamo which was champion at the sale in 2021. It was knocked down to Esmor Evans, Mold, for his Maerdy flock.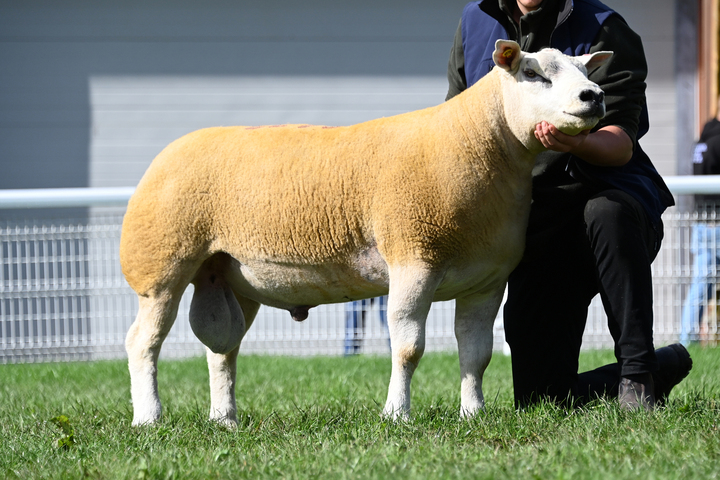 The Williams family, Lampeter, achieved 22,000gns for the Texel yearling ram, Caron Fire Fly which was a class winner at this year's Royal Welsh Show. By Tullylagan Commander which also bred their 32,000gns sale topper in Worcester in 2021, Caron Dynamite. It sold to the Greenarch flock of Ken Hodge, Earlston, and the Roxburgh flock of John Elliot, Kelso. The family won the prize for the best pen of rams.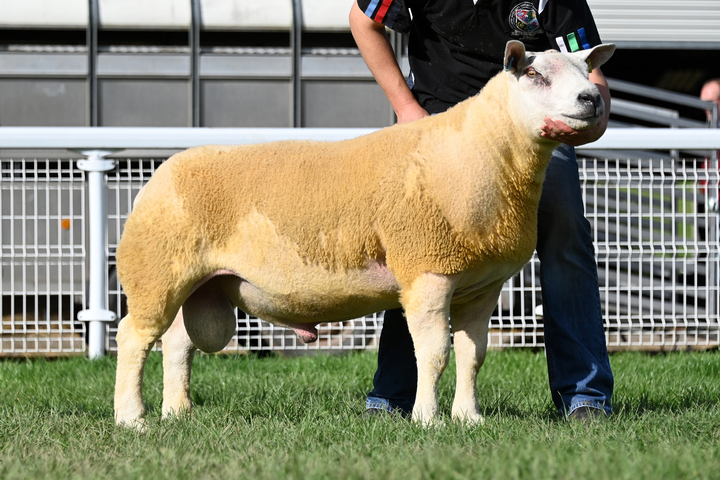 Another ram by Scolton Dynamo from Messrs Reed, Scolton Fortress, realised 10,000gns to A. Davies, Builth Wells. Their pen also saw nine rams exceed the 1,500gns mark.

The Royal Welsh Show winning ram lamb, Blaencar Gladiator by Haymount Filmstar, from the Morgan Family, Brecon, sold for 7,500gns in a two-way split to Robin Clwyd Ellis and Tomos Huw Ellis for the Eglur and Kauri flocks, North Wales.

Topping the pen for Hywel Thomas, Carmarthen at 5,800gns was Cennan Fivestar which was bought by Messrs Reed, Haverfordwest.
The second top prize Texel ram lamb at 5,000gns was Teilo Gogoniant from the Davies family's Teilo flock, Llandeilo. After claiming second in the texelplus class in the pre-sale show the son of Haymount Finders Keepers sold to Neil Harvey for the Blackadder flock, Scottish Borders.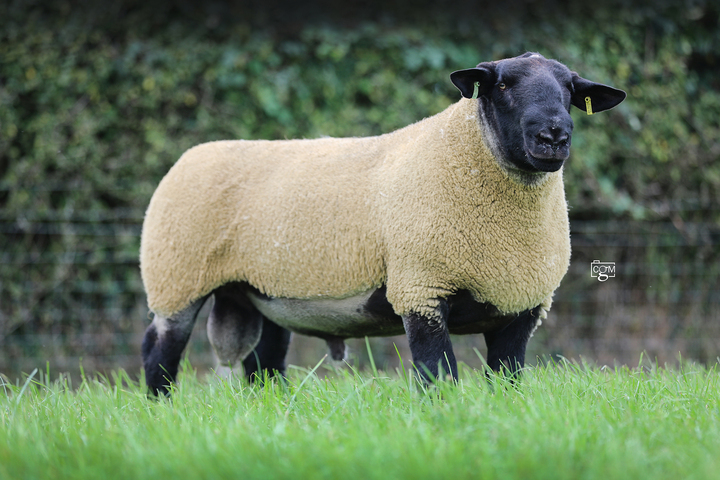 Suffolk rams averaged £954.88 for non-MV yearlings, up £164.09 on last year with a 96 per cent clearance.
The top price Suffolk at 4,600gns came from Gareth Jones's Rowlestone and Robblestone flocks, Haverfordwest. By Roxburgh Mains Brexit, it was bought by J. T. Fleming, Hawick.
The Jones family had a successful day, with 115 rams forward in total which averaged 920gns. Their 37 Suffolk rams averaged £1,292.55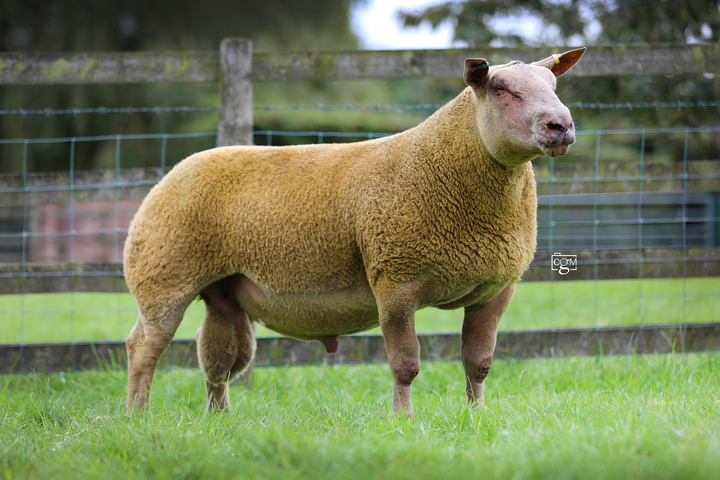 In the Charollais ring, it was Geoff and John Probert, Herefordshire, who took the top price of 4,000gns with a yearling ram from their Mortimer flock is by Caverick What A Boy which was fourth in the pre-sale show. It was bought by S. Furness, Derbyshire.
They saw their best average to date of £1,139 for their 30 Charollais' and £1,020 for their 20 Texels, both with 100 per cent clearance.
Champion Charollais came from Awrwyn Thomas, Carmarthen, with his December 2022-born ram lamb, by Arbryn Anttila which was second at the Royal Welsh show and sold for 3,000gns.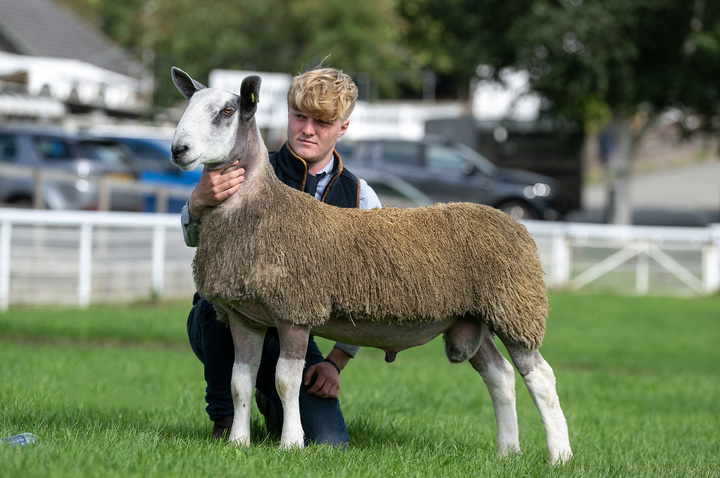 The champion Blue Faced Leicester, set the breed's joint top price of 3,000gns. This was a yearling from Sophie Harding's Shrewbridge flock, Nantwich, which sold to Matthew Seed, Turriff.
A ram lamb from McClymont and Son, Selkirk, also sold for 3,000gns to J. T. Fleming and Son, Hawick.
Setting a new record in the Hexham cross-bred ring of 1,700gns was the Logie Durno flock from the Ingram family, Aberdeen. This was for a Texel cross Charollais yearling bought by Mr Ford, Whitby.
The section champion, another Texel cross Charollias from the same stable was bought for 1,600gns by the Phillips family, Hereford.
They achieved 1,600gns again for another Texel cross going to Messrs Harding, Devises.
The family also had the top price Blue Texel at 2,400gns.
North Country Cheviots sold to 1,800gns for the champion yearling ram from the Kingside flock of Coburn and Partners, Peebleshire, which sold to J. and A. Pate, Midlothian.
The highest priced South Country Cheviot sold at 1,600gns was from Douglas and Sons, Roxburghshire, and sold to D. R. Price, Llangadog.
In the Lleyn ring, the top price came from G. and A. Fort, West Yorkshire, who sold a yearling for 1,400gns to R. Jones, Wrexham.
Dafydd Jones, Aberystwyth topped the Suffolk ram lamb trade at 1,100gns with a Frongoy Dominator sired lamb out of a Strathbogie ewe which is a full brother to his Royal Welsh show winning ewe lamb from 2022. It sold to Marc Evans, Builth Wells.
Reserve champion Texel, a yearling ewe from Vaughan Farms, Kingsland, topped the female trade at 1,800gns bought by C. Jones, LLanbadarn Fynydd.
At the same price was the reserve champion female and third prize ewe at the Royal Welsh show from James and Ellie Amphlett's Topwood flock, who were also awarded best pen of ram lambs. The buyer was Charlie Fielder, Test Valley.
In the Charollais ring, a Gwyndy Warrior sired ewe lamb from S. Bevan's Berry flock based in the Gower topped the female trade at 400gns heading home with Steffan Morgan, Carmarthen.
Averages:
Texel, 467 shearing rams, £962.99; 153 ram lambs, £681.61, 56 ewes, £610.50, 6 ewe lambs, £700.01; Blue Faced Leicesters, 4 aged rams, £1,102.50, 375 shearing rams, £781.91, 71 ram lambs, £699.52; Lleyn, 51 shearling rams, £360.29; Blue Texel, 9 shearling rams, £436.33, 8 ram lambs, £462.00, 11 ewes, £284.45, 9 ewe lambs, £243.83; Berrichon, 28 shearling rams, £490.19;
Dutch Spotted, 1 aged ram, £367.50, 5 shearling rams, £443.10; 4 ram lambs, £236.25, 1 ewe, £315.00; 6 ewe lambs, £698.25; Roussin, 5 shearling rams, ££254.10; Hampshire, 8 shearling rams, £609.00; Charmoise cross Berrichon, 5 shearling rams, £470.40; Charollais, 113 shearling rams, £814.45, 87 ram lambs, £566.48, 2 ewe lambs, £367.50; Suffolk MV, 3 shearling rams, £535.50; 101 ram lambs, £566.78; South Country Cheviots, 78 shearling rams, £495.12; Brecknock Hill Cheviot, 7 shearling rams, £457.50; Scotch Black Face, 9 shearling rams, £265.17; North Country Cheviots, 98 park rams, £456.70, 7 hill rams, £445.50, 6 ewes, £393.75, 2 ewe lambs, £257.25 Continental cross, 134 shearling rams; Cambridge, 8 shearling rams, £237.56; Continental cross, 57 shearling rams, £780.50; Beltex cross, 8 shearling rams, £1227.19; Blue Face Leicester cross, 28 shearling rams, £482.25; Suffolk non-MV, 320 yearling rams, £954.88, 4 ram lambs, £522.38;
Texel MV, 99 shearling rams, £1,352.11, 22 ram lambs, £575.59

Auctioneers: Clee, Tomkinson and Francis; Harrison and Hetherington; Hexham and Northern Marts; Jones Peckover; McCartneys; Nock Deighton Agricultural; Ruthin Farmers Auction Co; J. Straker Chadwick and Sons; Michael Walton.