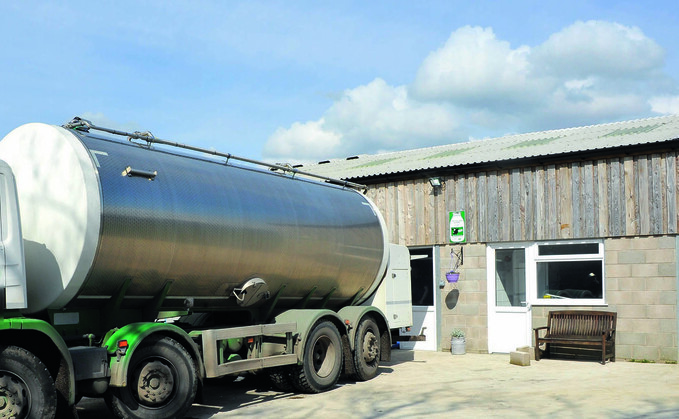 One of the UK's top milk hauliers, Lloyd Fraser, which collects milk for companies including Arla, Muller and Meadow has entered administration.
Processors have confirmed they were currently working to make alternative arrangements for collections.
But industry experts warned that some farmers milk would go uncollected.
Farmers Guardian understands a number of tankers have been locked up, some of which were still loaded with milk. The milk inside the tanker remains the property of the processors with some allowed to go into the depot to extract milk.
NFU dairy board chair Michael Oakes said it seemed all the processors were trying to work together to collect as much as possible but 'not all milk is going to get picked up'.
Milk processors
"Normally when there is a crisis, the industry does pull together," he said.
He said individual farmers would be worrying over whether they would be paid, either through their processors or insurance.
"None of us like throwing milk away," he added.
See also: Government urged to legally protect dairy terms for both consumers and producers
He added with the haulage industry being 'very efficient' there would not be a large amount of extra capacity available to pick up the milk.
"It is also unfortunate for the guys that have been picking the milk up. You do develop a relationship with them, for some farmers it is the only person they will see all day.
"Many farmers will have a mechanism in place to cover them but actually it is these guys we have got to remember, they have lost their job."
Dairy analyst Chris Walkland said Lloyd Fraser were one of the biggest milk collectors in the country.
"It is very significant indeed, a lot of milk will be affected," he said.
"There is a lot of worrying which will be being done by the processors to get as much milk as possible."
Transport
A spokesperson for Wyke Farms said: "Over the past few months, we have experienced performance issues with Lloyd Fraser and were already in the process of moving the Wyke Farms milk haulage contract to T.P. Niven Transport to start from November 1 2023.
"To minimise impact on our milk producers as much as possible we have been working with T.P. Niven and can confirm they have stepped in with immediate effect to run the milk collection operation and all disrupted milk collections were picked up over the weekend.
"We appreciate the support received from our milk producers, T.P. Niven Transport, Lloyd Fraser employees and the team here at Wyke Farms, all of whom are working hard to overcome the challenges."
Arla confirmed member owners would be paid for their milk if left uncollected.
See also: UK Cheddar market under threat
An Arla Foods spokesperson said: "Following receiving confirmation that Lloyd Fraser has today entered administration, our priority is to ensure our farmer owners milk continues to be collected. We can confirm that we have implemented contingency plans in the areas where Lloyd Fraser operates, which includes, Cheshire, North Wales, and Shrewsbury."
A spokesperson for Muller Milk & Ingredients said: "We are working to minimise the impact for our supplying farmers, the approach is to ensure that all in-bound logistics for impacted farms will either be collected by Müller, or via a third-party. We are confident there will be no effect on customer service.
"We are unique in that the vast majority of our logistics operations are in-house, which helps to ensure security of supply and high standards of quality and service."
Lloyd Fraser were contacted for comment.