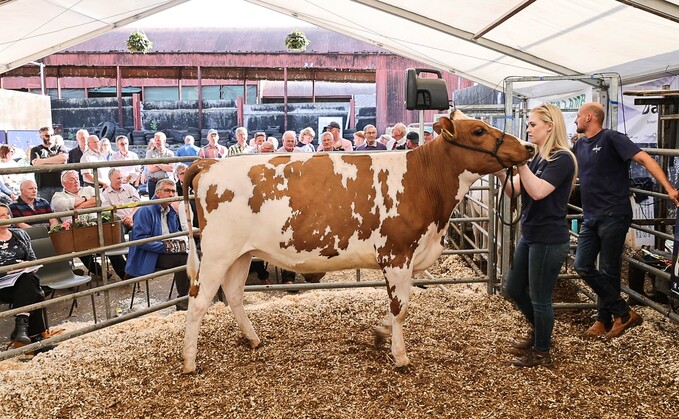 One of the largest crowds ever seen at a dairy dispersal gathered at Sandyford Farm, Prestwick, Ayrshire, as the Lawrie family dispersed their Brieryside herd of Ayrshires and blended Red and Whites.
This was one of the world's oldest established Ayrshire herds with over 150 years of breeding, and almost 100 different buyers were successful in bidding for the 420 head that passed through the ring.
Leading the trade at 8,600gns was Brieryside Hail Miss Donald, a served heifer, due at the end of the year. The hammer fell to J. McAlistair, Isle of Bute.
Next at 6,000gns was the Holstein fresh heifer, Arranview Diamondback Abigail, a direct descendant of KHW Regiment Apple and bred from nine straight Excellent dams. The buyer was John Allen and family, Co. Armagh.
A further three animals made over 5,000gns with the young cow, Brieryside Awesome Magenta, selling for 5,800gns to the Bailey family, Audlem, Cheshire.
Brieryside Hail Wren made 5,600gns and joins the Edenfields herd of D. Coulthurst, Preston.
At the same money was another member of the Wren family, Brieryside Aladdin Wren, which went home with A. and S. Lawrie, Kinross.
At 5,000gns was Brieryside Awesome Sandy Rose, which is due in July to Brieryside Hail. The buyer was John Hunter, Northern Ireland who also secured Brieryside Magic Swan for 4,800gns.
A total of 72 animals made 3,000gns or more and several volume buyers were in attendance. The Wilson family, Stranraer bid up to 4,200gns for their load of over 50 cows while 41 milking cows and in calf heifers travelled to Cornwall for Messrs Colgrove, Newquay and were part of over 80 that sold to Somerset, Devon and Cornwall.
With the sale total almost hitting the £1m mark and at an average of over £2,200 per head across all ages this was a record average and highest grossing herd dispersal for the Ayrshire breed.
Averages
284 in-milk cows, £2,391.23; 54 served heifers, £2,461.57; 22 maiden heifers, £1,596.48; 63 heifer calves, £1,106.17; 423 head, £2,167.49
Auctioneers: Norton and Brooksbank