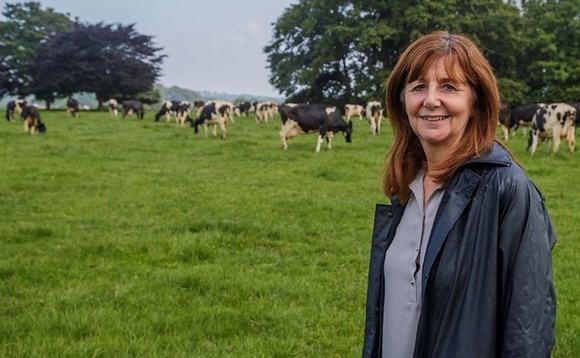 On this weeks Over the Farm Gate podcast, FGs Rachael Brown puts farmers concerns to Welsh Rural Affairs and North Wales Minister Lesley Griffiths
WelshGovernment has been urged to get the basics right or risk losing farms altogether, with farmers seeing no light at the end of the tunnel on bovine TB (bTB).
Farming in the Welsh borders was made even more challenging by differing policies in the two countries, as badger culling was allowed in England while farmers felt they were unable to voice concerns over infected wildlife in Wales.
Roundtable
Farmers Guardian convened a roundtable on the Welsh border, with attendees expressing their frustration with bTB policy.
Dairy farmers Susie Mottershead and her husband Mark in North Wales, less than 10 miles from the English border, have had bTB on their farm for a decade. But they fear nothing is changing and that they will live with bTB for the rest of their farming life.
She said: We are never going to get out of TB. I feel the Minister gives blanket answers every time; I have heard the same answers to the same questions on separate occasions. Everything is yes we understand that, but does she actually?
In any other business that was in any other market you cannot imagine being told you are not allowed to grow. We as farmers are wanting to build a legacy for the next generation, but you cannot when you have TB.
Mr Mottershead said language used around bTB made it feel like farmers were always at fault and the disease was down to cattle movements.
The farmers said wildlife needs to be factored in to the conversation around bTB.
When we are dealing with any outbreak of anything, you look at all the factors that can add into it. Even if it is not wildlife initially, it does not mean it is not relevant now, Mrs Mottershead said, adding they were following the rules and asking what else they could do.
Rural Affairs and North Wales Minister Lesley Griffiths said she was not accusing farmers, but the role of informed purchasing in tackling the spread needed to be considered.
Informed purchasing is incredibly important and farmers need to recognise that. I am not blaming farmers, I am just saying we have to work in partnership, she said, adding farmers needed to take the lead on this.
That is why I gave the funding to make sure as much information about cattle is made available before a farmer buys livestock.
Boundary
Neighbouring farmer Jonathan Scott said farming on the boundary was challenging, with different policies due to devolution.
Mr Scott said the governments use the badger cull against each other. He said: While there are two separate parties in power in Wales and England this will always be the case.
Mrs Mottershead added part of the problem is that everyone is tackling the disease differently, even though all the borders touch, calling for one policy throughout the UK and Ireland.