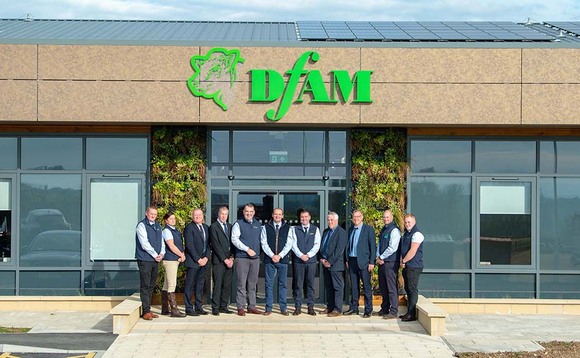 In the latest of our series supported by the Livestock Auctioneers Association and Shearwell Data, we visit the new Darlington Farmer Auction Mart.
A new era dawns for Darlington Farmers Auction Mart with the opening of its new market at Humbleton Park.
The final curtain came down on the old Darlington market at Clifton Road on Thursday and was followed by the first sale at the new market on Monday September 21.
The new facility is situated on a 75 hectare (186-acre) greenfield site, just off the junction 58 of the Al and the A68. It has been built with human and animal health and welfare, as well as energy efficiency at the top of the agenda.
The business is owned by mainly farmer shareholders and run by a board of directors, headed by chairman, livestock and arable farmer, Mark Dent. Other directors include, auctioneers, Paul Gentry who joined the business earlier this year as primestock manager, store stock manager, Scott Ferrie, a bank manager, a lawyer and a vet, as well as more farmers, who between them, bring a wide range of expertise to the business.
The new market has two sales rings, one for cattle and one for sheep and indoor penning for 900 cattle and 5000 sheep with additional pens available outside if needed. There are 10 loading bays and extensive parking, lairage and washing out facilities, as well as showers available for hauliers.
Within the market building are 10 units available to office or retail rural and agri-business which will all be occupied in the near future, with the company's own estate agents and chartered surveyor business, Vickers and Barrass, already working from the site.
The market will also be home to Dot's Café, the 2019 Farmers Guardian Mart's the Heart, market café of the year winner, run by Dorothy Macdonald and her team. The café opens onto a function room which can be used by café visitors at busy times and will be available to hire for events and it is hoped, will be used by groups such as Young Farmers Clubs. There is also a smaller meeting room available for hire and Wifi is available throughout the building.
Given the site's size and location there will also be opportunities for further development of rural and agri-related businesses.
The site has its own bore hole and boasts green credentials with ground source heating and solar panels on the roof plus a water treatment plant. Rain water is collected from rooves and used for washing out
Auctioneer, Paul Gentry says: "This is a really exciting time for everyone involved with Darlington Farmers Auction Mart and we are looking forward to welcoming vendors and buyers, new and old, and to hosting Beef Expo here next year, as well as developing additional sales.
"There is great access to the market by major routes from all directions and the facilities which are second to none, have been designed to make the whole process of buying or selling as streamlined and efficient as possible with animal and human welfare the priority.
"Covid-19 has made this a difficult year in many respects, but credit must be given to Chris Dodds and the LAA for keeping markets open which has been vindicated by the strong trade in the markets.
"As people began to shop locally butchers and farm shops have seen their trade double and this has helped to boost trade through the live ring and demonstrated just how important auction marts are to ensure a transparent and fair trade.
"At Darlington we saw a 53 per cent increase in stock numbers in June and July and August was 44 per cent up on last year. We are looking to build on this at the new market and we are already seeing new vendors and buyers from all parts of the country."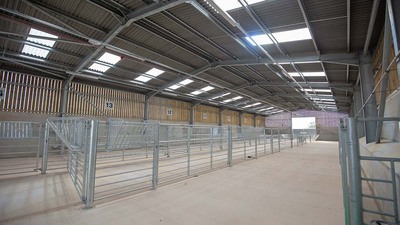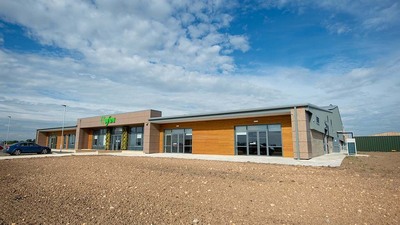 Darlington Farmers Auction Mart, Humbleton Park, Darlington, DL2 2XX.
Auctioneers - Paul Gentry and Scott Ferrie, junior auctioneer - Daniel Lynn
Fieldspersons - Stephen Dodsworth and Tracey Gilhespy.
Head accounts administrator - Chris Farmer
Monday - Store and cast cattle and store and breeding sheep
Thursday - All primestock (red sale). TB1 area - no pre-movement testing required.
History of Darlington Farmers Auction Mart
IN February 1878, Darlington Town Council held a meeting that ended at least 800 years of history.
It was decided that the practice of holding a cattle market in the town centre streets, which had begun in the 11th Century under the jurisdiction of the Bishop of Durham would discontinue.
A new cattle mart, which the council had built for £14,000 on pastureland near Bank Top railway station, opened in March 1878.
The first sale sold 11 bulls, 198 cows and heifers, 1,762 lean cattle, 115 pigs, 351 lean sheep and 60 fat sheep.
In the 1860s, the Duke of Cleveland, Lord Barnard of Raby Castle, had leased land in Barnard Street to auctioneers, Thomas and George Tarn, for a fat cattle mart, but it closed in 1878 when Bank Top opened, and then in 1893, reopened in direct competition.
After the First World War, it was decided to concentrate on the Bank Top site, on Clifton Road. Barnard Street closed and £7,525 was spent updating Bank Top. Over the years the town grew to surround the market which brought its own challenges.
Now, a new chapter has begun as the market business is transferred to Humbleton Park.