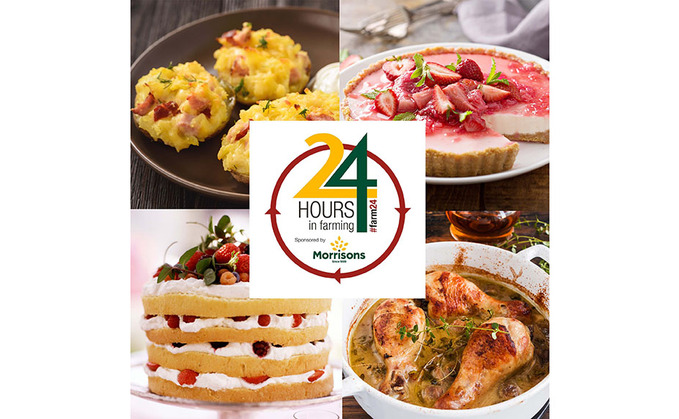 #FARM24 is back on Thursday, August 4 and this year Farmers Guardian are looking for the Best of British recipes to celebrate seasonal and local produce.
Whether it be a family favourite, a hand-me-down recipe or an easy-to-cook sweet or savoury meal, the dishes must showcase British ingredients to be shared among the farming community and beyond.
Sponsored by Morrisons, 24 Hours in Farming otherwise known as #Farm24, is one of the industrys biggest digital events to showcase the role of farmers as food producers to the country.
How to get involved:
Send in your recipes and the FG team will pick their favourite 24. All will be used to showcase the incredible food and ingredients that we produce in this country.
Readers have until Sunday, August 14, to send their recipes, including an ingredient list, method and a photograph of the completed dish.
You can send your recipe in the post to Lucy Baxter, 4 Caxton Road, Fulwood Park, Fulwood, Preston, PR2 9NZor email to[email protected]
Pledge your support today and we will send you tips and ways to get involved during the event and posters to print out. Visit fginsight.com/farm24-getinvolved
https://youtube.com/shorts/FzmNQrWe7zs
Terms and Conditions Recipe competition 2022
1. The prize draw (the Prize Draw) is open to people aged 18 and over who provide their details after completing the online survey.
2. Employees of InsightFul Communications, its group companies or their family members, or anyone else connected with the Prize Draw may not enter the Prize Draw.
3. Entrants into the Prize Draw shall be deemed to have accepted these Terms and Conditions.
4. To enter the competition the instructions must be completed and an email address provided by the respondent. Only one entry per household is permitted. No purchase is necessary. If you have any questions about how to enter or in connection with the Recipe Competition, please email us at [email protected]
5. The closing date of the prize draw is midnight GMT on 07/08/22. Entries received after this time will not be considered.
6. One winner will be chosen from a random draw of entries received in accordance with these Terms and Conditions. The draw will take place on 07/08/22.
7. The winner will receive the prize described in the prize draw email.
8. InsightFul Communications accepts no responsibility for any costs associated with the prize and not specifically included in the prize.
9. The winner will be notified by email on or before 12/08/22. If a winner does not respond to InsightFul Communications within 14 days of being notified by InsightFul Communications, then the winners prize will be forfeited, and InsightFul Communications shall be entitled to select another winner in accordance with the process described above (and that winner will have to respond to notification of their win within 14 days or else they will also forfeit their prize). If a winner rejects their prize or the entry is invalid or in breach of these Terms and Conditions, the winners prize will be forfeited, and InsightFul Communications shall be entitled to select another winner.
10. InsightFul Communications does not accept any responsibility if you are not able to take up the prize.
11. The prize will be sent to the winner within 14 days of being notified of their win.
12. The name and company of the winner can be obtained after 12/08/22 by sending an email to [email protected] within 30 days after the date of the closing date of the prize draw.
13. The prize is non-exchangeable, non-transferable.
14. InsightFul Communications retains the right to substitute the prize with another prize of similar value in the event the original prize options offered are not available.
15. The winner may be required to participate in publicity related to the prize draw which may include the publication of their name and photograph in any media.
16. Insofar as is permitted by law, InsightFul Communications shall not in any circumstances be responsible for any damage, loss, liabilities, injury or disappointment incurred or suffered by you as a result of entering the Recipe Competition or accepting the prize. InsightFul Communications further disclaims liability for any injury or damage to your or any other persons property relating to or resulting from participation in the Recipe Competition. Nothing in these Terms and Conditions shall exclude the liability of InsightFul Communications for death, personal injury, fraud or fraudulent misrepresentation as a result of its negligence.
17. InsightFul Communications reserves the right at any time and from time to time to modify or discontinue, temporarily or permanently, this Prize Draw with or without prior notice due to reasons outside its control (including, without limitation, in the case of anticipated, suspected or actual fraud). The decision of InsightFul Communications in all matters under its control is final and binding and no correspondence will be entered into.
18. InsightFul Communications shall not be liable for any failure to comply with its obligations where the failure is caused by something outside its reasonable control. Such circumstances shall include, but not be limited to, weather conditions, fire, flood, hurricane, strike, industrial dispute, war, hostilities, political unrest, riots, civil commotion, inevitable accidents, supervening legislation or any other circumstances amounting to force majeure.
19. The Recipe Competition will be governed by English law and entrants to the Recipe Competition submit to the exclusive jurisdiction of the English courts.