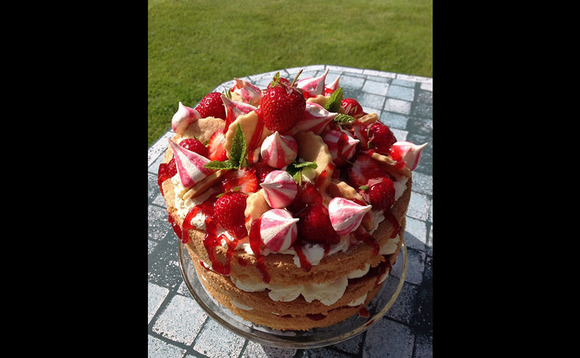 The winner of the #FARM24 Best of British recipe competition has been announced.
Helen Huxley, from Middlewich, Cheshire, won the competition with her Summer strawberry sponge.
The recipes had to use only British ingredients to showcase the best of British. Two independent judges scored Helens recipe the highest.
Helen is a farmers daughter and now a farmers wife, although not living on the farm anymore. Her husband, Paul, still works on her family farm part-time.
The Huxley family, including boys David, 24, and Peter, 20, are very involved in many aspects of farming life. Helen volunteers as a steward at the Royal Cheshire show and is a steward at the Cheshire Young Farmers rally with her husband.
They are presidents of Middlewich Young Farmers, a position that Helen is very proud to hold. She loves being at the heart of the club helping to raise funds and organise social events.
When Helen was younger, she was County Lady chariman for Cheshire Young Farmers and this is something Helens younger son Peter has followed in her lead, being chairman of Middlewich Young Farmers.
Helen entered the competition as she is an avid cook who loves to use seasonal and local produce. Helen says: Someone is always dropping something off as they know I will use it. Be it a glut of fruit or too many courgettes.
British food is the best around. I know how hard producers work and the standards that have to be maintained.
My recipe came from using the best things a British summer can offer, beautiful fruit fantastic dairy cream local eggs , not to mention red tractor approved flour and sugar.
All my friends and family love my cakes and bakes.
Helen's perfect British recipe for any summer occasion Summer strawberry sponge
Ingredients

6 eggs
150g caster sugar
150g SR flour
1/2 tsp vanilla extract
75g melted butter
Shortcake
110g butter
100g caster sugar
1/2tsp vanilla extract
1 egg yolk
210g plain flour
Meringue kisses

1 egg white
50g caster sugar
600ml double cream
4 tbsp strawberry jam
350g strawberries

Method
Grease 3 x 20 cm round tins and line bottom.
Whisk eggs , sugar and vanilla until thick, gently fold in flour, pour in melted butter gently and fold in.
Pour into 3 tins bake 160 for 20-25 mins.
Cool on wire rack.
Make shortcake, cream butter, caster sugar and vanilla together add egg yolk fold in flour, roll out to thickness of 1 coin and cut out circles, bake 160 for 15 mins.
Make meringue kisses, whisk egg white until stiff , slowly whisk in sugar, pipe onto baking tray bake in slow oven for 1 hour.
When everything is cooled whip cream until it stands in soft peaks, sandwich together with strawberry jam and sliced strawberries crush some of the shortcake in each layer, do the same for each layer top with cream strawberries meringue kisses and shortcake, drizzle with a little jam chill and serve.
To save time shortcake biscuits and meringue kisses can be bought, but homemade taste better.