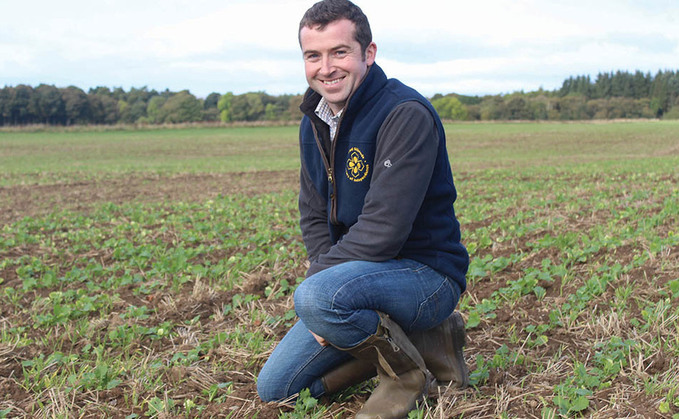 A Scottish farmer has recalled the 'devastating impact' of Storm Babet and his efforts to rescue livestock and people from heavy flooding in Angus.
Neil MacLeod, manager at Southesk Farms in Brechin, said the estate was 'completely under water' with flooding to fields, storing sheds and homes - the second incident of heavy flooding within the space of just 11 months.
The Scottish Environment Protection Agency claimed over 200mm or rainfall had hit Eastern parts of Scotland - including Angus and Aberdeenshire - between October 20 and October 22 after the River South Esk had burst its bank.
See also: Farmers demonstrate resilience during Storm Babet
Police Scotland released a short statement regarding the death of Perthshire farmer Wendy Taylor who had been swept up in the storm.
Mr MacLeod said he made it a priority to ensure everyone on the estate was safe after receiving an early phone call from a concerned resident.
"I remember getting a phone call at 3am on the Friday (October 20) from a resident on the estate about flooding and concern for livestock on the farm," he added.
My morning started at 3.45am rescuing these chaps. I then went to our main yard to watch the flooding come in. 2nd time in 10 months that we've been completely under water. pic.twitter.com/wrSuHEnf1I

— Neil MacLeod (@southeskmanager) October 20, 2023
"So I got into my tractor as quickly as I could to see what had happened and how I could help.
"To be honest, I could only move around safely in the tractor because the water was so high.
"When I was told the sheep were covered to their shoulders in water, I knew it was serious.
"I had to physically move all the sheep one-by-one to a less flooded field for their safety.
See also: Defra Secretary Therese Coffey blames 'lack of experience' on easterly rain for response to Storm Babet
"As I was driving along, the water was reaching homes.
"We helped to rescue a lady who had lived in the area for over 50 years from her home which had flooded.
"In total, 12 homes had to be evacuated from the flooding.
"It was awful.
"The yard had also flooded which affected our potato and machinery stores.
"Crop fields were just submerged in water.
"There is very little you can do when flooding strikes so my main priority was to make sure people were moved out to a place of safety.
See also: Body of Scottish farmer recovered from river during Storm Babet
"This way, we could deal with the consequences afterwards."
According to Mr MacLeod, Southesk Farm was also affected by flooding in 2015 and November last year.
He bemoaned how there was 'very little' farmers could do but to make the problem 'less severe'.
"Back in 2015, we were told the extent of the flooding was only supposed to happen once in 200 years," he added.
"Now it has happened three times in an eight-year period.
"It really has affected those who live here.
"The farmers on the estate, including myself, are doing all we can to save the potato harvest as the field suffered from heavy flooding.
"The farm could not handle the volume of the rain we faced.
"It is a very difficult position to be in but I am determined there will be a way forward.
"However, I think we will have to deal with more events like this in the future because I do not see how you can stop it from happening again.
"It will be something which we have to live with.
"Now we are starting to pick up the pieces and understand the true extent of Storm Babet."
See also: Welsh farmer praises 'loyal' sheepdog for rescue mission during Storm Babet