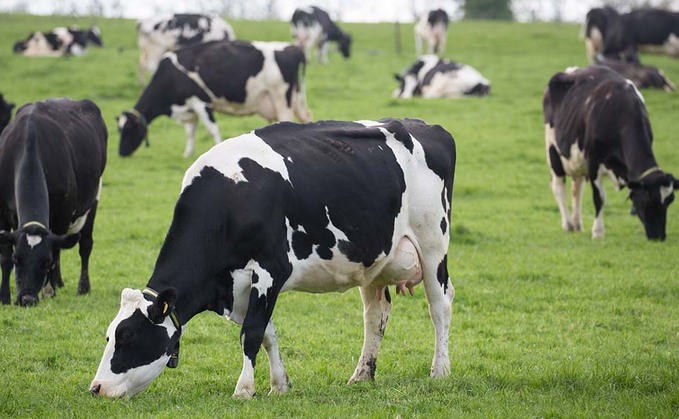 With reports of an increase in dairy dispersal sales from smaller herds in particular, Rachael Brown takes a look at the prospects for dairy farmers.
Smaller dairy farms are questioning their future amid lower prices and an increased need to invest with expectations of milk production to tighten later in the year.
And across the world, there needs to be a drop in supply of 1-2 per cent to 'correct the market' and turn around prices, according to Kite managing partner John Allen.
Investment
Mr Allen said smaller dairy farms have 'questioned their future' especially with Environment Agency inspections and requirements for investment for slurry and silage storage.
"When faced with the need to invest and lower prices taking away profit, the smaller farmers cease," said Mr Allen.
"Consolidation in the sector has taken place for the past 70 years. There are still a significant number of smaller operators in the UK, particularly in N Ireland, and at times like these they decide rationally to quit."
Cash flows
Mr Allen said he expected to see milk supply tightening in the UK and across the EU in the fourth quarter of the year.
He added many farmers 'faced negative cash flows' and overdrafts which will have to be 'increased in the autumn.'
"Banks will then need to decide which businesses they want to support. A downturn in supply will help counter the reduced demand that is causing the weak markets.
"This is not a result of major oversupply".
Cost of production
Dairy farmer Daniel Miller announced via social media this week that he was selling his dairy herd next month.
He said: "Along with many small family dairies, we have been struggling with the impact of raw milk prices dropping below the cost of production, with no end in sight to the rising costs of our inputs.
"After much soul-searching, we have also decided to downsize the Dorset Dairy and sell the milk refill side of the business. We will instead be focusing on our cultured dairy products: Dorset Strained Yoghurt, kefir and cultured butter."
Sales
Derek Biss, an auctioneer at Sedgemoor, said there was a 'flood of sales' in the West Country over the next six weeks, which was 'out of character'.
"What we are finding is that people, who normally wait until October to sell, are so worried about TB testing that they have gone in early on their TB test with the view of selling them if they go clear.
"The vast majority of the ones going are under 150 cows. Small farmers just cannot see a future with Environment Agency restrictions and the milk price being 37ppl."
Farmers for Action chair David Handley said he was 'sickened' by the lack of meaningful response over the last couple of months taken by organisations representing UK dairy farmers.
Dairy contract regulations
Mr Handley said last week's announcement around new dairy contract regulations will do nothing to 'stop the problems' facing the dairy sector right now and criticised the industry for failing to 'learn from their mistakes in the past', he said.
"We do not need legislation we need people with bright ideas.
"I can guarantee you that every milk processor is sitting back laughing their heads off right now. Legislation is going to achieve nothing."
Retailer
"Twenty years ago we could have come up with a modern day dairy board that would have given the strength to dairy farmers that they needed.
"We have got a sector where you have got the producer, the processor and the retailer. The retailer is maintaining its margin and growing, the processor is still trying to maintain its margin, but not reinvesting and a producer network where, whatever they do, someone goes and puts something in the way. It ends up costing them money, farmers have to tighten their margins and they finish up with nothing."
Unlike in the past, Mr Handley said protests and demonstrations outside milk processing plants were 'not the way' and called for 'unity' in the industry instead.