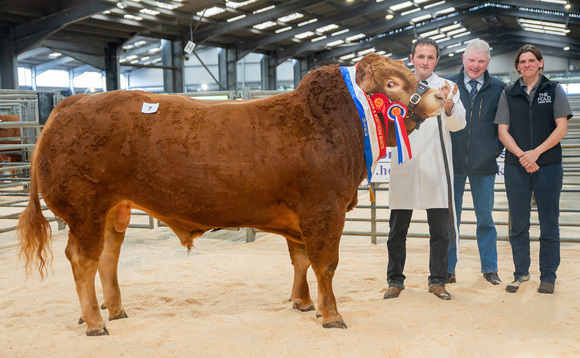 A new centre record of 8,000gns was set at Hexham's sale of pedigree bulls for the pre-sale show champion.
This was for the Limousin bull, Brontemoor Superman, a son of Knock Msport from J.M. and S.M. Priestley, Brampton.
Standing reserve was Saunders Smirnoff, a Maraiscote Nickleback son from W. and H.I. Watson, Brampton, which sold for 5,800gns.
Aberdeen-Angus bulls sold to 5,000gns for Berwick Hill Eston Arrow from L.R. Carmichael and Son, Ponteland, who also sold Berwick Hill Eston Angus for 4,000gns.
Just one Hereford bull was forward, Moralee 1 Wisdom by Moralee 1 Rebel Kicks, from T. and D. Harrison, Stocksfield, which sold for 3, 800gns, with a pedigree female, Moralee 1 Lavender from the same home making 2,000gns.
The sale of commercial breeding cattle peaked at £3,400 twice for Limousin heifers with calves at foot from Gordon and Julie Sedgewick, Aycliffe, and Messrs Tindale, Durham, who also sold British Blue cross heifers to £3,200.
Aberdeen-Angus cross outfits topped at £3,000 for F.T. Walton, Flotterton, followed by another at £2,900 from Ken Sisterson, Newlands Haugh.
Auctioneers: Hexham and Northern Marts.