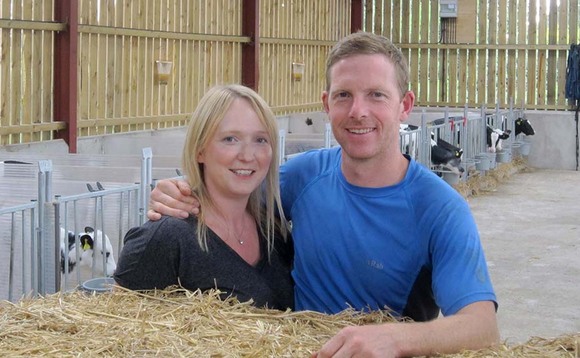 With farmers in Wales feeling ignored and frustrated by Government on bovine TB, Rachael Brown spoke to farmers in the Welsh borders about the financial and emotional impact
Farmers living on the Welsh border laid bare the emotional frustrations and the financial realities of a bovine TB breakdown on their farm and said contrary to what the Welsh government want farmers to believe, they are not being listened to and feel bound and trapped by policies that are simply not working for them.

Positioned between two countries, two Governments, and two widely different sets of rules and regulations for tackling bTB, these farmers on the Welsh border say bTB is still being used as a political tool with their farm businesses and families caught up in the middle of the chaos.
Chaos
Susie and Mark Mottershead run a third generation dairy farm on the Welsh border. This year marked 10 years since their first bTB breakdown. In that time they have lost count of how many animals have been killed, but it is more than 300.
Just a few miles away is their neighbouring dairy farmer, Jonathan Scott. His tenant farm first went down with bTB in 2016. Since then they have been in and out of bTB and have just gone down again. He said they had no other option but to build the farming business around bTB.

Both farmers are less than 10 miles from each other, but admit sitting around a kitchen table to discuss the impact of bTB was a rare thing to do. However they said it is something they should do more often.

Ms Mottershead said: You are so engrained in your own bTB situation it is quite rare that you actually share what you are going through with someone else.

If any other Government policy had such an impact on peoples mental health if people were taking their own life, sobbing over kitchen tables, and people were being given the message that farmers are given, there would be public outcry.
"But it seems like for farmers, it is okay, it is acceptable.

Speaking to Farmers Guardians Over the Farm Gate podcast, Rural Affairs and North Wales Minister, Lesley Griffiths, said support is absolutely there and she is trying to find additional funding in an already difficult funding environment to support mental health services more within agriculture.

But Mr Scott said the help offered must go further than asking farmers to ring a number on a back of a leaflet. He said the lack of empathy and understanding when delivering bTB results, is not helping farmers.

Nobody rings you up to say you have failed your TB test - are you alright? Can we help you? There is nothing like that, he said.

Ms Mottershead said It is ok for the Minister to say she understands, but until you are on that farm bTB testing - you do not truly understand.

I told her we are bTB testing on these days, and told her to come and visit.

It is almost like a tick boxing exercise. Yes we will work farmers, because I have planned to go there, but it never happens.

Ms Griffiths said she has never not turned up for appointment and is very happy to look at any invitation from any farmer, at any time.
Visits
A lot of my job is based in Cardiff and I ensure that I get round to as many farm visits as I can. I think it is really important that I visit farms and listen to their experience of bTB testing, she said.

She said listening and working closely with farmers, vets, charities and other agencies is integral to reaching the goal of a TB free Wales by 2041.

But the robustness of that partnership work has been criticised in recent week, due to the lack of attendance by the Welsh Government at a series of bTB discussion meetings hosted by NFU Cymru.

The Welsh Government failed to attend two out of the three meetings, with the Chief Veterinary Officer sent to the final meeting in Wrexham. Many local farmers were said to be left disappointed that the Rural Minister and their local Labour MP did not turn up.
I was not aware of the invitation to the three meetings. My diary is planned some time in advance. Just because Wrexham is my home, I am not always there unfortunately, Ms Griffiths said.

Listening to what farmers have to say, is something the Welsh Government said it is committed to, but in reality many farmers would say the opposite is happening right now.

Ms Mottershead said she has been at bTB events organised by the Welsh Government where farmers have been told not to discuss wildlife.
Wildlife

I have been in meetings and we are not even allowed to raise the topic of wildlife. It was brought up in the last meeting when the Minister was there and we were told not to discuss it.

It is crazy, we are on the border. Just up the road, you can speak to farmers in the Holstein club, and those farmers say badger culling has been great it has done amazing things, but we cannot do it where we are.
Mr Scott added it feels like the Welsh Government still blame farmers for bTB breakdowns.

We have all been told, we have all brought it in, it is through movement, he said.

As well as giving farmers a voice, the Welsh Government said vets are also vital to discussions and the long-term delivery of eradicating bTB.

Lara Robinson, of Daleside Vets, works with farmers both in Wales and England. She said it is infuriating that the devolved nations are all doing different things.

How can we expect farmers to be engaged when rules for one farm are completely different to rules for another farm only a few miles away across the border. I do not think that badgers are the only reason for bTB.
"There is a huge amount of work that can be done to prevent and manage bTB through improved biosecurity and purchasing decisions; focusing solely on the risk badgers pose would be the wrong approach.
"However, culling of badgers has shown to be effective and it is infuriating that the discussion for its implementation in Wales has been completely off the table.