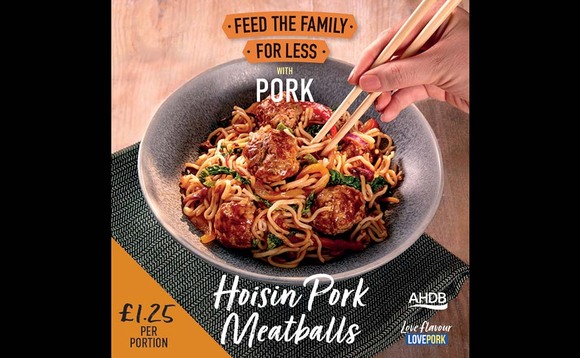 AHDBs new advertising campaign celebrates how cooking with pork can feed the family for less .
The campaign, which began this week and runs until November 17, contains a raft of recipes aimed at catering for a family of four for under 5 using cuts such as the shoulder, as well as staples such as sausages and lean mince.
It will run across online platforms, social media and during on-demand TV shows, as well as physical displays in the aisles of eight supermarket chains and their online portals.
According to AHDB, the month-long promotion will demonstrate porks affordability, versatility, and tastiness and how it can be used in such dishes as Hoisin Pork Meatballs, Easy Sausage Biryani and One Pot Sausage Briase.
AHDBs head of marketing, Carrie McDermid said: Pork is presented as a good-value protein that meets consumers needs when they are trying to reduce the amount they spend on their weekly shop. The campaign aims to raise consumer awareness of porks positive role in healthy meal choices during the current cost-of-living crisis and addresses concerns that people are having to cut meat from their diets.
The group has also worked with retailers to gain agreement to apply over a million stickers to pork packs with a QR code linking to budget-friendly recipes which can be found here:LovePork.co.uk.
Ms McDermid said: We know marketing is important to our levy payers and our job is to showcase how their food products provide a great meal choice for consumers. We focused on British cuts such as pork shoulder, sausages and mince to support British farmers.
The campaign has been running for six years and comes at a crucial time for the pork industry. In addition, it continues to encourage consumers to purchase fresh primary pork regularly and maintain a long-term positive attitude toward it.
This latest campaign follows this years roll-out of the We Eat Balanced promotion that was launched in September. The 2021 drive was deemed to be a great success for the farming industry with 90 per cent of consumers saying it had communicated how meat and dairy fitted in with a healthy way of life.