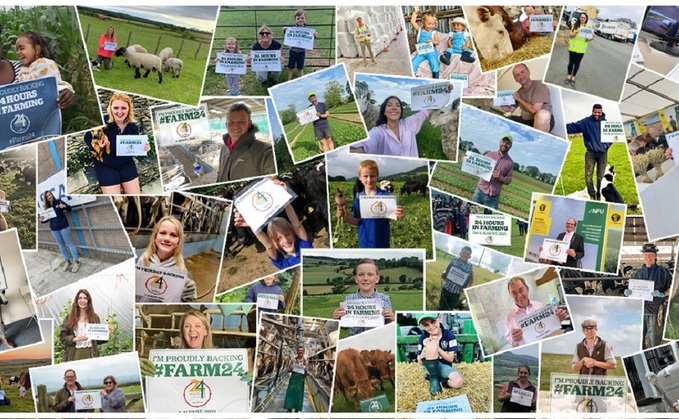 #Farm24, agriculture's biggest online event, took social media by storm as it trended at number one on Twitter yesterday.
Thanks to the efforts of farmers and industry organisations, the event remained in the top ten throughout the duration and captured the attention of the Prime Minister, celebrity chefs, MPs and sportsmen.
Social media was flooded with valuable insights into what a typical working day in farming looked like and the raft of skills and dedication required into producing the food we eat.
Sponsored by Morrisons, the day kicked off at 5am on August 5 and continued through to 5am this morning under the hashtag #Farm24.
As well as trending on Twitter, there was unprecedented activity on Instagram and TikTok, which brought new audiences to the campaign.
Thousands of pictures, videos and posts highlighted the versatility, resilience and community spirit of the agricultural community as it showcased to the public the journey from field to fork.
We take a look at some of the highlights:
British farmers go above and beyond around the clock to keep the nation fed. This #Farm24 I want to thank them and recognise the extraordinary contribution they make every day to this country.

They will always have my support. pic.twitter.com/RMJ1Qpa577

— Boris Johnson (@BorisJohnson) August 5, 2021
#Farm24 is back!👏

For a sneak peek into farmers' lives and their stories, check out @FarmersGuardian

This is what a day on Buttle Farm looks like 👇

Share to show your support for our farmers! pic.twitter.com/AaWz6mgogO

— Defra UK (@DefraGovUK) August 5, 2021
#Farm24 @dpjfoundation Sharing the experience with the next generation 🐷💪🏼 pic.twitter.com/oDhujmF54l

— Emma (@Emma_Bullhook) August 5, 2021
We're really pleased to be supporting #Farm24 again this year @Morrisons @FarmersGuardian . A great day showing the work of great farmers, working hard to bring food to our plates. Thank you British farmers! pic.twitter.com/AOjibp3K3Q

— Sophie Throup (@SophieThroup1) August 5, 2021
For more information, videos and updates visit www.fginsight.com/24hoursinfarming