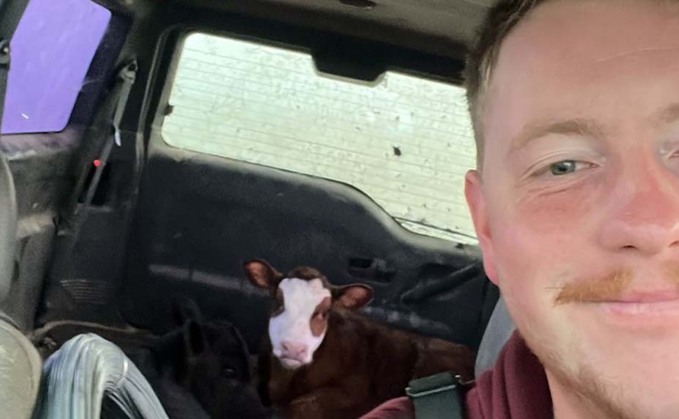 In a new blog, renowned young farmer, Tom Everall, AKA Tom the young farmer, talks about his farming lfie and his travels to new Zealand.
Hi everyone, my name is Tom Everall and I am a fifth generation dairy farmer based in the heart of Shropshire.
You may, however, know me from various appearances on BBC Radio 1 as 'Tom the Young Farmer'.
I farm alongside my parents on a 320-acre farm where we milk 110 Holstein Friesians, supplying milk to Belton Farm. We also farm 100 acres of arable which is predominantly fed back to our stock.
I have been involved on the farm since I was 15, and although I did not have intentions of getting involved in the farm through secondary school, in my last year I had to choose a career path, and with the farm at home I thought I would give it a go.
I left school and started an apprenticeship on the farm alongside study days at Walford College. I did this for the next two years and fell in love with farming and could see that I had made the right choice to give it a go.
In 2017 I started a full time Agricultural course at Reaseheath College, and while some of the learning was useful, I will not pretend I went to Reaseheath for any other reason than the social life.
My course was three years in total - two years of study with a placement year.
In my first year I made a lot of new friends and had a small taste of living independently, even if only 45 minutes from home.
I completed my placement on an arable and beef farm down in West Sussex - the first time properly living away from home was daunting but I am so glad I made that move.
I learnt so much and gained a lot of independence from the experience.
It was around the end of my placement that the idea of working/traveling abroad became more prominent, but before this I had my last year of college to complete which incidentally coincided with the start of Covid-19 - our course effectively ended in March and that was that; no graduation, nothing.
I was stuck working at home, and I was grateful at first to be able to continue working, and use the experience I gained on placement to play a bigger part in the arable side of our farm, while still being responsible for the cows most days.
I will say the lack of socialising definitely had an effect on my mental health, as I know it did with a lot of young farmers. I felt robbed of my 21st birthday, and putting all plans on hold was infuriating. It was a sad and lonely time which I think is what lead me down the route of engaging with BBC Radio One.
With the lifting of UK restrictions in 2021, I decided to go for chairman of my Young Farmers Club, Nesscliffe. I will always believe joining was the best decision I have ever made. It improved my confidence and public speaking dramatically.
My year as chairman was an amazing experience and incredibly rewarding, encouraging members to partake in various competitions and raising money for charities are just a couple highlights.
I was fortunate to be working at home at this time and having an understanding father when I would need to finish early, or have Sundays off for different competitions and socials.
By the time travel restrictions were lifted I was set on getting out and seeing some of the world.
New Zealand has always appealed to me because of my family connection through my late grandma who was from Wellington New Zealand - my mum and dad have always strongly encouraged me to come out here and experience the country having both spent time here working and traveling in their early twenties, while also having friends and fellow young farmers rave about their time here. I wanted to get out and experience first-hand the dairy industry, especially their grass management. It was the obvious choice for me.
I will say the last few months of work before my flight were long and challenging, I fell out of love with farming and I lost all motivation to do the work. This was down to a number of reasons - the increasing pressure of rising costs in the industry, being down with TB added complications and stress and along with long days I was ready for a change and new experiences.
For the next few months I will be blogging about my journey, so make sure to follow along here on Farmers Guardian.