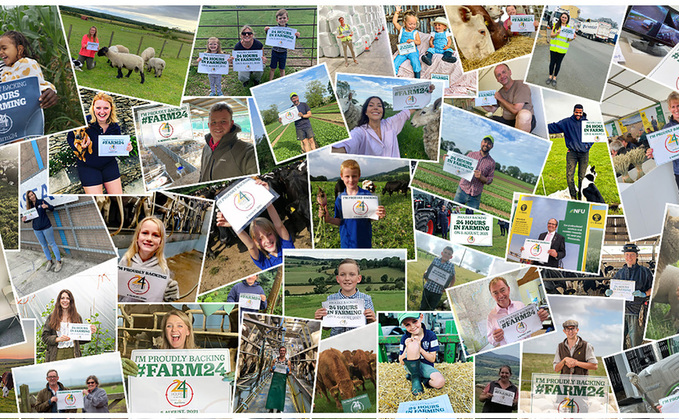 24 Hours in Farming, one of agriculture's biggest digital events, has been shortlisted for a major award.
The annual #FARM24 event, which showcases the best of British agriculture and the care and attention that goes into producing food for the nation, has made the shortlist in the PPA (Professional Publishers Association) Awards 2023, Commercial Partnership of the year 2023 category.
Farmers Guardian editor Olivia Midgley said: Reaching the shortlist is a fantastic achievement and is recognition of the power of this campaign, which consistently pulls in huge engagement across multiple social media channels.
Appetite
#FARM24 proves there is an appetite among the general public to interact with farmers and others in our industry and understand more about what goes into producing the food on their plates and the landscapes around us.
I have watched this campaign grow from day one and it wouldn't be what it is without everyone in our industry who gets behind it and helps us push farming's message to the masses.
'We know what an incredible industry we work in and how multi-faceted it is, but the more we can do to communicate what goes into producing food the passion, drive and determination that goes into it - that is a very powerful thing.'
Arc Europe Group, which owns Agriconnect's FG and its brands, received five nominations in total.
Arc Europe is a fast-growing B2B media and events business made up of Incisive Media, Agriconnect and Bridge2Food. It is part of the Arc network.
Arc Europe chief executive Jonathon Whiteley said: "We are delighted to be shortlisted at these awards again this year, and for this recognition from our peers.
Proud
I'm doubly proud to be able to include Farmers Guardian among our shortlisted entries, plus BusinessGreen.
"We work incredibly hard to ensure Incisive is a good and fair employer, and I'm humbled for us to be nominated in the employer of the year category."
Incisive Media has strong form at the PPA Awards. The business has won the innovation of the year category twice out of the last three years with its Delta and Nexus products, and took B2B event of the year honours in 2022 with its Sustainable Investment Festival.
The 2023 PPA Awards take place on June 28 at City Central at the HAC in London.
See more information about the PPA Awards
24 Hours in Farming 2023 takes place on August 3. Find out more here.
For more information on our shortlisted brands click on the following links: