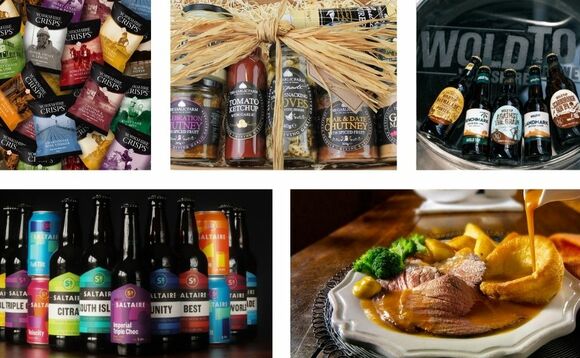 This year once again we have teamed up with key companies to offer 24 competition giveaways across 24 hours as part of #Farm24. Read on to find out more about our generous suppliers who are supporting our event.
Keep your eyes on our Twitter for the prize competitions throughout the day twitter.com/FarmersGuardian
Pledge your support at FGinsight.com/24HoursinFarming
Pledge your support at FGinsight.com/24HoursinFarming
Yorkshire Crisps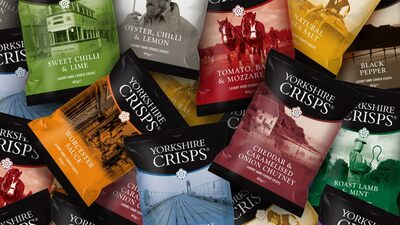 "Founded in 2005 by businessman and part-time farmer Ashley Turner, Yorkshire Crisps produces its award-winning produce in Wales Bar - a village between Sheffield and Rotherham.
"Our small, dedicated team is proud of its Yorkshire roots and creates deliciously addictive crisps and scrumptious popcorn using the finest local ingredients for people from far and wide.
"Our luxury hand-cooked crisps and perfect popcorn are deliciously moreish and packed full of taste and flavour. Our crisps are made from carefully selected potatoes that are grown by local farmers on the chalky soils of the Yorkshire Wolds. They are hand cooked in hot, pure sunflower oil for a few minutes then sprinkled with 100% natural flavouring while still warm.
"Our popcorn is made from the world's finest corn, popped to perfection and seasoned with totally natural flavourings and lots of tender loving care.
"As well as our online shop, we supply farm shops, delis, coffee shops, sandwich bars, public houses, wine bars, theatres and many independent retailers.
"We are also available in some larger multiple retail stores in the Yorkshire region, making it easy for everyone to enjoy our fabulous crisps.
For further information please visit www.yorkshirecrisps.co.uk
Saltaire Brewery
"At Saltaire the team are passionate about how they make beer - it's the only way they know how. They don't compromise on quality. Truly independent, they've been making internationally award-winning beer this way since 2006.
"From Triple Choc, their multi award-winning speciality stout to Velocity, their deliciously citrusy and refreshing session IPA, their aim is always to create exceptional beer for drinkers everywhere.
"This single aim drives their team to come up with new beers, while brewing their best-loved Blonde and Cascade, with the same dedication, time after time. Brewed their way, it's honest beer with real character."
For more information visit www.saltairebrewery.com
The Garlic Farm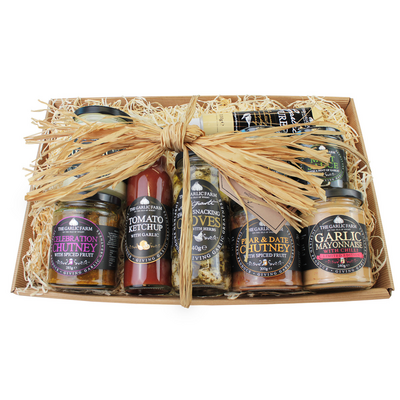 "The Garlic Farm is based in Newchurch on the Isle of Wight and is spread over a large amount of land that incorporates several sites.
"Our family run farm, led by Colin Boswell, is perfectly situated for garlic growing with its fertile and free-draining soil and with more than 60 years' worth of experience, we are the leading experts in all thing's garlic and work closely with our partner farms.
"Travelling far and wide from America to Kazakhstan in search of different garlic varieties to bring back for UK growing and distribution and by infusing all our chutneys, condiments, beer and even ice-cream with this kitchen staple super food, our love the garlic bulb is clear.
"Now heading towards organic farming, supporting local businesses and charities where possible and being a living wage employer, we are also showcasing the respect we have for the planet and its people.
For more information visit www.thegarlicfarm.co.uk
Wold Top Brewery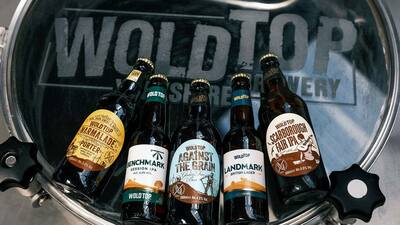 "Our family has farmed 600 acres high on the Yorkshire Wolds for generations and our aim is to continue to do so.
"Sustainability is key, we want to work in balance with nature so we grow trees and hedges to offset the carbon footprint, we plant areas for birds and wildlife, we consider the bees that are essential for the pollination of the crops and we use crop rotations to keep the soil in good heart.
"We also use renewable energy from our own wind turbines and have our own water supply from natural chalk aquifers under the farmland.
"We want every pint of Wold Top to be enjoyed as much as the previous one, so we balance our malts and hops to give flavours, aromas and tastes that can be enjoyed time after time, pint after pint.
"We live, work and play in a wonderful area of Yorkshire and want to maintain this balance for future generations. Hence growing our own barley in the most sustainable way we can, sourcing our power from the wind and drawing our water from underground aquifers deep in the chalk.
For more information visit www.woldtopbrewery.co.uk
Hartington Creamery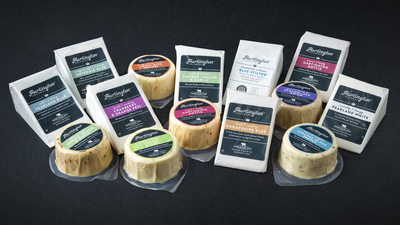 "Hartington Creamery is one of the oldest and the smallest maker of Stilton in the world.
"Originally founded by the Duke of Devonshire in 1870 with Stilton first being made in 1900.
"The creamery is situated on the historic Pikehall Farm which dates back to the 15th century and features a Roman road through the centre of the farmyard, still in use today by the herd of 200 cows as a highway to and from their milking parlour.
"Hartington uniquely produces four Designated Origin UK Protected cheese, blue & white Stilton, Dovedale Blue and Buxton Blue.
For more information and to save 15 per cent off your first order when you sign up to their newsletter visit www.hartingtoncreamery.co.uk/
Goosnargh Gin
"Goosnargh Gin is lovingly crafted by us, Richard and Rachel Trenchard, at our distillery based at the foot of Beacon Fell. Being situated on the edge of the Forest of Bowland AONB, in the parish of Goosnargh, Lancashire we are surrounded by the inspiration for our gins, from the botanicals, to the spectacular geography and rich heritage of the area.
"We founded Goosnargh Gin in January 2018. Building on a long held passion for true small batch production and quality ingredients, this allowed us to take more than a decade of amassed knowledge in the field, to forge our own path as producers and tell our story.
"Our gins are distilled in small batches by hand by us, using our copper pot still. We develop all our own recipes in-house and insist on using the highest quality botanicals which are either foraged, expertly grown for us or ethically and sustainably sourced from top quality organic suppliers.
"Once we have the blend of botanicals absolutely right, our still, Bea, then works her magic distilling our handcrafted, small batch gin ready for bottling and hand labelling. All bottles are hand finished by us, including handwritten details, such as the batch and bottle number."
For more information visit www.goosnarghgin.co.uk
The Wild Shepherdess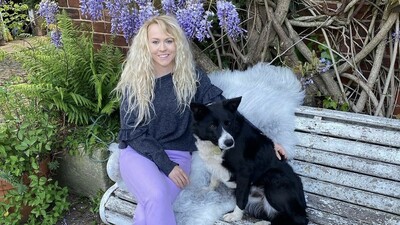 Founded by 25-year-old Harriet Foster-Thornton a first generation sheep farmer, The Wild Shepherdess timelessly champions the British Sheepskin, producing luxury, top quality handmade sheepskin products.

With a 100% guarantee that every single product is completely unique, style, class and comfort is exquisitely delivered through a contemporary range.

From farm to home at The Wild Shepherdess, they live by a sustainable ethos, producing little to no waste with British sheepskins being a by-product of the farming industry, an industry that has one of the highest standards of animal welfare in the world.
For more information follow @thewildshepherdess
James Kittow Butcher & Grazier, Cornwall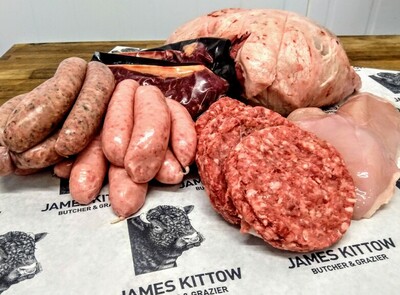 "James Kittow is the fifth-generation butcher and grazier from Kilhallon Farm in mid Cornwall, that has served the Cornish community with magnificent meats sourced from trusted local farmers and prime cuts from their own herd of pedigree Red Ruby Devon and Dexter cattle.
"James produces a range of multi award-winning sausages and a traditional hogs pudding using a generations old family recipe on the farm which overlooks St Austell Bay.
"Passionate about rearing beautiful beasts and producing the highest welfare and quality products for his customers, James is also enthusiastic about educating the generation of consumers about the journey food takes from farm to fork.
"As well as the public, some of Cornwall's best restaurants, hotels and cafés are supplied by the current Cornwall Farm Business Awards Farmer of the Year, as are a selection of retail outlets, including local Morrisons stores and farm shops in the Duchy.
"Customers from across the country can buy direct from James Kittow Butcher & Grazier online for home delivery, so they can enjoy the finest Cornish meats as well as their range of homemade pies, quiches and ready to eat meals that are created on the farm."
Find out more by visiting www.jameskittow.co.uk
The Tomato Stall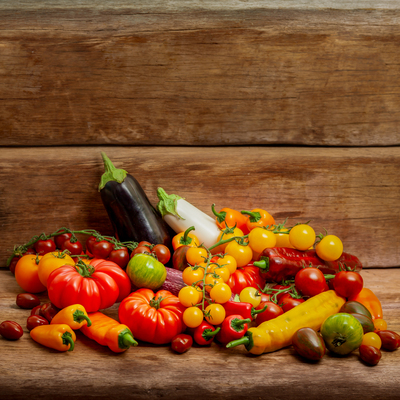 "When we started the Tomato Stall in 2007, Britain had well and truly fallen out of love with this salad staple. They were round, boring and most of all, tasteless. We all longed for the taste of days gone by; of picking them for yourself in Grandpa's greenhouse or savouring memories of the taste of the Mediterranean on holiday.
"From our 60-acre estate in the Arreton Valley on the Isle of Wight with rich, fertile soil, and the most hours of sunshine anywhere in the UK, we began our quest to grow the finest varieties that were full of flavour.
"We started taking our fabulous fruits to a handful of farmers' markets in and around London, picked when perfectly ripe and delivered just hours later. Word soon spread, and before long, The Tomato Stall became well known with chefs and foodies across the nation for our great-tasting produce.
"Today, you can find us at over 28 markets in and around London, and in a growing number of shops, restaurants, and pubs.
"Working together with our passionate team, our Head Growers Paul and Brian nurture every single plant, and only when they are happy do our taste test panel decide which varieties, we bring to you."
Simply Ice Cream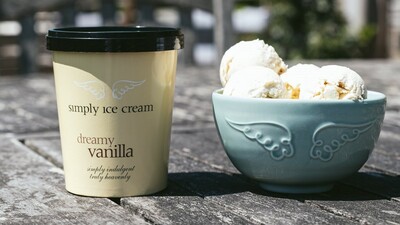 "Simply Ice Cream are a family run business based in Aldington near Ashford, Kent.

"For the last 12 years they have been batch making their award winning ice cream using natural, fresh and local (where possible) ingredients.

"What makes Simply Ice Cream so delicious is that each pot is made with 50 per centdouble cream, which is sourced from British dairy farms. They also make sure to include local seasonal fruit in their fruit flavours (strawberries, raspberries, and cherries).

"Sally Newall, the company's founder, is passionate about supporting other local businesses and suppliers. "It's always been important for us to use local produce in the ice cream where we can. We have some fantastic farms that we work closely with to ensure the quality of our ice cream never waivers."

For more information visit www.simplyicecream.co.uk