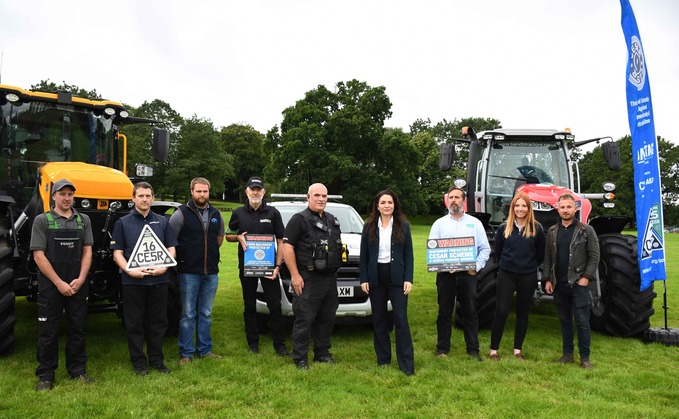 Police have confirmed they will roll out a high-tech property marking system across Derbyshire to help protect farmers and rural communities.
Derbyshire Constabulary said it will launch a county wide property marking system using technology from the Construction Equipment Security and Registration Scheme (CESAR) - established in 2007 to help identify stolen machinery - and 'Datatag' - security system suppliers and partners of the CESAR scheme - across the whole of Derbyshire this year.
Police said they had undertaken successful trials in Bolsover and would now introduce the scheme to a further six authorities in the Derbyshire region.
The system uses electronic transponders - hidden inside vehicles -which possess a unique identification code and tamper resistant label warning read by a hand-held scanner used by police.
See also: Prime Minister to ban American bully XL dogs
Angelique Foster, Derbyshire Police and Crime Commissioner, has backed the project with £15,000 worth of funding which will allow farmers to have their vehicles, machinery and equipment marked to deter thieves.
Commissioner Foster said: "I am keen to fund a resource that not only protects farmers from theft and quickly reunites them with their stolen property but also helps bring more offenders before the courts.
See also: 50 bales of hay 'slashed' as police investigate criminal damage on Staffordshire farm
"I know from my meetings with farmers how disruptive and costly these crimes are on their livelihoods.
"They deserve support and should have confidence that their local force is working harder than ever to prevent them."
See also: Police to hold DNA forensic marking event at Northumberland National Park
PC Emerson Buckingham, from Derbyshire Rural Crime Team, said over £2 million worth of items have been tracked across North-East Derbyshire and Bolsover in the last couple of years with a 'high degree of success'.
"None of these items have been stolen proving this is a great deterrent to thieves and gives owners of valuable plant machinery confidence that their property is safe," Mr Buckingham added.
See also: Police recover £500,000 worth of plant machinery from Warwickshire
"This additional funding will now allow us to use Datatag products across the rest of Derbyshire, keeping hundreds of other items safe and saving farmers not only millions of pounds in replacing the stolen equipment but also the stress and worry.
"If we find equipment with CESAR security system within the possession of an offender, we will be able to quickly determine that they have been stolen and bring the thieves to justice.
Dave Luscombe, strategic alliance manager of Datatag, said work with Derbyshire Police Rural Crime Team and the CESAR scheme over the past four years had proved 'beyond doubt' forensic marking of property had worked in North-East Derbyshire and Bolsover.
See also: Combine harvester fire at Derbyshire farm treated as suspected arson