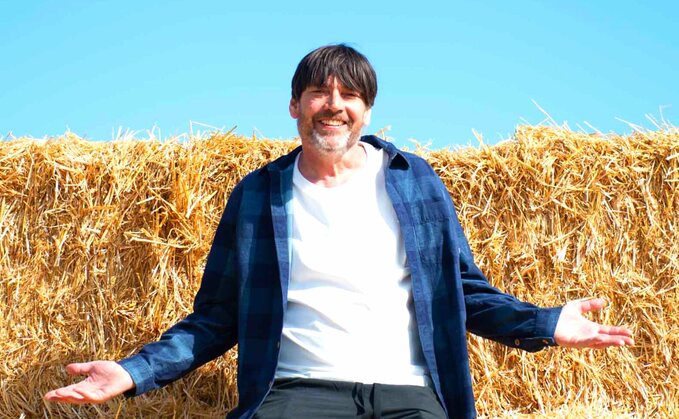 Alex James, bassist of Blur, could not be more on top of his game when it comes to both farming and music.
His band has just released their brand new album, 'The Ballad of Darren', which is touring in Argentina, Norway, Colombia, Portugal and Japan later this year.
Mr James will forever be immortalized as being part of a generation of 1990s indie rock band lovers with singles including 'Parklife', 'Song 2', 'There's No Other Way' and 'She's So High' as Blur grappled with Oasis for music chart dominance.
But for the past 20 years, Mr James has been nestled away in the village of Kingham, in Chipping Norton, where he calls Diddly Squat Farm's Jeremy Clarkson, among others, a neighbour.
Mr James is now a self-claimed 'chairman of the cheeseboard' where he crafts 'Blue Monday' cheese for the likes of Morrisons, grows fruit and vegetables and keeps livestock including mangalitsa pigs.
He will be hosting the Big Feastival 2023 on his farm with a star studded line of musicians, Michelin star chefs, comedians and much more.
Speaking to Farmers Guardian, Mr James said: "My wife, Claire, and I fell in love in the Cotswolds.
"We came to the farm at a time when Blur were not making music anymore; which was something I did not want to see happen at the time.
"I was in my early 30s and was still hungry enough to start a new adventure.
"Claire and I were looking for house and I can remember arriving here at the farm and did not have any inclination to leave.
"The beef farmer we bought the land from was crying when he gave us the keys because he did not want to sell but had felt compelled to do so because of foot and mouth disease and BSE at the time.
"The farm was in ruins but we renovated the place up with a lot of hard work, and quite a lot of money, to get to where we are now."
Having performed at the likes of Glastonbury, Hyde Park and Wembley, Mr James said there has been a revolution in the nature of food and farm-related programmes over the past 20 years which has helped to put the industry at the forefront of the public's minds.
"We have found our tastebuds as a nation," he added.
"When I became a farmer there was a boom in cheese-making and as people know, I love cheese.
"Farmers who were struggling to get a fair price on their milk decided to diversify into cheese making which I have now done myself.
"Moving here was great timing for us with a boom in great food cooking shows with Jamie Oliver on the Naked Chef and now the Great British Bake Off.
"Food tourism has become a real thing in the Cotswolds which is a little gold mine.
"It is about looking after the land, sourcing real good ingredients which nearby Daylesford Farm does really well.
"There is now the Diddly Squat bubble as well and we are right in the middle of it."
Calling one of farming's other famous faces his neighbour, he says Jeremy Clarkson and his hit show Clarkson's Farm has played a positive role in telling the industry's story to the masses.
"Jeremy Clarkson has helped to do so much for farming, but not as much as Kaleb Cooper," he added.
"Clarkson is now the moaning farmer which he does so well."
Diversifying his farm to accommodate over 50,000 people has been a labour of love and is now a mainstay in the UK festival calendar.
Over the course of the weekend, the farm will accommodate camping, boutique camping and entertainment for children including BBC's Justin Fletcher, family yoga, and Adam Henson's Farm Park.
"We tried doing wheat for a while but we realised we needed somewhere for people to park so they can jump up and down to Rick Astley," he said.
"I have had my bass-player hat on for the past fortnight so it is good to be back on the farm.
"Putting all the planning in place like we have and being reliant on it not raining is rather annoying.
"It is 12 years of blood, sweat and tears really but it does not feel like work.
"It is about filling the farm with things I love the most, lighting the fuse and standing back to see it all explode.
"Food is a universal pleasure and that is what we do really well here at the Big Feastival with our great food.
"Expanding the farm has really helped combine my passion for good music and food.
"We put it on each year because of how great it has been the previous years and we try to make each show better than the last."
The musician-turned-farmer said hosting the event in a place like the Cotswolds allows people to view a glimpse into the idyllic surroundings of the countryside.
"It is practically in the middle of England with close links to Birmingham, Bristol, London and cities in the south which is great for getting people to reach us for the Big Feastival," he said.
"We are lucky to have this place in the middle of all these cities who can access the festival.
"I was doing what Jeremy Clarkson did 20 years ago but on a small budget.
"You have to try different things which do not always work but the Big Feastival has been really popular every year we have put it on.
"But it is about getting up early in the morning and giving it a good go.
"Some nights I only get about four hours of sleep.
"It is hard work but I love it."
The 1995 single 'Country House' by Blur has a lot in common with Mr James' life to date as a former city dweller who loves the 'rural charm' of his life in the country.
He said: "I am very lucky to be a part of farming at a time when people have never been more interested in food.
"In the 1980s and 1990s, you played in your parent's garage and if you were any good you could be a success.
"But now it is all about growing sexy pickled onions in the garage.
"But I love it here in the Cotswolds. Farming is my family home.
"The more time I spend here the less I want to leave. I now have the privilege of getting the bands to come here.
"I would not change it for the world. It is Eden."
Alex James' Big Feastival will take place between August 25-27.