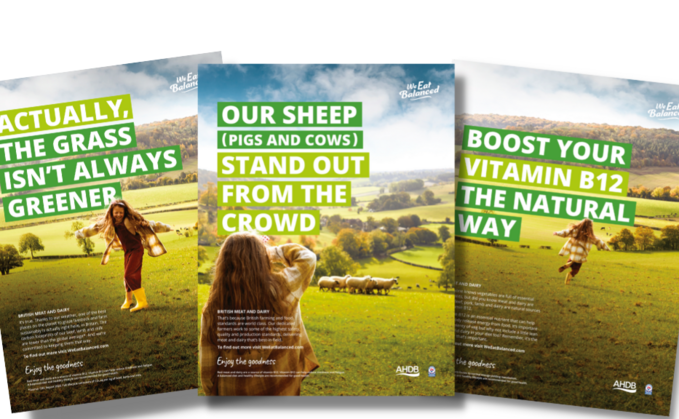 With a recent AHDB survey finding 33 per cent of people say the cost of living crisis has made their diet less healthy, this years We Eat Balanced campaign endeavours to shed light on the benefits of keeping red meat and dairy firmly in the shopping basket. Mollie Leach reports.
Kicking off on September 7, the We Eat Balanced campaign has highlighted ways consumers can continue to make positive food choices and maintain a healthy, balanced diet, despite having additional pressures on their shopping budgets.
AHDBs marketing director Liam Byrne said now was more important than ever to reiterate the campaigns messaging around the benefits of buying nutrient dense, sustainable produce, especially in light of a flood of recent data.
This includes a study by Public First, which also found more than one in four (28 per cent) of consumers are eating less meat to try and save money.
Mr Byrne said: The increasing cost of living is likely to mean more people are becoming reliant on cheaper foods, which tend to be calorie dense and nutrient poor, further increasing diet-related disease.
We aim to help consumers understand the values and benefits of choosing sustainable and high quality British produce.
Milk, for example, is such an affordable and nutrient dense food, while meats such as beef, lamb and pork contain up to nine essential vitamins, including vitamin B12, which you cannot find naturally in vegetables alone or foods of plant origin.
Helping consumers understand the value aspect of red meat and dairy is a cornerstone of the campaign, said Mr Byrne, with consumers hungry for the facts.
Mr Byrne said: Providing evidence based research is key to helping consumers make informed food choices and understand the value of the food they eat beyond price point alone.
The work we do across the supply chain continues to add value by re-engaging and educating British shoppers around the key pillars of British red meat and dairy production, which is underpinned by a gold standard in sustainability and nutritional value.
Throwing their support behind the campaign in a bid to reinforce the importance of making mindful food choices, health experts, including dietician Priya Tew, director of the Institute for Global Food Security Prof Nigel Scollan and NHS doctor and author Emily MacDonagh, have been out-spoken on the dangers of reducing red meat and dairy.
Prof Scollan said: Neglecting red meat can expose fractions of the population to deficiencies, including iron, especially in younger females, and B12, which we see most commonly in the elderly.
With the National Diet and Nutrition Survey data exposing the stark statistic that almost half of girls and young women aged 11-18 suffer from low intakes of iron.
Nutrition
Mr Byrne said: Consumers can be reassured to know that the next time they are doing their weekly shop and choose British red meat and dairy, they are actively choosing food which is nutritionally superior to other food groups; food which is filled with essential vitamins.
What this campaign does is help to bridge the gap between the farmgate and consumers
CHARLIE Beaty, a mixed farmer from Warwickshire, currently farms about 640 hectares growing maize and oil-seed rape. The enterprise also farms around 300 breeding ewes and about 90 suckler cows.
Adopting a circular approach to agriculture, integrating livestock into the rotation is just one of the many ways Ms Beatys farming operation utilises sustainable farming practices to lower the farms carbon footprint and produce sustainable food.
Arming consumers with the facts is the crux of this campaign, said Ms Beaty. She said: The long-term negative health effects of prioritising cheaper, nutrient poor food cannot be under played.
What this campaign does is help to bridge the gap between the farmgate and consumers, so they are able to really understand the value of buying British.
The work we do on farm around sustainability means the produce which lands on shelves has a low-carbon footprint.
We need to make sure consumers are making informed decisions, as the benefits of working together are unmatched. We can continue producing world-leading food and consumers are able to confidently consume it.
Sacrifices are going to have to be made in the light of the cost of living crisis, but we need to ensure our diets are not one of them.
Putting a face to the farmers who work around the clock to produce this high-quality produce has been key to building momentum around the campaign, with the two-month burst of activity breathing life into the story offood and farming.
Seeing the return of Nancy on-screen, an inquisitive little girl on-farm with her grandad, Mr Byrne said: Consumers place high levels of trust in farmers, given they are the lifeblood of the industry.
Showcase
We are working to connect farmers with consumers and showcase some of the fantastic work they do to produce low carbon and nutrition-rich produce.
Speaking on the campaigns drive to work with major retailers and processors, Mr Byrne said We Eat Balanced activity went beyond stickers on a packet, but worked to enable meaningful change at the farmgate.
He said: Against a backdrop of negative media news stories and the ongoing impact of rising costs, now isas important as it has ever been to be connecting consumers with the personal stories of farmers on the ground and the world class products they produce.
What this campaign nails is its ability to successfully remind the public of the value our world-leading products have
ABI Reader is a dairy farmer from Cardiff, milking 200 dairy cows over 304 hectares, alongside 150 sheep,100 beef cattle and an additional 16ha for combinable crops.
Confidence in the campaign shone through when speaking about the positive impact the consistent messaging had on attitudes towards British red meat and dairy.
She said: What this campaign nails is its ability to successfully remind the public of the value our world-leading products have, both environmentally and from a nutritional aspect.
The impact of this means that although consumers are under pressure, as farmers we can trust they will often try to buy the very best they can.
This mutual trust between farmers and consumers is what has ultimately driven the attitudinal shift for consumers from reassurance to confidence when placing red meat and dairy in the shopping basket.
Ms Reader said: The campaigns reach into major supermarkets has helped to reinforce the reputational excellence of buying British brands, such as those stamped with the red tractor logo, for example.
When buying meat and dairy, they can go forward in the knowledge that the produce is good for their bodies and their families.
ABOUT THE WE EAT BALANCED CAMPAIGN
Campaign returned on September 7 to help protect long-term consumer attitudes to British meant and dairy, as part of a healthy and sustainable diet
New social media adverts have been created, engaging consumers to guess the answer to true or false questions; social activity takes place across Facebook, Instagram and YouTube
Advertising in newspapers, such as The Guardian and The i
Sainsburys, Waitrose, Co-op, Tesco, Asda, Aldi, Morrisons and Lidl are all supporting the We Eat Balanced campaign; We Eat Balanced is visible on point of sale at chiller cabinets in store, on pack stickers and online banners
A recent PR campaign launched We Eat Balanced and coincided with World Iron Awareness Week (August 22-28); AHDB created striking photography and interview opportunities with celebrity NHS doctor Dr Emily MacDonagh to highlight the positive role of meat and dairy in peoples diets
The campaign secured coverage in top-circulating consumer and trade media, with more than 60 items generating an audience reach of more than 200 million
Getting Involved
Facebook/Instagram: @weeatbalanced
Twitter: @TheAHDB
TELL FARMINGS STORY
AHDB is looking for beef, dairy, pork and sheep farmers to share their story as part of the We Eat Balanced campaign, which returns in September and January; find out more and apply at ahdb.org.uk/web-stories
AHDB Hub
For more projects from AHDB, visit the homepage.