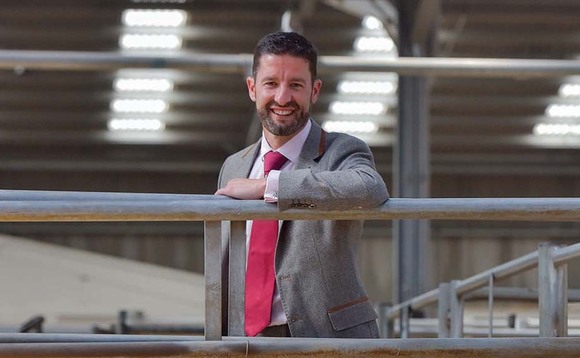 Almost two years into the role of chief executive at Harrison and Hetherington (H&H), Richard Rankin, is steering the company through one of its biggest challenges as the far reaching consequences of the Covid-19 pandemic impact on the business.
An accountant by trade who has spent most of his career working in corporate finance, Richard Rankin admits that up until taking on the role in July 2018 he had never set foot inside a livestock market.
That soon changed and with the company operating sales from nine locations he is now fully immersed in the auction business and despite the current difficulties the sector is facing strongly believes in its long term future and that there will be positives and opportunities to take from operating throughout a pandemic.
He says: "The world of livestock auctions is unique and very different to anything I have experienced in my previous business life but I fully understand not only how vital they are to the whole agricultural sector as a fair and transparent trading platform but as a place where people can visit to relax, feel safe and talk to their friends.
"When lockdown arrived. It would have been easy just to shut the door and take stock, but that was never really an option for us.
"Due to the tremendous work of the LAA and the IAAS markets were able to stay open so the challenge for us was to adapt, change and work within the restrictions as seamlessly as possible.
"It was difficult particularly for the first week or two but everyone stepped up, especially some of the more junior auctioneers who are so passionate about what they do and were really keen to make the best of the situation."
Lockdown
Just prior to lockdown H&H had carried out a research project surveying the views of a number of young people across various sectors of the livestock industry to see and hear their views on auction marts, the live auction system and whether they thought they had a future.
Mr Rankin says: "It is important we engage with the next generation and see what they want from markets. Encouragingly, the results of the survey overwhelming showed that they do value the live auction system as a way of achieving a fair price.
"It also showed they also realise the importance, for the mental health of farmers, to have a hub where they come to meet and talk to like-minded people.
"We intend to follow up the survey by continuing to keep in touch with those who took part and use them as a sounding board for the future so we can continue the debate about how markets should evolve.
"One of the positives to come out of the current situation is the increasing use of technology. Systems were put in place quickly and whilst there were some initial glitches we will learn from the mistakes. We have to make online trading slicker.
"Markets will look very different in 10 years' time and most of the changes will be tech driven. We have to get more savvy with data and slicker at processing information but have to be able to deliver this in a uniform way across the industry.
"I think we will see a mix of those attending the market and those who prefer to use the internet bidding and live streaming options.
Adapted
"Farmers have adapted well to the drop and go system and many have also very quickly got used to viewing sales online and in some cases using internet bidding. "In the future, I think all the methods will be more integrated. Instead of farmers attending market twice a week they will perhaps attend just once a month or just for special or pedigree sales.
"This will mean that there will be less volume of people in the market at any one time.
During the pandemic social media is increasingly being used as a tool to promote and in some cases sell stock.
Mr Rankin says: "We are engaging with a different type of audience and that requires a new type of relationship. Farmers are keen to work with people they can trust and want to trade through the type of safe secure channel auction companies provide but many of them also want to engage online as well as, or instead of, face to face and we have to provide that.
"An great example is H&H's dairy auctioneer, Glyn Lucas, who as well as posting videos online of up and coming sales and stock for sale has been doing video reports of sales which go down really well.
"We have to think outside the box and the priority is to look after our customers. It is not enough to hide behind messages, our staff are going to have to be much more proactive and put themselves out there and be prepared communicate with both buyers and sellers, in a number of different ways.
"The various sectors in our group of companies fit well together like pieces of a puzzle. I liken it to more legs on a stool giving us a stable future and I will continue to look for opportunities to strengthen the group for the benefit of both shareholders and farmers.
"There will be more consolidation in the sector in the future - that is natural business economics but we are keen to collaborate with other auction companies. We all have to work together and speak as one voice for the benefit of the agricultural industry as a whole."