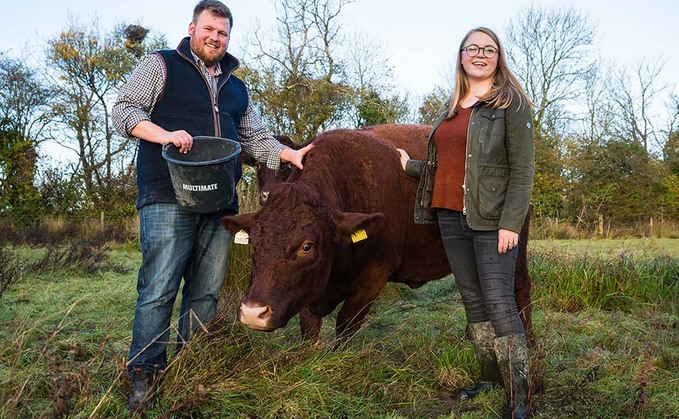 We finally felt like we had turned a corner with our farming enterprise. We were above target for the year in terms of silage, cattle growth and our bank balance.
One Sunday lunchtime, having just sat down to order in our local pub, we had a phone call that our barn was on fire. We had left the farm not 15 minutes earlier and there were 35 calves in the barn opposite it.
I was straight on the phone to my neighbour who thankfully was at home. I flew down to the farm and when I arrived was greeted by him and the barn which was fully alight.
He told me firmly not to panic and that he had moved the calves, saved our telehandler and our tractor.
The fire engines arrived and made sure that the fire didn't spread, but it did burn for another nine hours and they were back out again at midnight and at 6am as it kept flaring up.
We lost 40 tonnes of hay, our quad bike, all of our tools that we had spent the last eight years building up and my bee keeping equipment - but we are insured and these will be replaced in time.
We will never know for sure what caused the fire and you can spend a lot of time second guessing yourself.
The following morning, the phone was full of offers of support and our neighbours arrived to help me sort the calves and clear the smouldering hay. In a few hours we got the yard back to normal if you only look at it from one side.
Our landlords have been incredibly supportive and we will hopefully have a new barn up before Christmas, which will mean we don't have to sell any of the stock we were hoping to keep this winter.
Thankfully we hadn't yet brought in the straw which I did the following week, despite a poor harvest in terms of yield the amount of straw was really impressive and our muck for straw deal with our landlords means we only have to pay for baling and spreading.
Last week we sold our store cattle which have spent the summer at grass. They have been grazing since March and have been averaging 1.01kg/per day.
In summary August was the best and worst month of our farming career. Without a doubt we wouldn't have coped without the help and support of our farming neighbours, some of whom I can never thank properly.