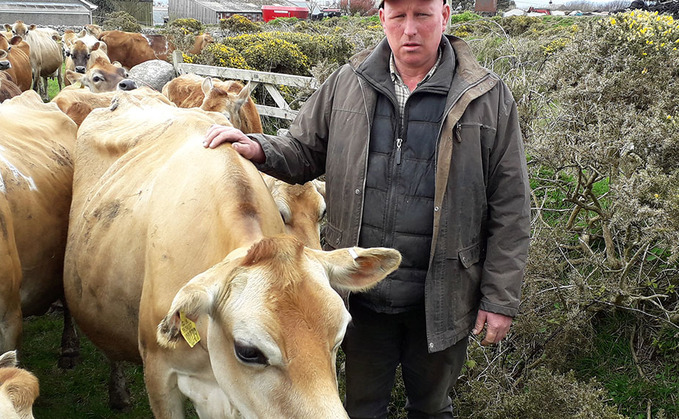 Dairy Farmer commentator Christopher Murley tells us about his Jersey herd in far flung Cornwall.
Like most farmers we are very glad to have come through what has been a very long and wet winter.
Surprisingly we have about 200 bales of haylage left over. Despite having had only a few dry days all winter we haven't had any flooding unlike further up country. We have managed to keep control of slurry with the help of two neighbours who are glad to have any surplus.
We decided to bring cows in off grass in mid-October to minimise poaching and give us an early bite in February.
also moved in-calf and bulling heifers onto winter keep soon after for the same reason. It paid off for the grassland and we had grass ready to graze by mid-February but unfortunately not the weather.
Milkers finally went out on Friday, March 13, for a few hours and thankfully it dried up enough to get them out by night a week later. Youngstock finished eating winter keep and moved onto grass on March 21.
Fortunately we had our second clear TB test and are TB free again after eight months, so we are hoping to sell all our British Blue cross calves as soon as possible as we are overstocked at the moment. Unfortunately our neighbours have just gone down with TB and are starting the journey we have just finished. We wish them the best of luck.
Cows at Levant started calving in mid-February with 80% calved in five weeks having had very few problems other than wet weather causing us to keep them in as fields were far too wet to graze.
As they are loose housed on straw this has cost quite a lot as we used about 150 tonnes this last winter and now have lots of very big piles of dung in several places waiting to be spread.
Bedding debate
There has been a debate about using Envirobed or sand for bedding to save money, but we always come back to straw.
Envirobed is used at Bojewyan for the cubicle mats and it works well but we think we'd use too much in loose houses to make it viable. We are cautious about using sand because we don't want it to settle in the slurry store which would create another headache we can do without.
All spring-born calves at Levant have been reared on milk powder after a few days on colostrum. Milk powder is fed through milk bars with good results as we have stopped using the automatic feeder as we seem to get better results feeding twice a day.
This seems to give calves a more defined routine and encourages them to eat more pellets instead of always waiting at the feed station for the next drop of milk. We think this could be an obsessive Jersey problem as we had similar trouble when we had out-of-parlour feeders many years ago.
We have bought a milk taxi which allows us to mix enough to feed 50 calves in one mix and then pump it out which works well and saves time and effort.
All fields that have had winter keep in are going into a westerwold/ryegrass mixture now as we don't like reseeding to a long-term ley after kale because of the weed burden.
We are planning to cut and make haylage for dry cows at Levant and youngstock. Then we will graze it before a cut of silage next May and then leave it as standing hay for Bojewyan dry cows before the proper reseed to a long-term ley in September next year.
Over the last months there has been an awful lot of negative press about farming in general and cattle in particular with regards to carbon footprint and climate change.
Now we have a very serious problem with coronavirus which has put a stop to most air and car travel and it seems air quality is already improving and yet we are all still farming just the same.
Food production in this country shouldn't be made a scapegoat by those who travel the world to 'highlight' climate change as they can be the ones changing it faster than they are willing to accept!
Who would have thought there would be a bigger story than Brexit but now we have coronavirus. As I write this, we are a week into lockdown and the dairy farmer in me can't help thinking it will be a lot worse by the time you read this.
On farm we are doing our best to minimise contact between us all while trying to keep the farm running.
Let's hope we can all stay safe and hopefully the country will have done enough to avoid the chaos seen in other countries.