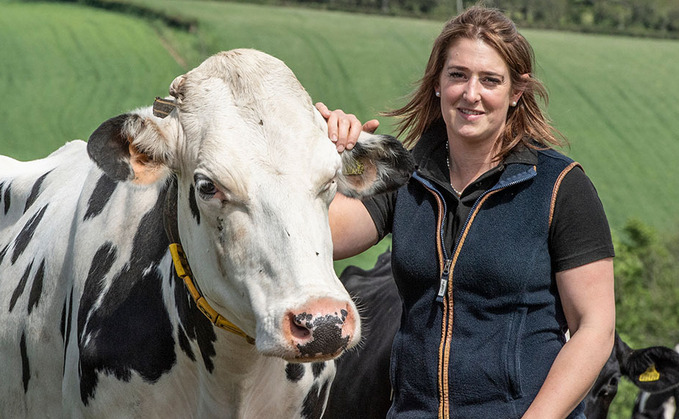 As you read this we will have closed the door on another year. As we sit back and reflect on 2022, it is clear it was a year where once again the rollercoaster that was the weather played a significant and challenging role across all agricultural sectors.
There were extreme temperature changes across the UK, and here in Cornwall we had highs of 36degC.
Then just a few short weeks ago we saw temperatures as low as -7.5degC. It looks like these weather extremes are an issue we all need to expect to happen again in the future.
Buffer
Winter routine is in full swing here and the milking cows were housed around November 10.
Despite buffer feeding, the grass quality was not sufficient to keep the milk yield and quality at the levels we needed.
Shutting the gate when it was still so warm was unusual and I expected the cows to be completely disgusted, but they never even looked to go back out again. This probably means I should have done it earlier.
We managed to keep the youngstock and beef bullocks out a little longer, with grass still growing. However, the rainfall got the better of us in the end and it was too damaging for the pasture and soil structure for them to remain out.
However, the grass left behind was a cattle farmers worst nightmare, particularly when we know our feedstocks are tight for winter. However, this situation is also a sheep farmers dream, which means I had a very happy husband.
With plenty of grass, he got slightly excited and it felt like there was a constant stream of lorries arriving with store lamb.
This always fills me with so much joy, as dairy farming is the day job and sheep farming is an evening hobby.
Night after night, post-milking saw us shearing, worming and blousing the store lamb, and there as a point where I did start to wonder about that earlier joy. However, with the first batch already loaded and gone, it was worth the workload.
Support
I often struggle to find time to get away and support my son in his hobbies, but his new shooting ground is now only two miles away, so I took the time a couple week ago to watch him do something he loves and has true passion for.
It was his first down the line Clay Pigeon Shooting Association competition, but to say it was enjoyable and relaxing to watch would be an exaggeration. My stomach was in knots and my palms were sweaty, but my goodness he did amazing, just two points off a AA score at 16.
I wish to thank you all for reading these articles over the last year. I thoroughly enjoy writing these pieces and get so much pleasure and joy from all your kind messages and comments, which reminds me how incredibly lucky I am to be a part of this wonderful industry.
I hope you have all had a wonderful Christmas with far too much British food and drink consumed. Lets go and look forward to another exciting year in the British farming calendar, which I know you will all face with great strength, resilience and the ability to adapt for a positive and profitable year.
However, it is not easy and sometimes we need a little help and support. Through those tough times there are so many wonderful organisations, such as Farming Community Network. Never be too proud to ask for help.
We are all in it together.
Gemma Smale-Rowland
Fourth-generation farmer Gemma Smale-Rowland farms with her parents at North Petherwin, near Launceston, north Cornwall, where they milk 120 pedigree Holsteins under the Glebewin prefix. She established the Cornish Moo brand in 2018 and was one of the first farmers in the country to install an on-farm milk vending machine.