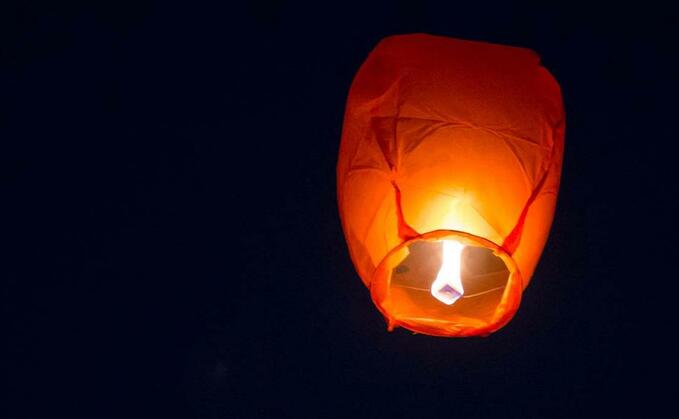 A coalition comprising 18 farming, environment, animal and fire organisations have joined forces in urging the Government to make sky lanterns illegal.
In a letter to Environment Minister Rebecca Pow, the group said the Government's approach not to regulate sky lanterns was significantly out of date and out of line with other countries.
It called for Section 140 of the Environmental Protection Act 1990, in which the Secretary of State can prohibit or restrict the importation, use, supply or storage of injurious substances or articles, such as sky lanterns, to be enacted in order to implement a national ban.
The call comes after 152 local councils have already banned the release of sky lanterns on council property, but the lack of national legislation has left the countryside and farms protected.
NFU deputy president Stuart Roberts pointed to Australia, Brazil and Germany who already have a national ban.
"This is a simple but incredibly effective and impactful step the Government can take towards a safer, cleaner and greener rural Britain," Mr Roberts said.
"We would not light a naked flame in our home and walk away, so why would we send one into the air with no idea whose home or habitat it could eventually destroy?"
Paul Hedley, National Fires Chiefs Council wildlife lead, supported the ban.
"Sky lanterns have been proven to start wildfires and property fires, kill or injure livestock, as well as polluting our natural environment," Mr Hedley said.
"They put unnecessary strain on our critical services.
"Our advice is simple - do not use them."
Danger
Mark Coulman, TFA national chairman, added sky lanterns posed a major fire risk and a danger to animal welfare.
"Allowing a naked flame with its own fuel source to be released randomly into the environment and allowing debris from the spent lantern to land anywhere is simply irresponsible," Mr Coulman said.
In 2013 Farmers Guardian launched its Say No to Sky Lanterns campaign and since then many local authorities and events including Glastonbury have banned the use of sky lanterns.
Visit fginsight.com/skylanterns for more information.