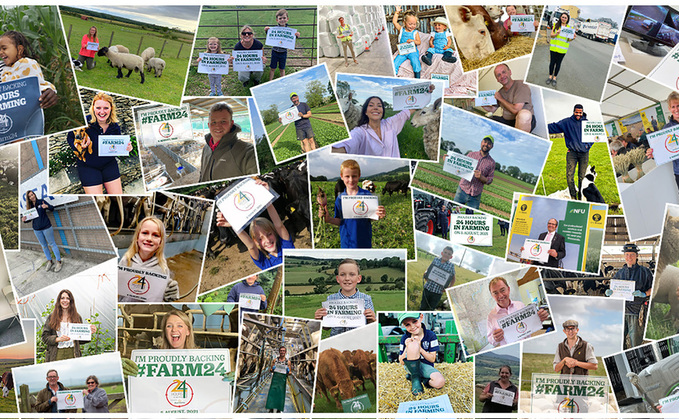 In an increasingly digital world, the art of conversation can now be done through an array of technologies and there is sometimes no need to see another person face to face.
But farming is still one of the most communal sectors there is and that 'love thy neighbour' spirit is something we must and should not lose, especially given the nature of the job. Long hours and isolated working conditions could mean farmers do not see another soul for weeks.
Our auction marts are still, of course, at the heart of the industry; our agricultural shows remain top priorities for thousands on the calendar and, in times of great change and great pressure, the need for peer support is crucial.
Agriculture faces a unique set of pressures, from prices to Government policies, to lack of labour, financial worries and uncertain markets.
Farmers, however, take it upon themselves to make sure that other rural dwellers have somewhere to go or someone to turn to, knowing how imperative that cup of tea and a natter can be to someone living out in the vast British countryside.
Coming together is one of our industry's best abilities and someone who has created a social space for those struggling to do so is Tom Ware, who set up Just Talk Agriculture. Tom, who is just 20 years old, has had quite a journey himself. Recently, his one of his close friends and his brother have been in a serious car crash.
Many in the farming community will have heard of Len's Light, the campaign set up in memory of young farmer Len Eadon, who took his own life on New Year's Day in 2022. Tom had worked with Len the previous summer and the news of his passing hit him hard.
"I have struggled with mental health, after coming to terms with hearing Len had taken his own life and, more recently, I lost a best friend," says Tom, who is from Lincolnshire/Nottinghamshire.
"I became extremely low and luckily I had a few really good people there to talk to and to support me."
Just Talk Agriculture was set up after Len passed away and it now has almost 4,500 followers on Facebook. Tom's goal is to raise awareness about mental health in farming and Just Talk Agriculture is aimed at the younger community within the rural sector.
Tom says: "We work alongside and with the Farming Community Network and with the Yellow Wellies Mind Your Head campaign.
"We incorporate well-known people within the farming industry to push the message that it is okay not to be okay. If someone sees their idol openly say this, then hopefully they will take that away from watching the video and that we will be able to get that message to the people that need it most.
"A total of 94 per cent of UK farmers under the age of 40 rank poor mental health as the biggest hidden problem facing farmers today. It is a growing problem in the industry and, due to this, it needs to be spoken about before it is too late for some people.
"Working long, lonely hours in the isolation of a machine cab gives those manifesting thoughts time to manipulate."
Starting conversations are key and, even if the conversation is not about how they feel, a bit of connection can make a real difference.
Tom says: "Having that communication between farmers can change someone's life. Hopefully we can get the message across to wider communities and the helplines are there to support more of the vulnerable and those susceptible to poor mental health.
"If you see someone, maybe they are quieter than usual, maybe they have suffered a loss, they are struggling to pay the bills, they maybe just are not themselves. Just gently ask them 'how you doing mate?'
"Because who knows, they might just need that support or chat."
There is also action from the community, including auction marts. As the key hub to the farming industry, the marts are most likely where you will be able to catch a farmer to talk about anything, from their mindset to their physical health.
Field Nurse is a rural charity based in Lancashire, establishing itself at Gisburn, Skipton, Brock and Clitheroe auction marts. The idea is that if farmers will not take time away from their jobs to get a health check, then the nurses and professionals must go to them. It has been a great success.
Although you might be there to have your blood pressure taken, you might just get chatting and feel a little brighter or even give a small insight into your mental state. There are also communal setups, such as the Rural Coffee Caravan, which has been around for 20 years and became a registered charity in 2008.
Based in Suffolk, it exists to help people in rural communities feel less isolated, providing people with the chance to meet up and engage and improve the lives and well-being of people out in the countryside who may feel lonely. It is positive to witness so many caring individuals, groups, charities and social media pages being set up to ensure farmers have a place to feel like they can openly talk about what is going on.
And our industry is being recognised for such work too. In May, Sam and Emily Stables, from Herefordshire, received a Points of Light Award from Prime Minister Rishi Sunak for their dedicated work to try and break down the stigma around mental health in the farming community. Sam, who was named Farmers Guardian Farming Hero at the British Farming Awards in 2021, has always wanted to be a farmer, but struggled with the isolation which affected his mental health.
The couple went on to set up We Are Farming Minds, a charity to help others with similar struggles.
Emily says: "We are very honoured to have won The Point of Light Award. The more that poor mental health within the farming community is recognised and talked about, the more the stigma surrounding it is broken.
"The farming community is a close, supportive community, but sometimes this can go against farmers talking to other farmers about their mental health. It is brilliant that our hard work has been recognised and will hopefully help us to reach out to more people who are struggling and put support in place for them."
24 Hours in Farming is back - make sure to pledge your support
Agriculture's biggest digital campaign - #Farm24 - is gearing up to be the biggest and best yet and we need your support. Sponsored by Morrisons, 24 Hours in Farming showcases the role of British farmers to the general public as the nation's most trusted producers and as custodians of our iconic countryside. On August 3-4, we are asking farmers and industry organisations across the UK to unite once again and take farming to the masses by sharing what your typical day in farming looks like and using the #Farm24 hashtag, tagging @FarmersGuardian and @Morrisons so we can see you. To pledge your support ahead of this special day and find out how to get involved, visit farmersguardian.com/Farm24 and share on your social media that you are proudly backing this much-loved campaign.