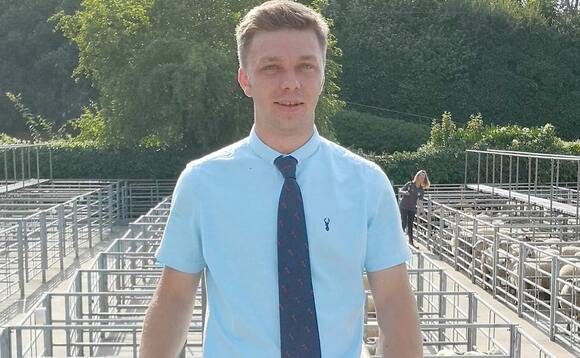 Auctioneer Oliver Chapman on prices.
This year seems to be already racing through and, as ever, the live sale ring continues to prove its worth against other options of selling livestock, as cattle reach all new highs, both stores and prime, with buyers looking to travel across the country now trying to source cattle.

At Louth it is no different with regards to trade or numbers being seen, as all sections begin to increase in numbers.

Quality

Current prime cattle numbers are increasing and we are seeing along with it the trade reflecting all other outlets, with those handier cattle regularly being met by a ring of butchers and buyers looking to source quality stock.

The early months of the years trading are carrying on the way 2022 finished off.

Although the cattle are adding up to impressive figures, the input costs on the animals continue to be high and are making some purchasers of store cattle cautious, as to factor in the costs.
Store cattle numbers still can be readily found and many finishing yards are looking to consistently top numbers of cattle up, although some find themselves travelling further afield to put the packet of cattle together they wish.

Sheep have not quite seen the roaring hogg season as witnessed during the previous two seasons of 2022 and 2021.
Weather

However, trade has been consistent week-in week-out, with prices only 4 to 5 different each week currently, depending on the export and catering trade prices, which at the moment are fluctuating almost daily.

A good number of prime hoggs have already been seen in Louth and traded, with the well-fleshed animals the easiest to place.

However, up and down the country due to the weather conditions mid-December, there have been many hoggs three-quarters finished, as the frosts and wet weather saw a lot of cover crops and winter forage disappear quicker than many finishing people would have hoped.

There are still a lot of hoggs to be traded which were bought late on as stores after the harsh summer weather of very little or no grazing and many having to supplementary feed.

The live option of selling stock still remains the best marketing tool for open trading, to gain the true value of the animals and the people in the industry hold a wealth of knowledge to gain the best possible outcome.

Regardless of whether it is trading stock or health hubs, or socialising, livestock markets are hubs that need to be kept open.
Oliver Chapman
Oliver Chapman is an auctioneer with Masons Rural. Call 07395 570 303, or email [email protected]