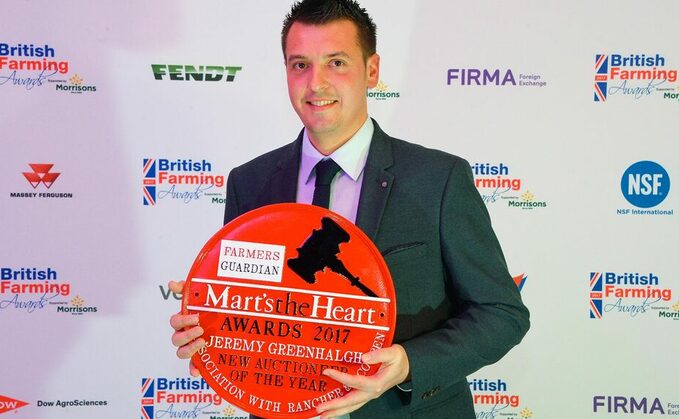 Jeremy Greenhalgh on Clitheroe's current trade.
The show season is now in full swing and breeding sheep sales are only round the corner.

We have been looking forward to having some normality back this year and having a presence at some of our local shows, having recently attended Great Harwood, and Great Eccleston and Royal Lancashire shows only weeks away.

I always love to support these occasions and see the very best stock on show before we lead into the breeding
sheep sales.
I feel that since Covid-19 hit, it is now more important than ever for farmers to interact, talk and meet face to face – these events are the perfect occasion for this.

Spring lambs have set off really well, the numbers in the North West are still tight, with many of our customers choosing to lamb a little later.

Prices have regularly been around the 350p/kg with the best at more than 400p/kg.

Many farmers have been selling lighter weight lambs and drawing a premium, while at the other end of the scale, heavy lambs have been in short supply, so those at 46kg-plus have been super to sell.

Last year at Clitheroe we had a tremendous weekly store lamb sale with numbers averaging 1,500 and topping more than 2,000 head.

The 2022 store lamb season will soon be upon us, with the opening sale scheduled for Monday, July 25.

There has already been plenty of interest, with many farmers having bumper first crops and bale stacks
already overflowing.
It will be interesting to see how autumn plays out.
Schedules
With our autumn schedules sent out to customers last week, I am excited to be welcoming back the Derbyshire Gritstone, Lonks and North Country Cheviots for their society sales in October.
Last year they all had an excellent year, with many records being broken. I hope this continues in 2022.
Although we have lots to look forward to, there are still struggles we are having to face with the ongoing avian flu meaning we have not been able to hold any sales of purebred poultry since November.

This has been really disappointing with no sign of the restrictions being lifted.
Many customers and breeders have become increasingly frustrated with no end in sight.
I hope we find a way out of this.

Covid-19 really has changed the way Clitheroe is now running its monthly machinery sales.

We have continued with the online timed machinery sales, which have grown from strength to strength.

Starting just under 18 months ago with 250 lots, this has now grown substantially to have upward of 2,500
lots per month.

Our customers have really embraced the sale, with last month's May sale being a record for most lots and
turnover.

As previously mentioned, I look forward to the autumn sales where we hope to see familiar faces and welcome new customers to Clitheroe Auction.
Jeremy Greenhalgh
Jeremy Greenhalgh is market manager of Clitheroe Auction Mart. Call 07815 727 993, or email [email protected]