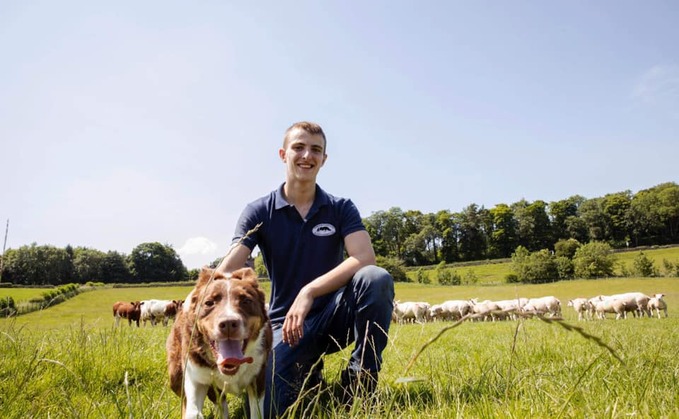 I grew up on our family sheep farm near my home town of Biggar in South Lanarkshire.
I really loved my childhood on the farm being surrounded by animals and learning about the business from my parents.
Like most people say, I knew I wanted to be a farmer from a very young age.
So when I left school at 16, I moved to work on Swindale Foot Farm, now Thrimby Farm, in Cumbria, as a shepherd, where I managed 800-Swaledale and North Country Cheviot ewes across a 9,500-acres.
The owners, Matthew and Daniella Blair, have been ever so good to me since I left home.
It might have been a daunting task to move home so young and into a different country, had they not been there to support me.
If anything, they have been like a second mum and dad to a young teenager from Scotland who wanted to pursue his dream of working on a farm.
I will always be grateful to them for the opportunity and the faith they have shown in me.
What I love most about farming is working with livestock.
Seeing an animal improve from the moment it is born into a real specimen is truly magical.
You get to see your hard work pay off as well, which is really rewarding.
Each day is always different on the farm, which means there is always variety in the work-load.
But one thing I perhaps struggled with most, is the isolation and loneliness of working in the industry.
There are days when you will not talk to anyone at all, when working extremely long hours.
As a farmer, you are often working in the middle of nowhere with very little connection to the world.
This is why getting involved with Penrith Young Farmer Club in 2019 was a godsend.
It has opened a lot of doors in meeting other farmers who are passionate about the industry.
I have made so many friends since and I have made unbelievable memories which will live with me for a lifetime.
I was very proud to be named young agricultural farm worker of the year in 2020 at the British Farming Awards which was a memorable achievement.
My family and friends were so proud and it shows what can be achieved when you work hard.
I never thought I would win and it was just a pleasant surprise to be recognised.
It really is important to put yourself out there and learn from your mistakes as well as taking opportunities when they come up, because you do not know when they will come around again.
There is a lot of uncertainty at the moment in the sector with farmers struggling to get a fair price for what they produce.
Farming is a highly-pressurised line of work and I think if there was more education and understanding about how tough it is for farmers, there would be a greater appreciation to help.