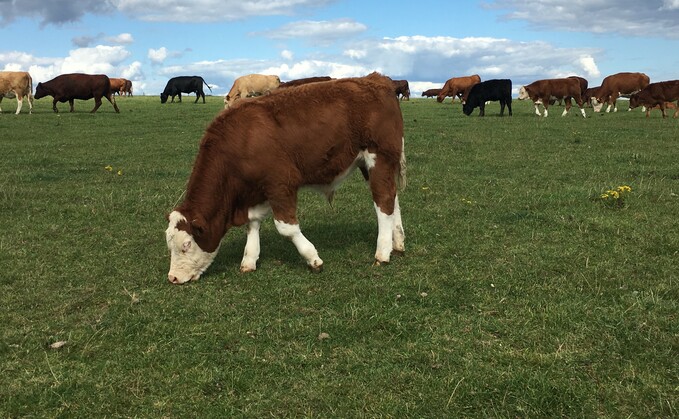 From mid-July, pastures grazed since turnout will be increasingly infected with worm larvae, which can lead to significant worm burdens in youngstock and other high-risk cattle unless effective control plans are in place.
Calves and young cattle in their first or second grazing season will have little or no immunity to gutworms. They are at risk of developing high worm burdens leading to clinical disease in the form of gastroenteritis, or 'worm scours' which can cause significant weight loss.
But even where scouring is absent, sub-clinical worm burdens can slow growth and delay finishing times, or age at first calving, ultimately leading to reduced productivity and profitability.
Setting growth targets and weighing youngstock regularly through the year, including while at-grass, can help identify when worm burdens are impacting an individual animal's performance.
Where youngstock are tracking against anticipated growth targets, and in the absence of clinical signs of a worm burden, they may not need to be wormed. However, any animals with access to adequate nutrition and who are failing to meet targets, are likely to be carrying a high worm burden and will benefit from a wormer treatment.
If regular pooled faecal egg counts have been used during the early part of the grazing season, and treatment was implemented to prevent a high level of eggs being shed on to the pasture, the risk of infection facing cattle on the same pasture should have been minimised.
Moving cattle on to cleaner pastures during mid-summer can reduce the worm challenge, and lessen the need for wormer treatments.
However, if animals are being wormed around this time, it's important to not 'dose and move', since this can rapidly select for wormer resistance.
| | |
| --- | --- |
| | is a tried and tested wormer that treats and provides protection against reinfection with the most pathogenic gutworm species, Ostertagia ostertagi for up to 21 days, and the cattle lungworm for up to 28 days. |
IVOMEC® CLASSIC Pour-On for cattle contains ivermectin. POM-VPS. Advice should be sought from the prescriber. Further information available in the SPC or from Boehringer Ingelheim Animal Health UK Ltd, RG12 8YS, UK. Tel: 01344 746957. Email: [email protected]. IVOMEC® and the Steerhead® logo are registered trademarks of Boehringer Ingelheim Animal Health France SCS, used under licence. ©2023 Boehringer Ingelheim Animal Health UK Ltd. All rights reserved. Date of preparation: Jun 2023. UI-MSP-0046-2023. Use Medicines Responsibly.