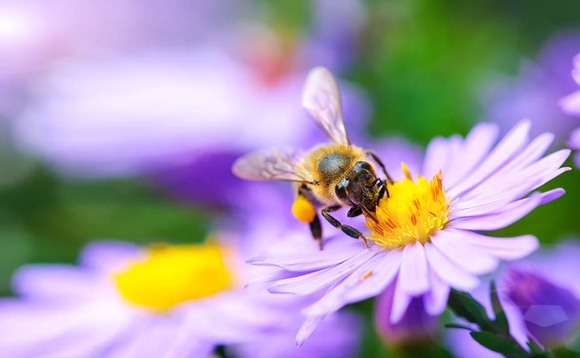 Biodiversity is a focus for Morrisons and its farmers. An area which is proving popular is the retailer's 'bee-friendly farms', which attract and maintain bumblebee populations, create a bespoke brand and enable consumers to contribute to positive environmental impact.
A dynamic partnership between Morrisons, Chippendale Foods and the Bumblebee Conservation Trust has resulted in an array of pollen- and nectarrich habitats created across freerange egg farms across the country.

Project Pollinator, as it was initially known, was established in 2013 and has gone on to surpass its initial target of sourcing 40 per cent of Chippendale's freerange eggs from farms with bee habitats by the end of 2017 to about 80 per cent, with 23 hectares (57 acres) now under dedicated stewardship.

The project has since evolved and launched its own brand and name of eggs taken from the bee friendly farms and sold as a Morrisons-owned product under the name of Chuckle Eggs.

Sales are progressing so well the retailer has also launched it as a loose egg offering in London stores, part of its 'pick your own' egg concept into produce departments.

Sophie Throup, head of agriculture, fisheries and sustainable sourcing at Morrisons, says: "The loose egg concept has been hugely successful, driving significant incremental egg sales.

"We have sizeable expansion plans for Chuckle Eggs, thanks to the efforts of the farms already supporting bee-friendly farming and it also provides opportunities for others to be part of the offer." Farmers opt in if they want to access the bonus scheme and, once involved, designate an area equivalent to at least 5 per cent of the range area for the creation and management of habitat to support bumblebees.

Sophie says: "The suggested area of bee habitat per farm is one acre per 16,000 birds.

In this way, the scale of egg production on-farm relates directly to the size of habitat." Chippendale Foods and the Bumblebee Conservation Trust develop a detailed plan with each farmer, creating bespoke planting schemes and seed mixes to suit local soil and growing conditions.

The bee-friendly flower mixture, which includes phacelia, red clover and sainfoin, is designed to optimise bee numbers and is suitable for Countryside Stewardship schemes.
Monitoring
Chippendale Foods also launched a training programme for its farmers and their families to help them monitor species types and numbers on their land, a move which has increased their engagement even further.

Subsequent surveys on the farms with bee-friendly planting have seen bee numbers increase by up to 55 per cent year-on-year, which Sophie believes is inspired by the environmental commitment the farmers demonstrate.

She says: "The success of the campaign has been helped by the enthusiasm of farmers who have really got behind the initiative and supported efforts to create a network of bumblebee-friendly farms which produce eggs."
Project objectives
Raise awareness of the plight of the bumblebee by creating a strong and recognisable brand of 'bee-friendly eggs'
Create a substantial acreage of bumblebeefriendly habitat
Increase bumblebee numbers in the North of England
Give customers the option to purchase a product which is having a direct and positive impact on the environment
Work closely with the Bumblebee Conservation Trust to monitor the number of bumblebee species on the habitat created; the feasibility of this was discussed at great length at the outset to ensure the initiative would be measurable.
Spotlight George Fell, mixed farmer, Thorganby, North Yorkshire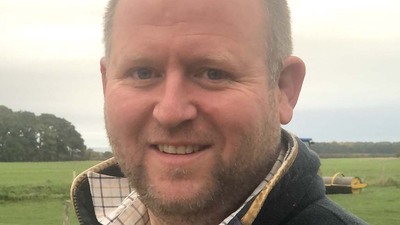 Holistic
Having adopted a holistic approach to farming, George says Morrisons Project Pollinator scheme has improved the overall performance on-farm.

He says: "Alongside the bee mixture, we have drilled herbal leys on the range, which includes a diverse array of grass species and flowers and means our whole range is being used to contribute to building bumblebee habitats.

"This has benefited our whole farm approach.

We get increased lamb performance when the lambs are on the herbal ley, as the flowers provide an increased source of protein for our sheep enterprise and plants are higher in minerals such as selenium and copper.

"The seed mixture also provides more interest for our chickens, with lots of flowers and soft leaf plants for them to pick at and consume." The herbal leys have also limited chemical inputs on-farm and are established without the use of chemicals and fertilisers, due to the addition of legumes within the mixture.

This further benefits the bees as it provides a bigger area for them to move around.

And with the herbal leys and seed mixtures continuing to establish successfully, George adds his time as a bee-friendly farmer has proved to be incredibly beneficial for both the environment and his farm business.

He says: "By taking part in the initiative, we have provided additional feed for our livestock and hens, boosting bumblebee habitats, which has, in turn, limited our chemical inputs on-farm.

"Not only have we benefited as producers, but we can also proudly say consumers are purchasing a viable product.

By buying our eggs, we are all having a direct and beneficial impact on the environment."
Spotlight Simon Fairbank, mixed farmer and land agent, East Yorkshire
Simon Fairbank has been responsible for supplying Morrisons with free-range Chuckle Eggs since 2019 under Hotham Eggs.

The mixed enterprise is made up of 971 hectares (2,400 acres) of arable crops, with the business diversifying its farming operation to include an 34ha (84-acre) poultry range, which is now home to 1.6ha (four acres) of Morrisons specially blended bee mixture to attract and maintain bumblebee populations.

With the estate having entered a high-level Countryside Stewardship scheme in 2009, Simon says the decision to become a bee-friendly farmer fit in well with his regenerative system approach on-farm.

He says: "When we were approached by Morrisons, we were already well established, so the decision to take part in Project Pollinator was a no-brainer.

"Not only were we looking to diversify our business, we also wanted to create a by-product which would add diversity into the soil, with the plan to create compost from our home-produced woodchip." Allocating one acre per 16,000 hens over a total of 1.6ha (four acres), the Morrisons bee mixture includes phacelia, which acts as a prolific flowering nurse crop, while red clover and sanfoin establish themselves.

Other varieties in the mix include alsike clover and birdsfoot trefoil, with the mix supplied in 5kg units for 0.4ha (one acre) of planting.

Simon says: "Having sown the mixture into the strips on our land, the experience has been hugely rewarding and we have seen a noticeable increase in our bumblebee population." And with cuts to Basic Payment Scheme payments, Simon adds the move towards boosting biodiversity meant the farming operation has been able to prepare itself for the direction of payments for environmental benefits.


Sustainability
He says: "Working alongside our poultry manager Nimani Thirimanne and William Hotham as part of Morrisons range-enhanced producers, we have been able to provide consumers with high quality and environmentally sustainable produce.

"We are proud to be part of Project Pollinator and continue to supply Morrisons with free-range eggs which are both nutritious and viable."
Chuckle Eggs
Brand exclusive to Morrisons
Only available as 12-pack eggs in store and online
Includes an extra 1p/egg going back to farmers producing the eggs
Only medium eggs sold in this brand
Eggs are produced by hens which are free to range in daylight hours in fields which are planted with extra trees for hen comfort and on farms which grow extra wildflowers for bees and to help biodiversity on-farm