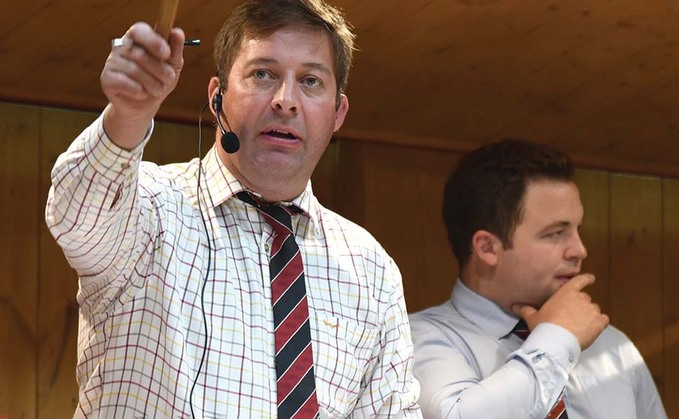 Auctioneer Ted Ogden gives a sales overview.
It has been a fantastic couple of months at livestock auctions. Regulations have slowly eased allowing buyers and sellers more access on sale days, which has created that all important buzz and social interaction synonymous with auction days.
Along with rising prices for feeding cattle and store lambs, the breeding sheep sales have had an early season bounce like no other, ultimately buoyed by a strong prime and cast sheep trade.

The focus at this time of year is always on sheep, and here at Skipton we recently held a sale of nearly 5,000 gimmer shearlings where trade levelled at £175 (+£26) for north of England Mules, £185 (+£31) for Continental crosses, and £174 (+£23) for Suffolk crosses.

It was evident that the Mule was in higher demand on the year - strong consignments of good bodied sheep were keenly contested, especially sucked sheep that were in a forward condition.

The smartest end of sheep were in the £210 to £230 bracket, good shearlings fetched £170 to £205 with several buyers taking note of double abortion vaccinated runs.
This also applied to the Continentals where quality three-quarter bred to pure types were £200 to £250, and next grade went for £160 to £200, but buyers were rather more selective looking for clean headed sheep with
good skins and well grown.
On the store sheep front, feeders and finishers around the country are appearing keen to secure lambs for grass keep. Prime lamb trade here at Skipton has remained constant for the last three weeks with averages of 238p recorded every week for 2,500- to 3,200-head.
The target price range is still 280p to 350p for the best Beltex crosses, with three-quarter bred smart skinned types keeping a close second.

The commercial type lambs are performing very well, especially if having received some hard feed, and it would appear vendors will now be rewarded well for giving lambs that little extra finish before marketing.

It can help make the difference between 220p/230p for a straight grass-fed lamb or 240p/250p for something with a bit of shine.

The prime trade has encouraged store numbers on the market in our part of the Pennine Hills, and with 14,350-head of store lambs booked for next Wednesday's (September 8), sale, it looks like a busy day.

At recent sales, purchasers are finding lambs to suit all pockets, with wintering and long keep types available in the £60 range, smaller hill lambs in the £50 range, but a good framed lamb for medium to short keep can be in the mid-£70 range to early £90 range depending on type and breed.
The Beltex stores depending on the size available, reach from the late £80 range upwards.

Amid all the current global upheaval, the UK Agricultural industry continues to produce the highest quality food to the consumer and UK auction marts will always be there to proudly support producers in their efforts.
Ted Ogden
Mr J.E. Ogden, auctioneer and sales manager at CCM Auctions, Skipton Auction Mart. Call 01756 792375 or email [email protected]