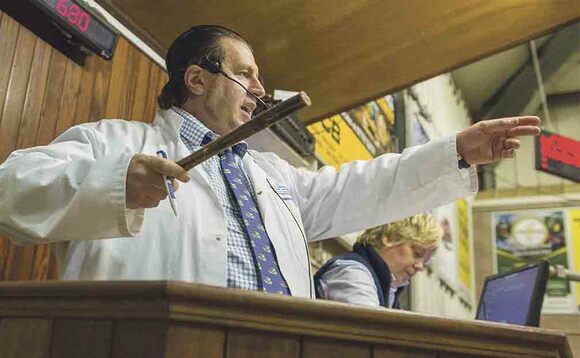 Chris Armstrong on the optimistic trade.
For most livestock auctioneers the view from our respective rostrums over the past 14 months has been one of hugely varying contrasts.

Never before have we had to endure such constraints in relation to who we allow into our premises and under such strict conditions, but thanks to the hard work of the Livestock Auctioneers Association and not inconsiderable investment on the part of individual companies, we have been allowed to continue trading as an essential part of the food supply chain.

Just how essential markets were became evident as 2020 wore on and the implications of Brexit and the changes in consumer demand as a result of the pandemic combined to create a surge in the market which has continued into the first half of this year.

Not one of us involved in the trade could have predicted lambs rising to record levels during the course of last year and similarly we have seen cattle values rise to their highest levels for almost a decade, but it is vitally important that all in the industry recognise the integral part the live ring plays in the attainment and realisation of these values.

It is all too easy to make the comparison with another crisis we all faced 20 years ago and how livestock farmers suffered as a result when the auction marts were forced to close their doors.

Imagine if negotiations and lobbying had taken a different turn last March, how would we have fared if the government had decreed that the same was to happen again and the rings had fallen silent once more?

Under what have been very trying circumstances at times, the sale ring has surely been proven yet again as the farmer's most steadfast sanctuary and the auctioneer therein their greatest ally.
Despite 'drop and go', despite limited numbers of buyers at the ringside, despite facemasks, despite social distancing and Perspex screens which all but killed the atmosphere and the buzz on which every ring thrives, the contrast we auctioneers have seen have been some fantastic sales with regrettably precious few there to witness the spectacle.
So far this year we have seen great confidence across all classes sold here at Hexham, with our mainstay of suckler-bred store cattle rising almost week after week during the first quarter.

Throughout spring we have enjoyed some huge lifts on the year, with an increased finished price prompting eager buyers to press on for older, forward sorts and with upper-weight ceilings lifted or removed altogether, one delighted vendor fell just £2 short of a £500 rise for 30 hefty Limousin cross steers and heifers that averaged £1,673 at 18-22 months of age.

This confidence filtered through to the younger age classes and despite a slow spring and grass shortages across the country, overwintered yearling types regularly exceeded £1,300, with one noted lot consigned in May topping at £2,800 for a sought after show heifer and, with a steer at £1,600, the run of 40 averaged a pleasing £1,335 per head.

Buzz

The May term sale of beef breeding cattle at Hexham was a bittersweet affair with as full a crowd as social distancing would allow and that much longed for buzz returning to the ringside with a trade to match.

Many annual consignors enjoyed a lift of several hundred pounds on the year, which was indeed sweet.

However the bitter flipside was so fewer than eight whole or part dispersals of herds which regularly feature in our weekly or seasonal special sales of store cattle, all with a common thread - the lack of youthful, skilled and willing labour keen to take up the reins - an all too common and worrying trend in this region.

The highs of last season's sheep trade continue here at Hexham and with vastly increased catalogues of store and cast sheep witnessed through the second half of 2020, we are now looking forward to welcoming existing, new and returning consignors back into our markets for the new season's trading.

The tail end of the store hogg trade shows little sign of easing, with last week's sale averaging £119 throughout and smart prime lambs coming forward topping at £200 per head (434ppkg) to date.
We have enjoyed a buoyant trade for all cast sheep which recently topped at £219 for heavyweight Texel cross ewes and with a weekly company of keen buyers from across the country, renewed interest from flockmasters has prompted a 20 per cent growth in this sector.

The annual sales of breeding sheep at this time of year have also followed in the same vein, peaking with a new centre record of £760 for a tremendous Badger Faced Texel ewe hogg selling to a delighted Stirlingshire-based buyer.

Few would deny that we are currently riding high, with these peaks coming along all too infrequently when compared to the troughs we seem to endure each year, although these new levels are often hailed as 'just where things need to be'.

When considering your marketing options, please remember the part your local auction plays in the ascent to the peak and support them with your business whenever possible.
Chris Armstrong
Chris Armstrong is an auctioneer at Hexham Mart. Call 07808 721 957 or email [email protected]