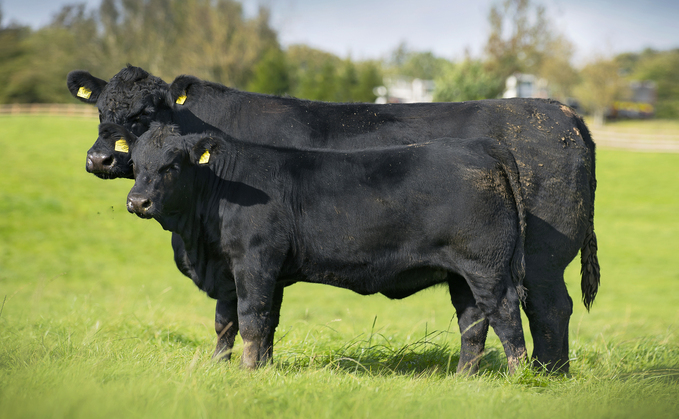 The sale leader by Rodmead Primero R746 and out of the Gretnahouse Blacksmith daughter, Gretnahouse Karama Lady S885, sold to Messrs Irwin, Co Tyrone.
Next at 10,000gns was the March-born bull calf, Gretnahouse Egbert Z489 by the same sire but out of Gretnahouse Eliza 178, a Stouphill Lord Ramon S159 daughter. The buyer was Messrs Fleming, Hawick.
The five-year-old cow, Gretnahouse Evas Honey U052 by Deveron Leggat P469 and in-calf to Rodmead Primero, sold for 8,000gns to Michael and Melanie Alford, Cullompton, who also paid 8,000gns for its April-born heifer calf, also by Primero.
Messrs Kilmartin, Westmeath, paid 7,500gns for the March-born heifer calf, Gretnahouse Blackbird Z492, a Rodmead Primero daughter out of Gretnahouse Blackbird U042.
Averages - 15 spring calving cows with calves, £9,317; 5 autumn calving cows with calves, £5,250; 3 in-calf cows, £2,660; 1 in-calf heifer, £7,350; 8 bulling heifers, £4,305; 1 weaned heifer calf, £4,410;
1 recipient carrying embryos, £3,675.
Auctioneers: Harrison and Hetherington.
For more shows and sales: Click here