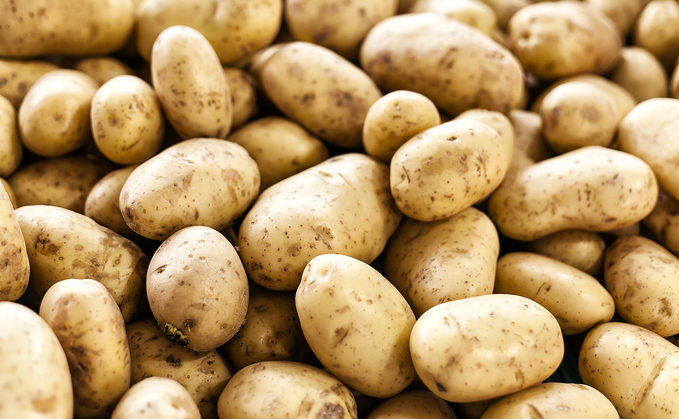 Floods have taken their toll on UK potato production with the crop set to be one of the smallest on record.
Storm Babet has taken its toll on those harvesting potato crops.
Sandy McGowan, managing director at potato breeders Cygnet Pep, based in Tayside, said: "Our growers had lifted about 85 per cent of their seed potatoes before Storm Babet arrived and harvesting has been very difficult since then.
"It was the second storm to hit, after Storm Agnes arrived at the end of September. Before then, only 60 per cent of the crop had been lifted, so we had recovered quite well before Babet.
See also: Canary Islands ban British potatoes
"Overall, it has not been a disaster, but we are tight for seed after a smaller area was planted later than normal, average at best yields and quality issues."
He added demand was not an issue, with UK growers getting their 2024 orders in earlier than normal and very strong demand from North Africa and the Middle East, with even Israel wanting to maintain production, despite the war. Post-Brexit rules still mean the UK cannot export seed potatoes to the EU.
Growing potatoes
"It is too early to say, but the challenges of growing potatoes and the pressure on seed supply, may mean that there is not much of an increase in potato area next year," said Mr McGowan.
The Yorkshire potato crop is 80 per cent cleared, according to Rufus Pilgrim, managing director at ware potato supplier R S Cockerill based near York, with removing the last 20 per cent proving very challenging.
"Some of the ground was already very wet, but then there was as much as 130mm of rain in 48 hours, so a lot of water is still not going anywhere. Potatoes on lighter soils in the Vale of York should get cleared, but growers on heavier outlying areas will definitely have their challenges," he said.
See also: Prices up with potatoes in short supply
Crops in waterlogged areas are showing signs of rot, while managing quality in warm and damp stores is also a problem, Mr Pilgrim added.
"I anticipate quality and availability being compromised over the season and there is already strong free market demand for both fresh and processing potatoes."
Crop size
There are no official estimates on the area of potato crops planted in the UK this year. But it is likely that pressure on profitability last year led to a 10 per cent reduction on the 2022 area taking it to 103,500 hectares, according to newsletter World Potato Markets.
Average five-year yields of 44.2 tonnes/hectare would have resulted in a 4.575 million tonne crop, but average performance is more likely to have been at 40t/ha, which would be a 4.14mt crop. That would be the smallest on record following the drought-impacted crops of 1975, at 4.542mt and 1976 4.777mt and the rain-affected 2012 crop 4.658mt. As recently as 2017, 6.2mt of potatoes were produced in the UK and in the 1990s crops of more than 7mt were regularly harvested.
See also: Canary Islands ban British potatoes
The reduction in potato area has been greater for packing and seed potatoes rather than processing potatoes. That raises the prospect of a shortage of both types which will impact on planting next year. Prices have responded to the shortage of potatoes. Most free-buy packing potatoes are making between £250 and £400/t, according to newsletter Potato Call. A year ago £250/t was the top price. Bagged potatoes for fish and chip shops are up to £350/t, when they were up to £250/t last year.
The decline in British potato growing has meant that imports of frozen chips or fries has reached record levels, providing massive returns for the mainly Belgian and Dutch companies supplying them. In the year to August 2023 the UK imported 825,000 tonnes of frozen potato products, 13 per cent more than the year before. The value of that trade was up 53 per cent to £940 million.