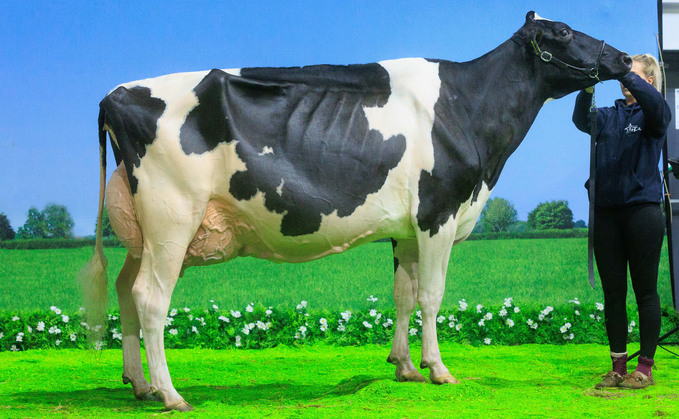 Larger entries were seen in the cattle lines at this year's UK Dairy Day where national shows were held for the Holsteins, Ayrshires and Brown Swiss breeds.
The National Holstein show judge, Iwan Morgan from Carmarthen highlighted the quality of animals that were brought before him at the show before tapping out Evening Sidekick Jennifer from James Wilson, Carlisle, as his overall winner.
The November 2018-born cow is sired by Walnutlawn Sidekick and is a daughter of Evening Stanleycup Jennifer.
Classified VG89 and producing 15,000kg as a heifer, she is now giving 40kg daily.
Last year she won at Agriscot and was champion at Dairy Expo earlier this year.
Mr Morgan said: "This was a very tight championship with little between the top three, but this cow looked great from every angle, had elegance in her locomotion and an exceptional udder."
Reserve champion was awarded to the five-year-old cow in milk, Wilt Bailay from Blyth farms, Peebleshire.
After being imported from France, she has retained the reserve title from last year's UK Dairy Day. This daughter of De Oosterhof Willemswas reserve Holstein champion at the 2022 Royal Highland show.
The honourable mention went to the Styche Armour Hilgonda, which took the overall championship title at last year's UK Dairy Day for Ed and Kelly Seaton of Seaton Farms, Cheshire.
She won her mature cow in milk class and is sired by Ladys Manor Halo Armour and out of home-bred Styche Captain Hilgonda.
She has won multiple prizes previously including champion cow in the Shropshire herd competition.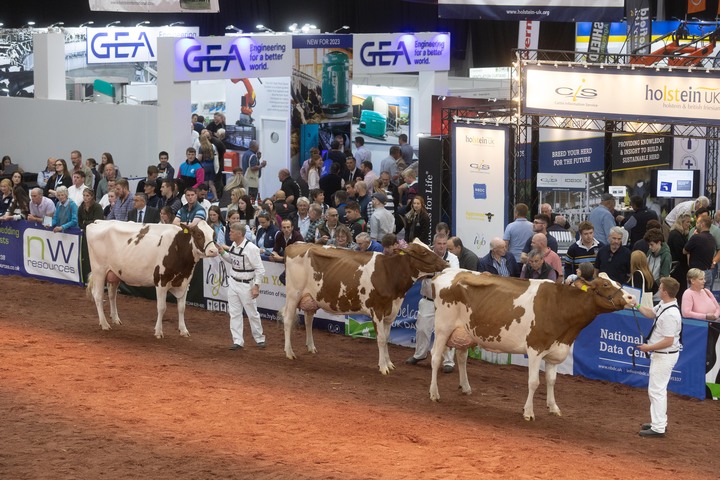 Holstein heifer championship
There were 12 heifers competing for the Holstein heifer title, with Riverdane Tatoo Ambrosia taking the the championship title for the Nutsford family, Cheshire. The October 2020-born heifer was sired by Duckett Crush Tatoo and a daughter of Sahara Sanchez Ambrosia 3, which won at the UK Dairy Expo in 2019.
The junior two-year-old Wiltor Chief Atlee came in reserve place for D. and C. Jones, Monmouthshire.
This June 2021-born junior heifer is sired by Stantons Chief and is a daughter of Wyndford Doorman Atlee 2, a cow which is itself no stranger to the show ring.
Feizor Mirand A Kandie Red was the honourable mention after winning her senior red and white heifer class. The heifer was bred and exhibited by W. and A. Booth, Lancaster.
Sired by Coomboona Zipit Mirand and a daughter of the home-bred cow Feizoe Ammo D Kandie Red 2. She calved down in April to Riverdane Alaba.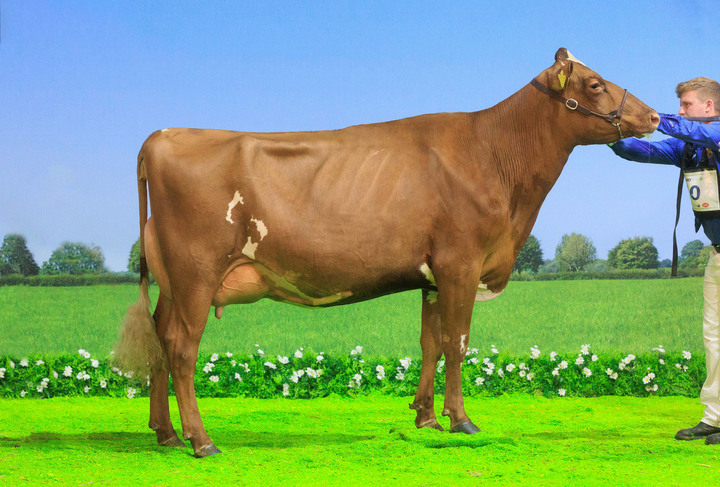 Ayrshire championship

Allstar Ringer Joybell from Evie Tomlinson, Cardigan, won the junior heifer in milk class, before going on to win the heifer championship and overall National Ayrshire title under Cornwall-based judge, Colin Christophers.
This June 2021-born heifer is a daughter of Allstar Supreme Joybell 2 which won the All Britain photographic competition in the six to 12-month category in 2021.
Reserve champion Ayrshire was L.C. Window, Halesowen, with Hunnington Wren 7, a senior cow in milk.
She took third prize in her class at the UK Dairy Day in 2021. She is sired by Rosehill Prestige and out of Hunnington Wren 4.
The honourable mention went to Willowfields Famous Clover from L. H. Batty, Derbyshire.
This July 2017-born cow is sired by Hunnington Famous and out of Sandyford Crown Clover. She was second at the UK Dairy Expo last March.
Ayrshire heifer championship
Claiming reserve in the Ayrshire heifer championship was Longwood Hawaiian Barbara from Robert Crawford, Suffolk.
A daughter of Toi Toi Triclo Rosie, this heifer is by Haydale White Willow and was second to the champion in the junior heifer in milk class.
Taking honourable mention was Morwick Peggy 126 from G. G. Baynes's Marleycote herd, Northumberland.
The senior heifer winner is by Pam Ayrs Hawaiian and out of Morwick Peggy 113.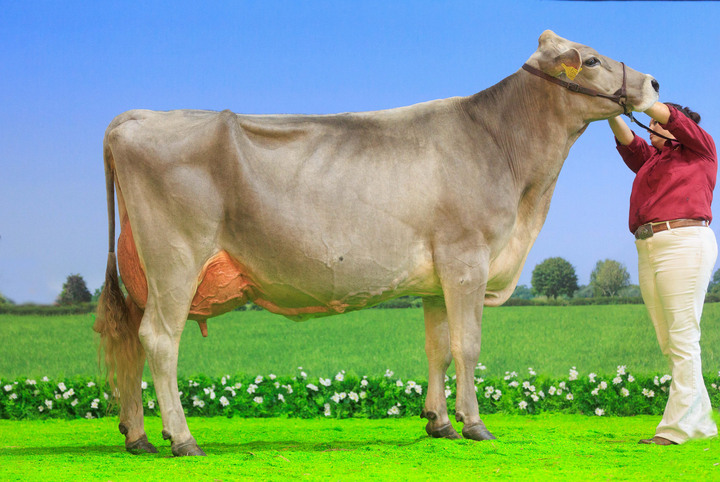 Brown Swiss championship

Three was the magic number for the Lochhead family herd, Dumfries after entries from their Kedar herd took champion, reserve and honourable mention. The overall winner was the senior cow in milk, Kedar Calvin Sanchia Maria.
The December 2012-born cow, which is sired by Vetschs Nesta Calvin and out of Old Mill Starbuck Spottie, who won the Champion ticket at the National Brown Swiss show in 2013.
Maria also took top honours at Northumberland show this year.
Brian Weatherup Jnr from Fife who judged the Brown Swiss section said: "This is a strong powerful cow who had style throughout, the blend of her fore udder attachment and veination was a credit."
Kedar Nescardo Snickerlicious was awarded reserve champion after being placed second in her class to the champion.
She is a 2017-born daughter of Kalingen Nesta Nescardo and out of home-bred cow Kedar Sickerdee.
Honourable mention went to the junior cow in milk, Kedar Carmen Eileen, another daughter of Vetschs Nesta Calvin.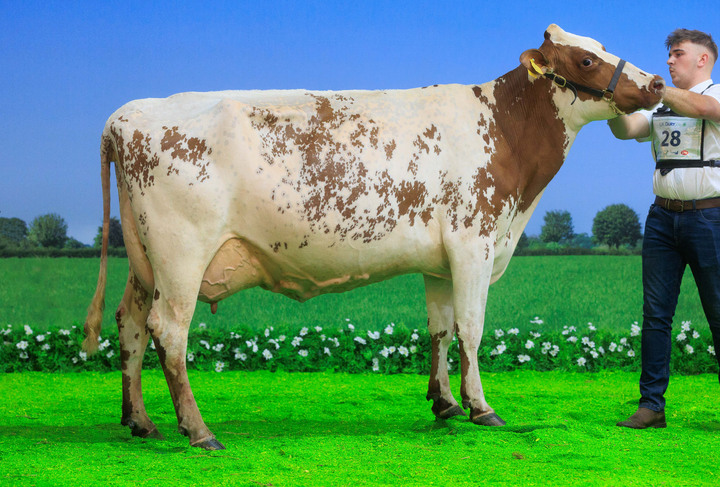 Dairy Shorthorn championship
Sweeping the board in the Shorthorn classes and taking the championship, reserve and honourable mention was the Collins family's Churchroyd herd, Dewsbury, West Yorkshire.
Their junior cow in milk, Churchroyd Bronte Wildeyes 62 took the champion title. The December 2018-born second calver is home-bred on both sides, sired by Churchroyd Wildcard and out of Churchroyd Bronte Wildeyes 38.
She is currently on her third lactation after calving down in June. On her second lactation, she produced 10,084kg at 3.69% butterfat and 3.11 per cent protein.
Judging the Dairy Shorthorn section Gwyndaf James from Ceredigion said: "This cow took my eye straight away, I judged the Great Yorkshire Show last year and placed her twin sister breed champion and this cow echoes her dairyness, balance and udder veination and neatness."
Churchroyd Bronte Wildeyes 54 came in reserve. This is a senior cow in milk sired by Landino Park Talent Imp.
This February 2017-born cow produced 8,992kg on her third lactation with 4.20% butterfat and 3.39% protein.
She was third in her class at the Great Yorkshire earlier this year and today's judge admired her for her clean bone and style.
Completing the trio, the honourable mention was awarded to Churchroyd Heather 134, a February 2021-born heifer sired by Churchroyd Koala and out of Churchroyd Heather 120. Currently in her first lactation, she calved down in August.
Closely placed behind the two cows, Mr James said: "This is an exceptional heifer whose time will come, she just lacked the maturity of her classmates."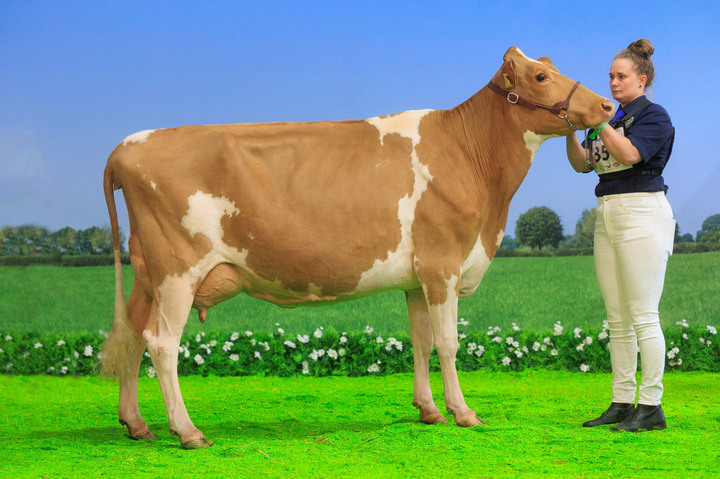 Guernsey championship

Taking top honours in the Guernsey championship was Greensfield Dandy Dan Butterfly from M. and C. Greenslade, Cullumpton, Devon.
Home-bred on both sides, the junior cow in milk is sired by Greensfield Dandy Dan and out of Greensfield Stinky Butterfly.
She gave 4,615kg in her first lactation at 4.65% butterfat and 3.42% protein.
Judge, Colin Christopher said his champion boasted dairy style, balance and was one of the best heifers he had seen for many years.
Clinching the reserve title after winning her heifer in milk class was Kimcote Brogen Fragrant 8 from A. and R. Thomas, Lutterworth Leicestershire.
She is a daughter of Kimcote Legend Fragrant 4, which was champion at UK Dairy Day in 2018.
Receiving honourable mention was Je-Taime Double L Bijiou 2 bred and exhibited by Richard Norman and Polly Whetham, Yeovil, Somerset.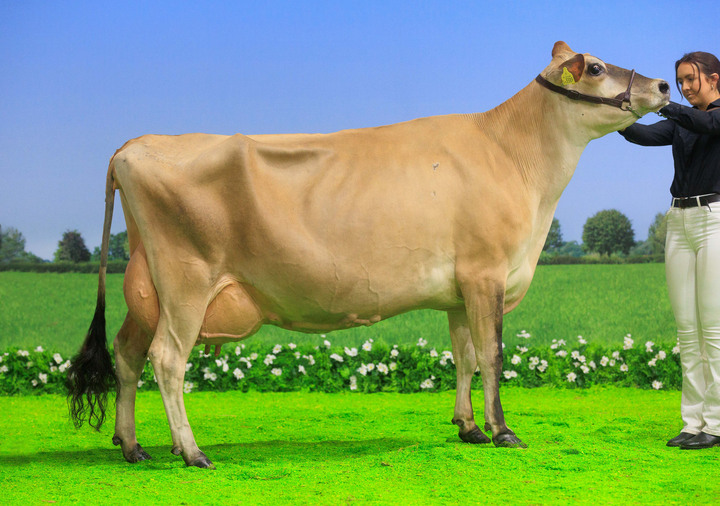 Jersey championship
Pick of the day for Jersey judge John Waller, Cumbria was Rivermead Verdi Pixie from the Tiverton based Davies family.
The champion, sired by Futuredreams Valentinos Verdi was shown giving 34kg daily and is due to calve in March to Victorious.
Reserve was awarded to Kevin and Sian Rickard, Newport with their junior cow in milk, Whitefire Dazzler Flamingo.
This cow was purchased by the Rickards from the Glanmor herd in 2019.
Honourable mention was Rivermead Casino Sangria, coming from the same stable as the champion.
Holstein (Judge, I. Morgan, Carmarthen) Supreme., J. Wilson, Evening Sidekick Jennifer; res., Blyth Farms, Wilt Bailay.
Ayrshire (C. Christophers, Cornwall) Sup., E. Tomlinson, Allstar Ringer Joybell; res., L. and C. Window, Hunnington Wren 7.
Brown Swiss (B. Weatherup, Fife) Sup., T. Lochhead, Kedar Calvin Sanchia Maria; res., T. Lochhead, Kedar Nescardo Snickerlicious.
Dairy Shorthorn (G. James, Ceridigion) Sup., I. R. G. Collins, Churchroyd Bronte Wildeyes 62; res., I. R. G. Collins, Churchroyd Bronte Wildeyes 54.
Jersey (J. Waller, Yorkshire) Sup., Davis family, Rivermead Verdi Pixie; res., s. K. Rickard, Whitefire Dazzler Flamingo.

Guernsey (C. Christopher) Sup., M. and C. Greenslade, Greensfield Dandy Dan Butterfly; res., A. and R. Thomas, Kimcote Brogdon Fragrant 8.