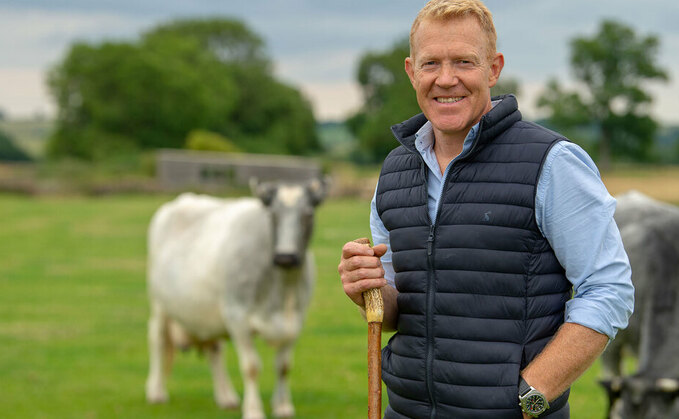 As one of farming's most well-known champions, Adam Henson continues to be part of a rural force bringing the countryside to life for the general public. Alice Dyer reports.
Adam Henson is well-known for his role in communicating with the public about farming matters through his work as a television presenter, as well as keeping the doors open to his family farm in the Cotswolds.
And while he believes engaging with the public is important not least to attract support from consumers, it is vital to lure in the next generation of farmers, he says.
"Broadly speaking, the connection between farming and the general public is limited. Over the years, supermarkets have done an amazing job providing food which is totally accessible all year round, but consumers have somewhat forgotten about where food is produced and the effort and energy that goes into producing it.
"It is not until there is a shortage of something on a supermarket shelf that everybody panics and suddenly realises. Then the consumer sits up and listens and often wants to find out more about it because it is in the news."
Campaigns
Campaigns such as FarmingCAN, farmer-owned podcasts, TV shows like Countryfile and Clarkson's Farm, and initiatives such as FaceTime a Farmer and Linking Environment and Farming's Open Farm Sunday have really upped the profile and reputation of farmers in recent years, but there is still work to be done that farmers can get involved with, Adam says.
"I think people realise we are custodians of the landscape and generally public perception of farmers is quite good. But I think there is a lot more we can do to connect the consumers and general public to the British landscape, farming and rural domain.
"We need to bridge the urban divide between city and countryside and get people talking about where their food comes from, being open-minded about production systems and getting really well-informed information.
"I took some sheep to a school in north Birmingham and only 50 per cent of the children had ever seen a sheep before."
Agricultural shows
Agricultural shows throughout summer play a key role in building that connection by acting as a fun day out for whole families who may not know anything about farming.
Adam has been a long-standing ambassador of the Royal Three Counties Show and his father Joe Henson
MBE was president.
Each year one of the three counties takes the host role as it moves between Worcestershire, Herefordshire and Gloucestershire. This year, the three day show will be hosted by Adam's home county of Gloucestershire.
He says: "Country shows, such as the Royal Three Counties, are a great way of welcoming the general public from cities and villages and also from the countryside into a site where they can get close up to farm animals or machinery, talk to farmers, talk to producers and get a better understanding about the way the countryside is managed and what is happening on farms."
Showcases
Royal Three Counties Show showcases the UK's largest collection of rare breeds, after Joe, well known for his role in conserving rare British livestock breeds, introduced rare breeds day on the Sunday of the show.
Adam says: "My father opened Cotswold Farm Park in 1971 because he wanted to save rare breeds, such as the Gloucester cow and Gloucester Old Spot pig, but realised they were not going to make money commercially on their own. He opened up the farm park to tell everyone about conservation of rare breeds, food and farming."
The park now welcomes some 185,000 visitors a year, with 45,000 alone visiting during lambing, and has extended to glamping, a pumpkin patch, sunflowers and a dig your own potatoes patch.
It is here that Adam tries to portray not just the challenges farmers face, but reasons to be so positive about the industry too.
Adam says: "We have some of the tightest legislation in the world with our employment law, animal welfare, waste, inputs and environment – that is sometimes what we moan about but we have to celebrate it. We produce some of the finest food in the world.
"Farmers are very entrepreneurial, very innovative and business minded. I really believe we need to show the success stories and wonderful opportunities in agriculture and the whole food supply chain for careers and
young people.
"Sometimes our careers advisers at school forget that agriculture is not just about milking cows or shearing sheep or driving tractors. You can be an agricultural lawyer or accountant, a manager, work in marketing and food production, and obviously in science.
"It is so far reaching and technology in farming now is absolutely immense. If you love playing video games, it could be for you.
"There are so many amazing young people in the rural domain now who can take up that passion and drive our industry onwards and upwards."