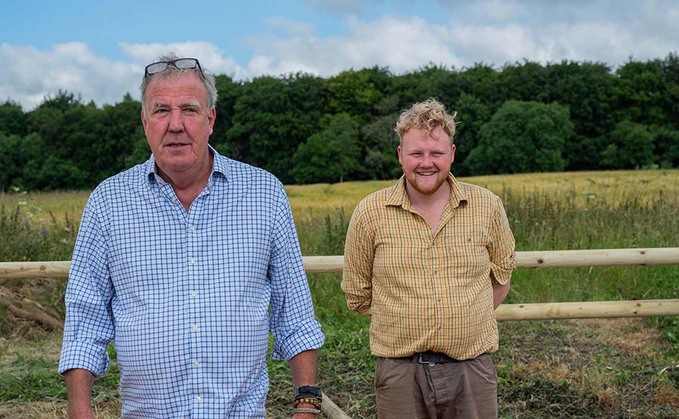 Jeremy Clarkson has once again hit the headlines, after his Diddly Squat Farm became embroiled in council battle over plans to extend the car park on the presenter's Cotswold-based property.
West Oxfordshire District Council is objecting to the proposal to allow a 70-vehicle plot on the site, claiming that it would encourage more visitors to Diddly Squat Farm, bringing more traffic to the area just outside Chipping Norton.
However, during a two-day Planning Inspectorate meeting this week, many villagers leapt to the 62-year-old presenter's defence describing his Diddly Squat Farm Shop as the 'crown jewel' of sustainable living.
According to reports, Hilary Moore from nearby Chadlington described many of those visiting the farm as 'motorheads' who drive slowly on surrounding roads to 'show off their cars.'
https://www.youtube.com/watch?v=x_ID2o7ZIfM
Her claims were dismissed by Annabel Gray, who works on a catering trailer at Mr Clarkson's farm, as 'unfair' saying that local people also drive slowly past the attraction and contribute to congestion.
Earlier in the proceedings, farmer's daughter Ms Gray also told the meeting that young shop staff had been forced to wear bodycams in response to abuse levelled at them from villagers.
She said that the farm shop was helping many visitors get a greater understanding of rural life and food production, adding that she had come across some that 'did not know beef burgers came from a cow'.
ITV News reported that Chadlington Parish Council chairman Andrew Hutchings said there were mixed feelings about the premises in the village, but he said most residents agreed that it had 'clearly outgrown what it was built for.'
He told the meeting: "We have reached a tipping point between a farm shop and a tourist type attraction for people who want to see the celebrity as well as the farm."
According to WODC the car park expansion equates to a change in land use which would therefore require different planning considerations. However, Mr Clarkson's legal representative Richard Kimblin KC refuted the claim, saying it merely reflected the success of selling 'farm goods'.
WODC had been forced to issue a statement last month following an episode from the second series of the hit Amazon Prime Video show that had led to fans questioning the council's motives and branding its planning decisions as 'obstructive'.
In response, WODC wrote: "As with any other planning authority, we have a legal responsibility to make sure that planning laws and policies are followed correctly by everyone to manage development and protect local communities and the environment.
"This is regardless of who they are and we treat Diddly Squat Farm no differently. Behind the scenes we have worked with the owners and planning agents of Diddly Squat Farm over the past two years to try and reach a positive outcome where the business can operate within the planning laws and policies. 
"The work Diddly Squat Farm is doing to highlight the wider challenges faced by farmers is commendable and we support farm diversification to help local farmers bring in income as they have lost other funding.
Farming and rural businesses are incredibly important in West Oxfordshire and we sympathise with the challenges farmers face in running their businesses, especially after the uncertainty caused by Brexit as highlighted in Clarkson's Farm."