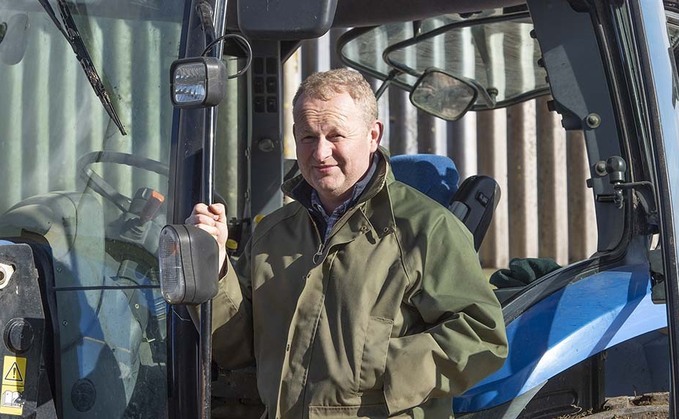 Christmas has come and gone once again and, like many families, it was very quiet this year, with family celebrations put on hold.
Taking a leaf out of Nigella Lawson's metaphorical book, we forwent the traditional turkey and instead had a rather large rib of home-bred Hereford beef for Christmas dinner. Cooked to perfection by Kate, and perfectly rare, it was an absolute treat.
Our beef boxes have seen increasing demand over the course of the last year and it is satisfying to know other families were also enjoying our beef on Christmas Day.
December itself was a relatively quiet time on-farm. The winter feeding and bedding down routine was in full swing. As the cattle were housed at the end of October, one eye is already on the ever decreasing straw stack, with tales of straw prices this year not making for happy listening.
The shortage seems to be a country-wide problem, so even contemplating buying from further afield does not appear to have its merits. Thoughts of an early turnout in spring are slightly premature, but then I expect I'm not the only one counting the number of days until the end of March.
With the seemingly constant rainfall and Dorset registering 135mm in the month, compared to the usual 70-80mm, jobs outside have been limited.
One task which has been undertaken is the removal of old fence lines in preparation for new hedge plants to be set in place in January.
This is being done as part of our mid-tier stewardship agreement, which commenced in 2019, and while tree planting seems to be the fashionable thing to talk about with the forthcoming introduction of the Environmental Land Management scheme, this project is something I had always wanted to do as I am an avid enthusiast of building and sustaining wildlife on-farm.
I am only hoping our resident deer population do not have the same enthusiasm for the plants before the new fences can be built.
And so to 2021. Looking forward with positivity has been difficult for us all recently, but with a change of the year, two forms of the vaccine to combat Covid-19 now being rolled out and the saga of the Brexit negotiations coming to an end, there is hope on the horizon that our lives will be returning to some form of normality in the not too distant future.
We have been relatively unscathed by the pandemic in Dorset, with cases only recently on the rise. The photos of tourists flocking to Lulworth Cove and Bournemouth beach in summer seem a distant memory, but it is still alarming to see how many people are travelling around and through the county at the moment. It is little wonder the transmission rate is going up.
As for New Year's resolutions, I'll give them a miss, thanks, but I'd like to wish everyone a happy and healthy New Year.