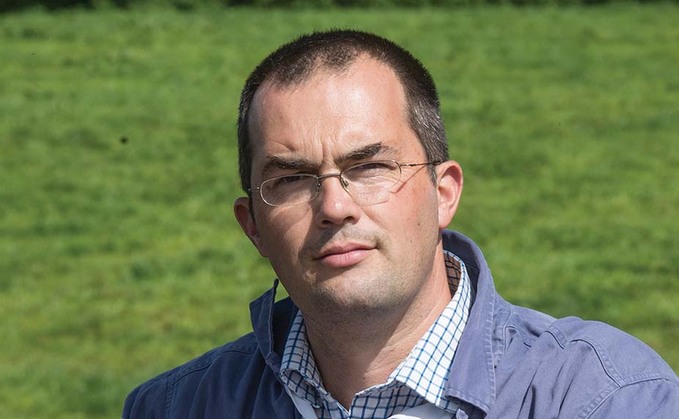 This year is turning out to be a bit of a weather rollercoaster here in Dorset. The decent amount of rain we had a few weeks ago did us the world of good, but has quickly gone and we are again desperate for rain and struggling for grazing grass.
The rain a month ago also really pushed second cut silage ground on and we had a good bulky cut this last week, which we are very grateful to have.
We also got our dry cow haylage and hay done, although a couple of millimetres of unexpected rain caught everyone out locally. It was hardly enough to do any real good to the grass growth, but just delayed hay-making by a few days. Thankfully, all is safely now in the barn.
We also managed to drill the forage rape crop which we often do between grass reseeds to give the ground a break from grass. We find the next reseeds then do really well.
The forage rape also helps us to slow down the grazing rotation in autumn and cows milk well off it. After a tricky start, maize locally is startling to look really well and is thriving in the heat.
A couple of years ago we worked with the local barn owl trust and county council to have some barn owl boxes installed around the farm. They came last spring and again this year to see if there was any offspring or sign of use.
Last year as we approached the box we saw an owl, but there was no evidence of them in the box. This year though was a great success with two young female chicks. The professionally trained owl experts are licensed to do what they did and they measured, weighed and ring-tagged the chicks.
It was fantastic to see and was even more special that our children were still off school and saw them as well. I was delighted to think our farming practices have helped support and nurture these beautiful birds.
We are hoping to install some more boxes up on the new land we have recently taken on. Due to some of the land on the farm being sold off with the house and farmstead access is a little tricky, so we have had new small bridge installed which has resulted in a saving of nearly 2.5 miles just to get to the other side of the river. This will be much safer and a massive time-saver.
Due to Covid-19 we have enjoyed a bigger vegetable patch this year and we have increased our number of chickens. We are now starting to enjoy the fruits of our labour and we have started to sell surplus eggs and produce at the end of our farm drive with an honesty box.